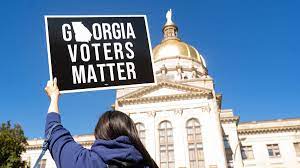 Atlanta University Center Consortium
Statement on SB 202
ATLANTA—April 6, 2021-- The Atlanta University Center Consortium (AUCC) and its member institutions—Clark Atlanta University, Morehouse College, Morehouse School of Medicine and Spelman College—believe the passage of SB 202 stands at odds with our values and our collective mission to advance social justice and equity. Despite the argument that the law expands voter access, for many in our communities, the "Election Integrity Act of 2021" will have a negative and tangible impact. The restrictions now in place will curtail voter participation in marginalized populations across Georgia.
The right to free and unfettered election is the very core of our democracy. As historically Black institutions of higher learning, we are committed to a community engagement effort to educate the citizens of Georgia and every community we touch about the impact of this legislation on their right to vote. We see this as our obligation, and we understand that this is how we strengthen our democracy and illuminate the path to justice, equality and a civil society where opportunities to exercise the right to vote are expanded.
George T. French, Jr., Ph.D.
President, Clark Atlanta University
David Thomas, Ph.D.
President, Morehouse College
Valerie Montgomery Rice, MD, FACOG
President, Morehouse School of Medicine
Mary Schmidt Campbell, Ph.D.
President, Spelman College
Michael Hodge, Ph.D.
Executive Director, Atlanta University Center Consortium, Inc.