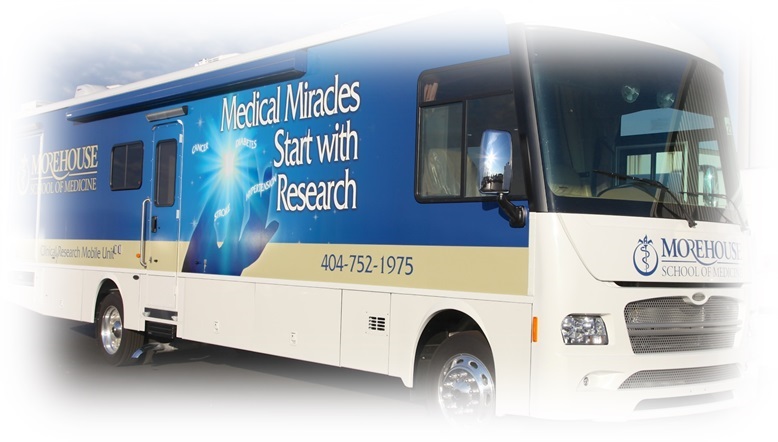 MSM Receives $2.1 Million Grant from Bloomberg Philanthropies for Mobile Covid-19 Vaccinations
Award will expand MSM's ability to bring COVID-19 vaccinations to communities in need; Support follows Bloomberg Philanthropies' historic $26.4-million gift to MSM to reduce Black MD student debt.
ATLANTA – April 13, 2021 – Morehouse School of Medicine has received a $2.1-million grant from Bloomberg Philanthropies' Greenwood Initiative to expand the medical school's program to provide COVID-19 vaccines to underserved communities. Working with trusted community partners, MSM will bring its mobile medical unit to Georgia's most vulnerable communities and set up temporary vaccination sites that will allow for more equitable and widespread access to COVID-19 protection.
The support from Bloomberg Philanthropies will allow MSM to upgrade its mobile medical unit, pay for additional staffing and medical supplies, and increase community outreach. The program will focus on Southwest and Southeast Atlanta, where the population is 92-percent Black and many residents do not have access to equitable care, adequate transportation, Internet access, or health insurance. Morehouse School of Medicine has administered 5,200 vaccinations since January.
"The pandemic has pulled the curtain down on the glaring socioeconomic and health inequities that make Black and brown populations vulnerable to illness and death from COVID-19," said Morehouse School of Medicine President and Dean Valerie Montgomery Rice, MD. "Morehouse School of Medicine is committed to health equity and advancing public health, and we have done work in this space for more than 40 years. We are immensely grateful for this gift from Bloomberg Philanthropies' Greenwood Initiative, which will allow us to increase our vaccination initiatives and reach vulnerable populations that still struggle with vaccine accessibility."
"COVID-19 has been devastating to the health and economic wellbeing of many Black families – and right now, increasing equitable access to vaccines is one way we can serve the needs of those who need it most," said Michael R. Bloomberg, founder of Bloomberg LP and Bloomberg Philanthropies and 108th mayor of New York City. "Bloomberg Philanthropies is glad to expand our partnership with America's four historically Black medical schools as they ramp up their mobile operations and ensure that more people get their shots quickly."
Bloomberg Philanthropies' Greenwood Initiative is an effort to accelerate the pace of Black wealth accumulation in the United States and address decades of systemic underinvestment in Black communities. The first investment of the initiative, made last September during the height of the COVID-19 pandemic, was a $100-million gift to the nation's four historically Black medical schools to help ease the debt burden of approximately 800 Black medical students. Morehouse School of Medicine received $26.4 million, the largest gift the school has received to date. Studies have shown that Black patients have better health outcomes when cared for by Black doctors but Black medical students face a disproportionate financial burden to become doctors.
This latest gift from Bloomberg Philanthropies continues to address the disproportionate health and economic impacts of COVID-19 on the Black community. Black individuals are less likely to have the ability to work from home and make up almost 17-percent of all front-line-industry workers. This increases the risk of exposure for Black Americans who are three times more likely than white individuals to contract COVID-19, and twice as likely to die from it. Black people are also less likely to have paid sick days, leaving many who have recovered from COVID-19 with stalled income and the additional burden of medical bills. This is exacerbated by the fact that 12.3-percent of Black workers are uninsured vs. 7.5-percent of white workers making it more likely that Black workers will be burdened with costly medical bills if they get sick, and 73-percent of Black Americans say they do not have substantial financial reserves to cover sizeable emergency expenses.
"There is a clear disparity between white vaccination rates and Black vaccination rates across the country," Dr. Montgomery Rice said. "With the help of this gift from Bloomberg Philanthropies, we can close that gap and improve health outcomes for everyone."
About Morehouse School of Medicine
Founded in 1975, Morehouse School of Medicine (MSM) is among the nation's leading educators of primary care physicians, biomedical scientists, and public health professionals. An independent and private historically-Black medical school, MSM was recognized by the Annals of Internal Medicine as the nation's number one medical school in fulfilling a social mission —the creation and advancement of health equity. MSM faculty and alumni are noted for excellence in teaching, research, and public policy, as well as exceptional patient care. MSM is accredited by the Commission on Colleges of the Southern Association of Colleges and Schools to award doctoral and master's degrees. To learn more about programs and donate today, please visit www.msm.edu or call 404-752-1500.
About Bloomberg Philanthropies
Bloomberg Philanthropies invests in 810 cities and 170 countries around the world to ensure better, longer lives for the greatest number of people. The organization focuses on five key areas for creating lasting change: the Arts, Education, Environment, Government Innovation, and Public Health. Bloomberg Philanthropies encompasses all of Michael R. Bloomberg's giving, including his foundation, corporate, and personal philanthropy as well as Bloomberg Associates, a pro bono consultancy that works in cities around the world. In 2020, Bloomberg Philanthropies distributed $1.6 billion. For more information, please visit bloomberg.org or follow us on Facebook, Instagram, YouTube, Twitter and TikTok.
Contact
Nicole V. Linton
404-756-5238
nlinton@msm.edu