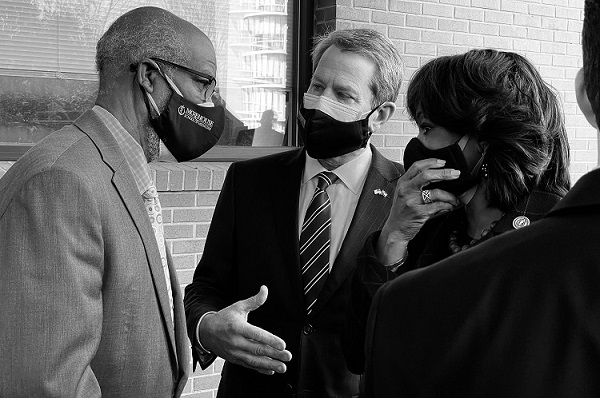 Governor, State Health Commission Meet with MSM Officials on Vaccine Efforts
Feb. 10, 2021 -- Morehouse School of Medicine welcomed Georgia Gov. Brian Kemp, State Public Health Commissioner Katherine Toomey, MD, and other state and local officials to campus for a roundtable on vaccine hesitancy and equity among minority communities across the state.
The Governor, shown above speaking to Rep. Calvin Smyre (also an MSM Trustee) and MSM President and Dean Valerie Montgomery Rice, MD, learned that the school has administered approximately 1,200 doses of the Moderna and Pfizer vaccines during its Community Vaccination Saturdays initiative but still has a waiting list topping 8,000 people. Gov. Kemp noted that the state's biggest challenge is obtaining vaccines not necessarily distributing them.
Related coverage: