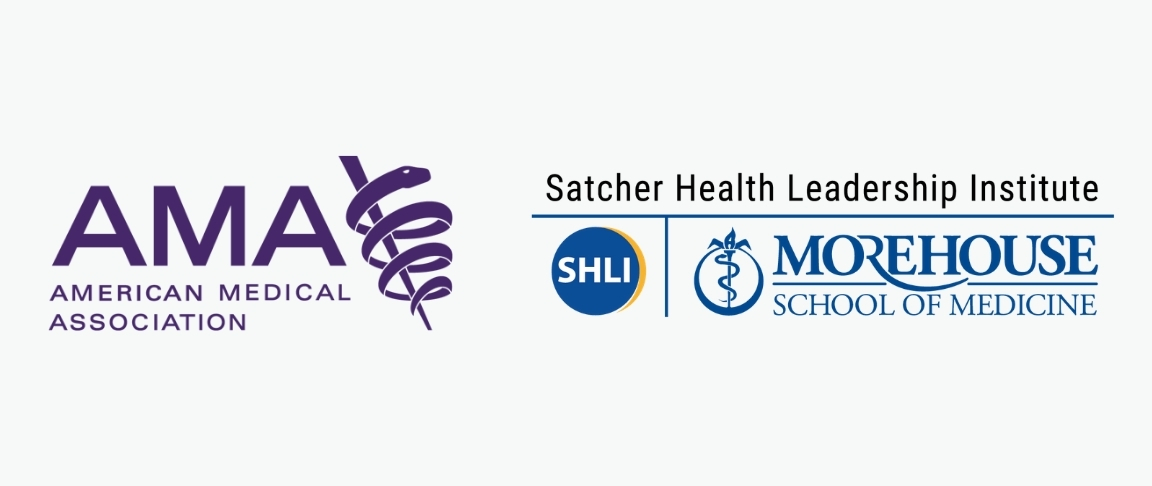 AMA, Satcher Health Leadership Institute Launch New Physician Fellowship Program to Confront Health Inequities
First-of-its-kind initiative aims to reshape the future of health equity advocacy, improve health outcomes
CHICAGO (Feb. 22, 2021) – The American Medical Association and the Satcher Health Leadership Institute at Morehouse School of Medicine today announced a collaborative educational initiative to empower physician-led advocacy that advances equity and removes barriers to optimal health for marginalized people and communities.
Daniel Dawes, JD
Under the mentorship of renowned multidisciplinary health equity experts, the new Medical Justice in Advocacy post-doctoral fellowship program will annually convene and train 10 physicians desiring greater knowledge and skills in confronting the root causes of inequity in communities across the country. The fellowship will mobilize physicians to be part of the next generation of advocacy leaders, driving meaningful policy and structural changes that produce equity and justice in the communities they serve. Together, the fellows will generate and exchange solutions and implement health equity projects that inform policy to ensure better health outcomes and close health gaps for patients.
"Our goal of ensuring that all people have the conditions to achieve optimal health requires that physicians be equipped with the consciousness, tools, and resources needed to confront racism and other forms of oppression in our health and other social systems, such as housing and education," said AMA's Chief Health Equity Officer Aletha Maybank, MD, MPH. "Through the creation of this fellowship, we have the opportunity to use collective leadership, knowledge, and experience to push upstream and train physician leaders how to effectively advocate for the policies and laws that advance equity and justice. These fellows, working collaboratively with others, will become a force of change within their own communities and help drive the future of medicine."
"The Medical Justice in Advocacy Fellowship will enable physicians to more effectively address the inequities faced by our most vulnerable communities. Rooted in the political determinants of health, this new and unique fellowship will provide physicians with the framework and tools needed to advocate for their patients and help move our nation closer to realizing health equity for all population groups," said Daniel E. Dawes, JD, professor of health policy, executive director of the Satcher Health Leadership Institute at Morehouse School of Medicine, and author of "The Political Determinants of Health."
Using an anti-racist, equity-centered, and political determinants of health learning framework, the fellowship will provide a mentoring and training platform that will equip participants with the foundational skills, tools, and knowledge to engage in institutional and political health advocacy. This will involve exploring several critical topic areas, including:
Upstream (action-based) models of advocacy that address social, political, and structural drivers of health
Structural, cultural, political, and historical analysis of the production of inequities
Sector and resource engagement required to improve community health and wellbeing
In conjunction with its Center for Health Equity, the AMA continues to work on every front to advance health equity and improve the health of the nation. Through research, collaborations, advocacy, and leadership, the AMA believes in supporting system-level solutions and identifying and addressing root causes of inequities while elevating their importance to patients, communities, and stakeholders. The implementation of the Medical Justice in Advocacy Fellowship aligns with the organization's strategic approach to collaborate with stakeholders to eliminate health inequities by pushing upstream and creating pathways for truth, reconciliation, and healing to remove obstacles in patient care.
In alignment with Morehouse School of Medicine's vision of leading in the creation and advancement of health equity, Satcher Health Leadership Institute is tackling barriers to health equity through its innovative research and programming in the areas of mental/behavioral health, health system transformation and political determinants of health. SHLI is rooted in the legacy of our founder, David Satcher, MD, a champion of health equity and mental health awareness, driven by a renewed vision and mission. In facing global health crises, the inequities in our health systems and across other systems have become even more evident. SHLI aims to not only create awareness, but also effect change and offer solutions within systems, communities, and through policies in order to realize a more healthy, equitable, and inclusive society.
The inaugural Medical Justice in Advocacy fellowship will run from September 2021 – November 2022 and is open to eligible physicians and residents with a demonstrated interest in health equity and advocacy. Selected participants will receive a stipend of $15,000* and will be eligible for up to 28 CME credit hours. The deadline to submit applications is Wednesday, March 31, 2021. For additional information on eligibility and to apply, visit the Medical Justice in Advocacy Fellowship website.
About the American Medical Association
The American Medical Association is the physicians' powerful ally in patient care. As the only medical association that convenes 190+ state and specialty medical societies and other critical stakeholders, the AMA represents physicians with a unified voice to all key players in health care. The AMA leverages its strength by removing the obstacles that interfere with patient care, leading the charge to prevent chronic disease and confront public health crises, and, driving the future of medicine to tackle the biggest challenges in health care. For more information, visit ama-assn.org.
About Satcher Health Leadership Institute
The Satcher Health Leadership Institute (SHLI) aims to be the leading transformational force for health equity in policy, leadership development and research. Rooted in the legacy of its founder, the 16th U.S. Surgeon General, Dr. David Satcher, SHLI's mission is to create systemic change at the intersection of policy and equity by focusing on three priority areas: the political determinants of health, health system transformation, and mental and behavioral health. In conjunction with key strategic partners, SHLI enhances leadership among diverse learners, conducts forward-thinking research on the drivers of health inequities and advances evidence-based policies, all in an effort to contribute to the achievement of health equity for all population groups.
Learn more at https://satcherinstitute.org; https://healthequitynetwork.org.
About Morehouse School of Medicine
Morehouse School of Medicine (MSM), located in Atlanta, Ga., exists to improve the health and well-being of individuals and communities, increase the diversity of the health professional and scientific workforce and address primary health care through programs in education, research and service, with emphasis on people of color and the underserved urban and rural populations in Georgia, the nation and the world. MSM is among the nation's leading educators of primary care physicians and has twice been recognized as the top institution among U.S. medical schools for its dedication to the social mission of education. The faculty and alumni are noted in their fields for excellence in teaching, research and public policy, and are known in the community for exceptional, culturally appropriate patient care. Morehouse School of Medicine is accredited by the Commission on Colleges of the Southern Association of Colleges and Schools to award doctorate and master's degrees.
Media Contacts:
AMA Media & Editorial
312-464-4430
Media@ama-assn.org