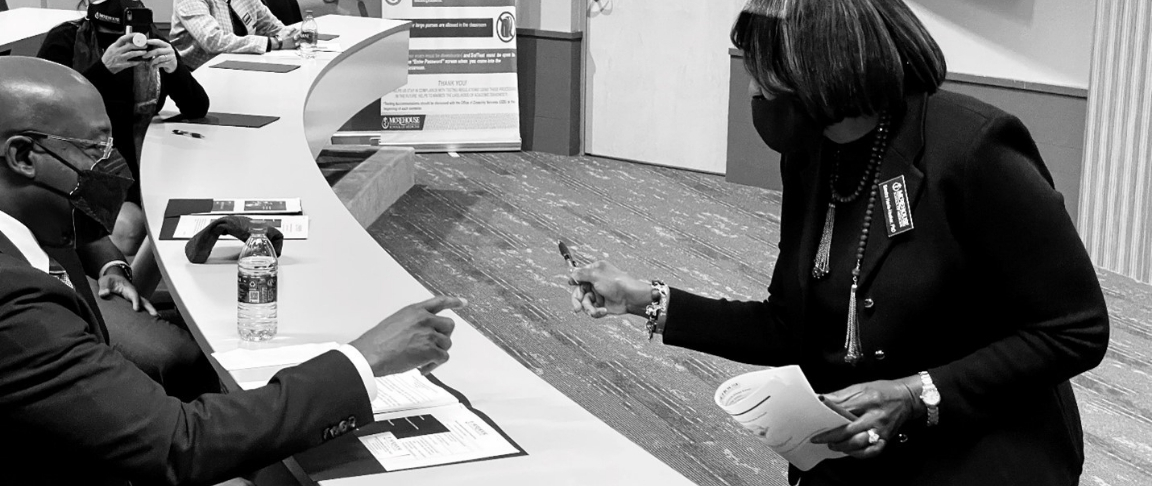 Sandra Harris-Hooker, PhD, MSM vice president and executive vice dean for research and academic administration (right), leads briefing for U.S. Sen. Raphael Warnock (left).
Sen. Warnock Visits MSM to Discuss COVID Vaccines, Stimulus Bill
U.S. Sen. Raphael Warnock (D-GA) visited Morehouse School of Medicine Monday, March 8 where he was briefed by MSM clinical and academic experts on the school's COVID-19 vaccine distribution initiatives and trial studies taking place at the school.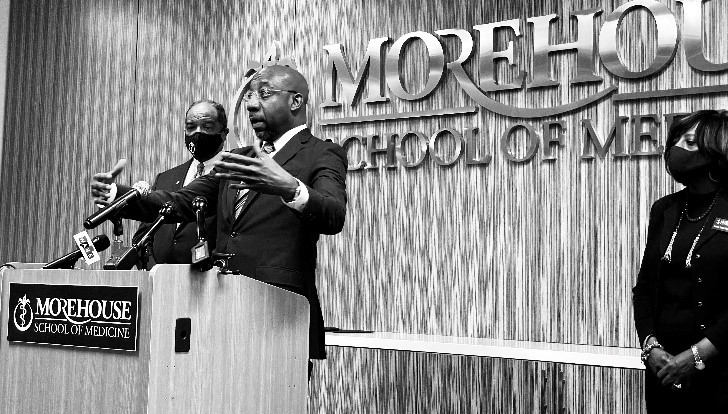 Sen. Warnock addresses the media during his March 8 visit to MSM as Dr. Harris-Hooker (right) and Senior Associate Dean for Clinical Affairs and Chief Medical Officer Greg Antoine, MD, (left) look on.
After the briefing, Sen. Warnock spoke to the media, praising MSM's work as an institution dedicated to health equity and its COVID-related initiatives including delivering vaccinations to eligible community members. The senator also talked about the details of the historic $1.9 trillion COVID stimulus package passed this weekend, and how it will help Georgians.
The package includes:
$1,400 direct payments to over 4 million Georgians
$8 billon dollars to our state and local governments right here in Georgia
$4 billion dollars to reopen schools
$2 billion to finally expand Medicare
The stimulus package also has a little something for MSM, the Senator said.
"Morehouse School of Medicine, in this package there is $20 billion being invested in keeping our vaccination distribution and coordination moving forward," Warnock said.