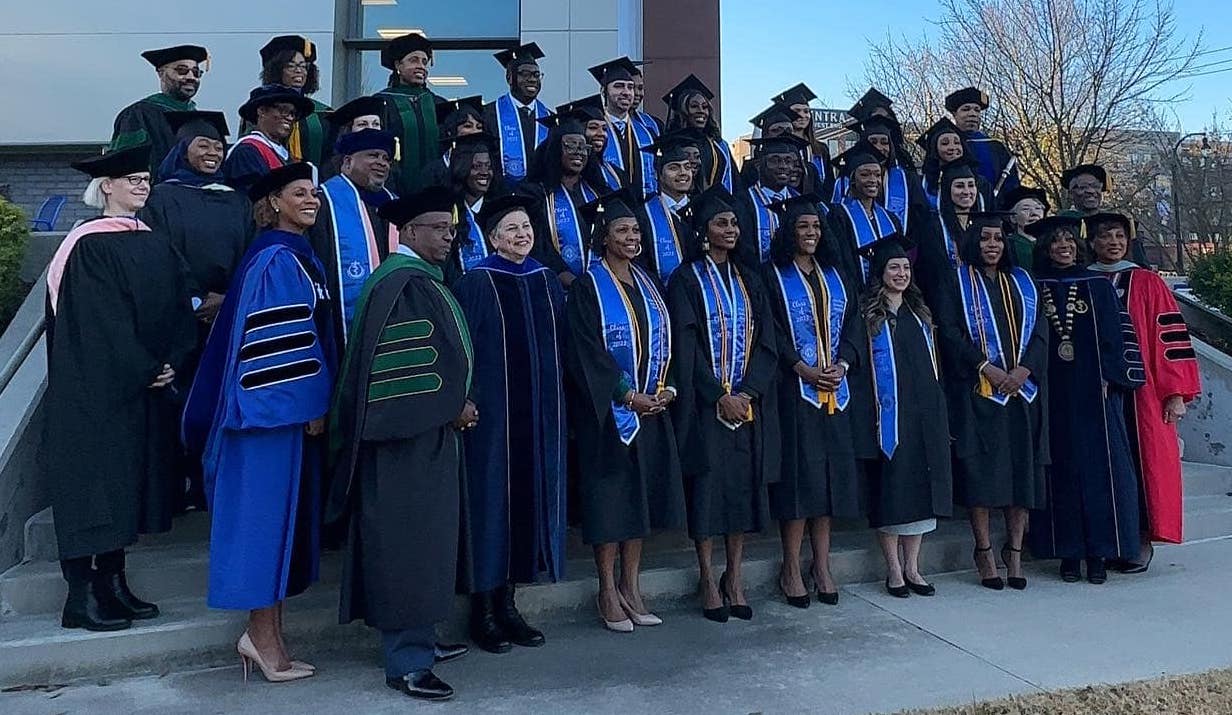 MSM Celebrates 81 Graduates at Second Winter Commencement
Historically Black Medical School confers master's and doctoral degrees during on-campus ceremony marking end of semester.
ATLANTA – DECEMBER 19, 2022 – Morehouse School of Medicine conferred master's and doctoral degrees upon 81 graduates at its Second Winter Commencement on Friday, December 16. Dawn Morton-Rias, EdD, PA-C, president and CEO of the National Commission on Certification of Physician Assistants, served as the keynote speaker. The on-campus ceremony was also livestreamed for guests who were unable to attend in person.
"As you go forward, hold strong to the principles and guiding forces that compelled you to this life of service," Morehouse School of Medicine President and CEO Valerie Montgomery Rice, MD, FACOG, urged the graduates. "Understand that you are the legacy of this institution. The bonds you have forged do not cease now that you have graduated. Instead, much like the roots of a blossoming tree, they will continue to grow and extend deep into the foundation, anchoring you no matter the force of winds or rain ahead."
MSM awarded one Master of Science in Clinical Research degree; one Master of Science in Medical Sciences degree; 37 Master of Science in Biotechnology degrees; 10 Master of Science in Health Informatics degree; three Doctor of Philosophy in Biomedical Sciences degrees; and 29 Master of Science in Physician Assistant Studies degrees.
Commencement Week kicked off Thursday evening with Class Day, recognizing student excellence in academics across the GEBS and PAS programs with the presentation of numerous achievement and leadership awards. The President and Dean's reception followed, giving students and their families the opportunity to socialize with each other as well as Dr. Montgomery Rice and Dean Joseph A. Tyndall.
First established as a two-year medical program at Morehouse College in 1975, Morehouse School of Medicine has been an independent institution since 1981. In addition to its world-renowned Doctor of Medicine program, MSM offers a wide range of health sciences doctorate and master's degrees in public health, biomedical sciences, and physician assistant studies. Many programs are available online or in a hybrid format for distance learners.
For more information about Morehouse School of Medicine, please visit MSM.edu.
About Morehouse School of Medicine
Founded in 1975, Morehouse School of Medicine (MSM) is among the nation's leading educators of primary care physicians, biomedical scientists, and public health professionals. An independent and private historically-Black medical school, MSM was recognized by the Annals of Internal Medicine as the nation's number one medical school in fulfilling a social mission—the creation and advancement of health equity. Morehouse School of Medicine's faculty and alumni are noted for excellence in teaching, research, and public policy, as well as exceptional patient care. MSM is accredited by the Commission on Colleges of the Southern Association of Colleges and Schools to award doctoral and master's degrees. To learn more about programs and donate today, please visit www.msm.edu or call 404-752-1500.
Contact
Jamille Bradfield
Morehouse School of Medicine
jbradfield@msm.edu