MSM Receives $300,000 Grant to Promote Urban Farming, Address Food Insecurity in Atlanta
Funds Given by Apple and Southern Company-Sponsored Propel Center for partnership between MSM and Booker T. Washington High School.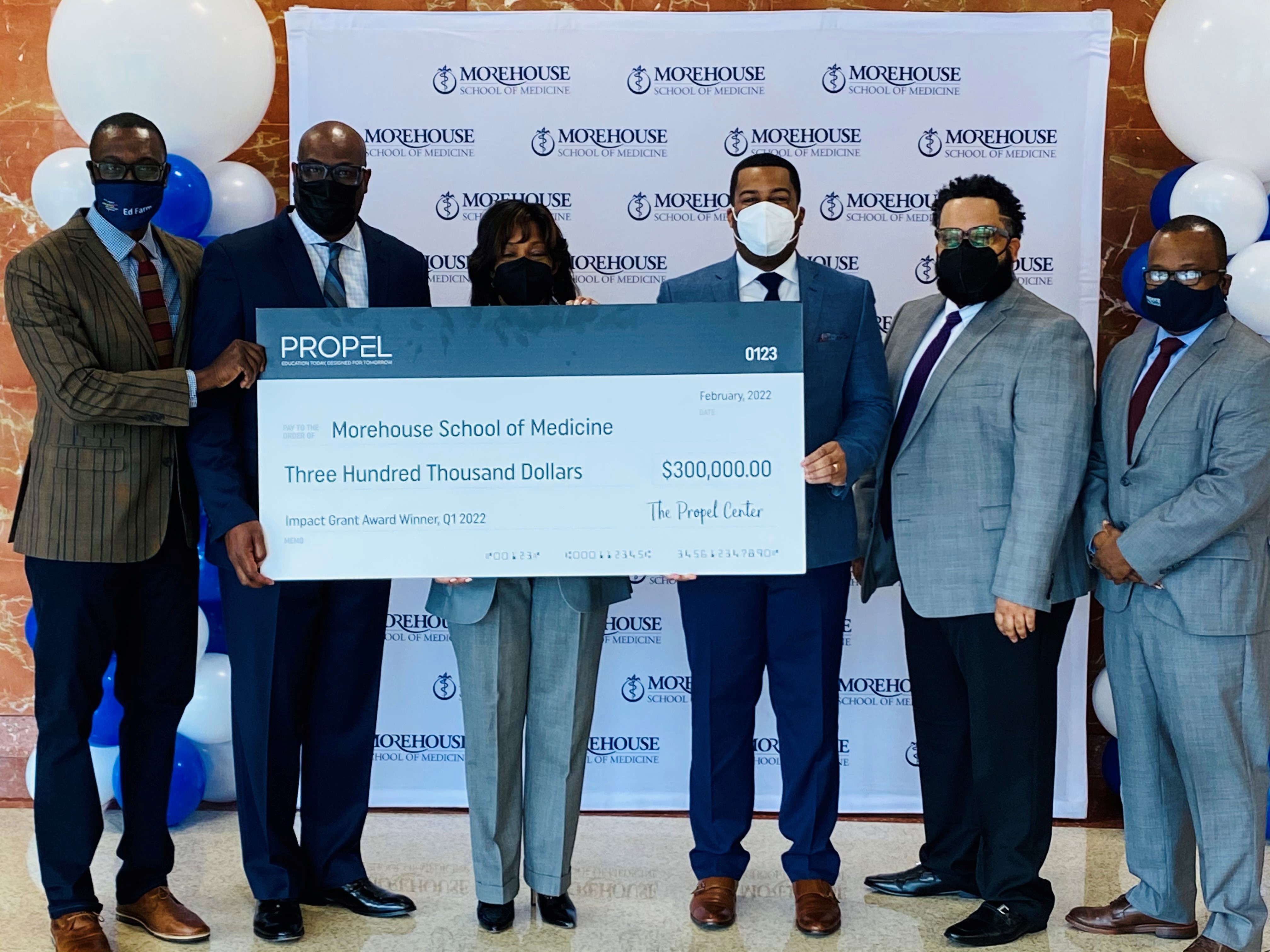 ATLANTA – FEBRUARY 28, 2022 – Morehouse School of Medicine (MSM) has received a $300,000 grant from the Propel Center to promote urban farming and address food insecurity in Atlanta's West End community by leveraging digital technology and a host of other resources.
Morehouse School of Medicine's Office for Educational Outreach and Health Careers (EOHC), the MSM Department of Graduate Education in Public Health, and Booker T. Washington High School collaborated to receive one of five AgTech Grants given by the Propel Center, founded by Apple and Southern Company as a first-of-its-kind innovation and learning hub for historically black colleges and universities (HBCUs). The grant includes $200,000 in cash and a $100,000 Apple Hardware Kit.
"This is a unique opportunity to address two major concerns in the African-American community: the low participation by Black students in AgTech STEM programs, and ongoing food insecurity in the West End, our home community," said Morehouse School of Medicine President and CEO Dr. Valerie Montgomery Rice. "Working with the Propel Center and Booker T. Washington High School, our goal is to help encourage more young African-American students to consider careers in AgTech, and, of course, help address hunger in our surrounding neighborhood. We also want to teach these young people about the medicinal potential of plants and encourage them to embrace innovation."
"The Propel Center, which will build our physical campus in the Atlanta University Center, can't have a better start to our AgTech program than by partnering with Morehouse School of Medicine, which embodies our mission of serving as a catalytic epicenter for driving transformational change in communities of color," said Propel Center President Dr. Charles Gibbs. "We are looking forward to rich dividends from this initiative that will bring a state-of-the art learning and innovation hub to Booker T. Washington High School."
The grant proposal, "From Survivor to Innovator: The Digital Agricultural Wagon and Agricultural School on Wheels," secured a Propel Impact Agri-Tech grant for its focus on health, urban agriculture, social justice, and entrepreneurship. The program will be led by EOHC's Ryan Clark, PhD, MS, and Jarrod Lockhart, EdD, MEd.
The initiative is designed to address the issue of food insecurity in Atlanta's West End by innovating mobile/digital platforms that connect community members to effective, digital urban farming strategies, resources, and solutions. An innovation laboratory will be created at Booker T. Washington to outfit a classroom with state-of-the-art Apple equipment, including Macbook Pros, iPads, iPens, and other devices which will be pre-loaded with Apple applications and agricultural software, and mobile classroom furniture to facilitate an active learning environment.
Key components of the Morehouse School of Medicine AgTech program include:
Providing technology-focused professional development for Booker T. Washington Career, Technical, and Agricultural Education (CTAE) teachers
Incorporating experiential learning components from the MSM Master of Public Health service-learning model into the Booker T. Washington AgSTEM curriculum
Engaging students in mini projects aimed at ideating and designing sustainable urban farming systems and repositories
Over the next few months, the MSM team will begin creation of the innovation laboratory and will work with Booker T. Washington educators to curate the integration of new curricular components and projects. The program's activities will officially begin in the Fall of 2022.
About Morehouse School of Medicine
Founded in 1975, Morehouse School of Medicine (MSM) is among the nation's leading educators of primary care physicians, biomedical scientists, and public health professionals. An independent and private historically-Black medical school, MSM was recognized by the Annals of Internal Medicine as the nation's number one medical school in fulfilling a social mission—the creation and advancement of health equity. Morehouse School of Medicine's faculty and alumni are noted for excellence in teaching, research, and public policy, as well as exceptional patient care. MSM is accredited by the Commission on Colleges of the Southern Association of Colleges and Schools to award doctoral and master's degrees. To learn more about programs and donate today, please visit www.msm.edu or call 404-752-1500.
About the Propel Center
Imagined in January 2021 by founding partners Apple and Southern Company, the Propel Center is a first-of-its-kind innovation and learning hub for the entire HBCU community that leverages technology to advance education equity and transform the nation's talent pipeline and workforce. Through a robust virtual learning platform, on-campus activations at partner institutions, and a physical campus to be located in Georgia's Atlanta University Center, Propel represents education now, designed for the future. The state-of-the-art edifice, featuring floating classrooms, ideation labs and common areas promoting interactive collaboration is slated for completion in the Spring of 2023. For more information, please visit propelcenter.org.
Contact
Amanda Magdalenski
Morehouse School of Medicine
404-752-5238
amagdalenski@msm.edu