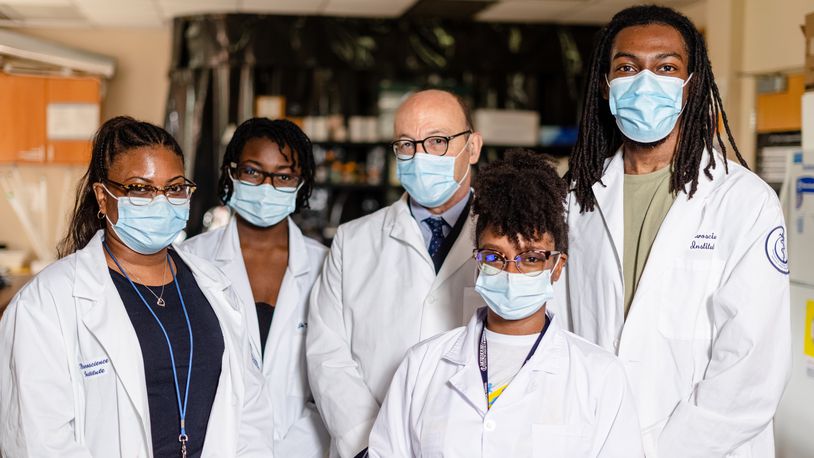 MSM Gets Grant to Advance Genomics Research
The initiative will bring $11.5 million to the school in coming years to bridge the gap
between representation and need in genomics research.
By Donovan J. Thomas, Atlanta Journal Constitution | September 27, 2022
Morehouse School of Medicine is joining a $46 million collaboration focused on expanding genomic research efforts in order to discover new ways to treat and prevent diseases.
The partnership, known as the Accelerate Precision Health program, is supported by the Chan Zuckerberg Initiative, an organization created by Facebook founder Mark Zuckerberg and his wife Priscilla Chan to "solve some of society's toughest challenges." The grant is part of a multi-year, $500 million investment to support healthcare research advancing racial equity, diversity, and inclusion efforts.
Together with the nation's three other Historically Black Medical Colleges — Charles R. Drew University College of Medicine and Science, the Howard University College of Medicine, and Meharry Medical College — Morehouse School of Medicine will work to advance "precision medicine" for all communities, especially for Black people and other people of color.
According to Morehouse School of Medicine, precision medicine accounts for differences in genetic, environmental, and lifestyle factors that help doctors make treatment and prevention plans specific to individual patients, rather than taking a one-size-fits-all approach.
"These measures will enhance Morehouse School of Medicine's continued commitment to academic excellence, service, and innovation as we lead the creation and advancement of health equity," MSM President and CEO Dr. Valerie Montgomery Rice said in a press release.
"Our work will address the gap between representation and need in genomics research," Steve Quake, head of science at Chan Zuckerberg Initiative, said in a press release. "Advances from collaborations with the HBMCs will result in broader participation in and access to genomics research and expand the population that can benefit from precision health."
Each institution will receive $11.5 million over the next five years. The funds will be used to expand research opportunities for students, support the creation of a new master's program in genetic counseling, and establish additional faculty positions.
"I think that what it [The Accelerate Precision Health program] could do nationally is bring attention and light on the fact that communities are being left behind as precision medicine is rolling out," said Dr. Rick Kittles, senior vice president for research at Morehouse School of Medicine. "We have to do something about that."