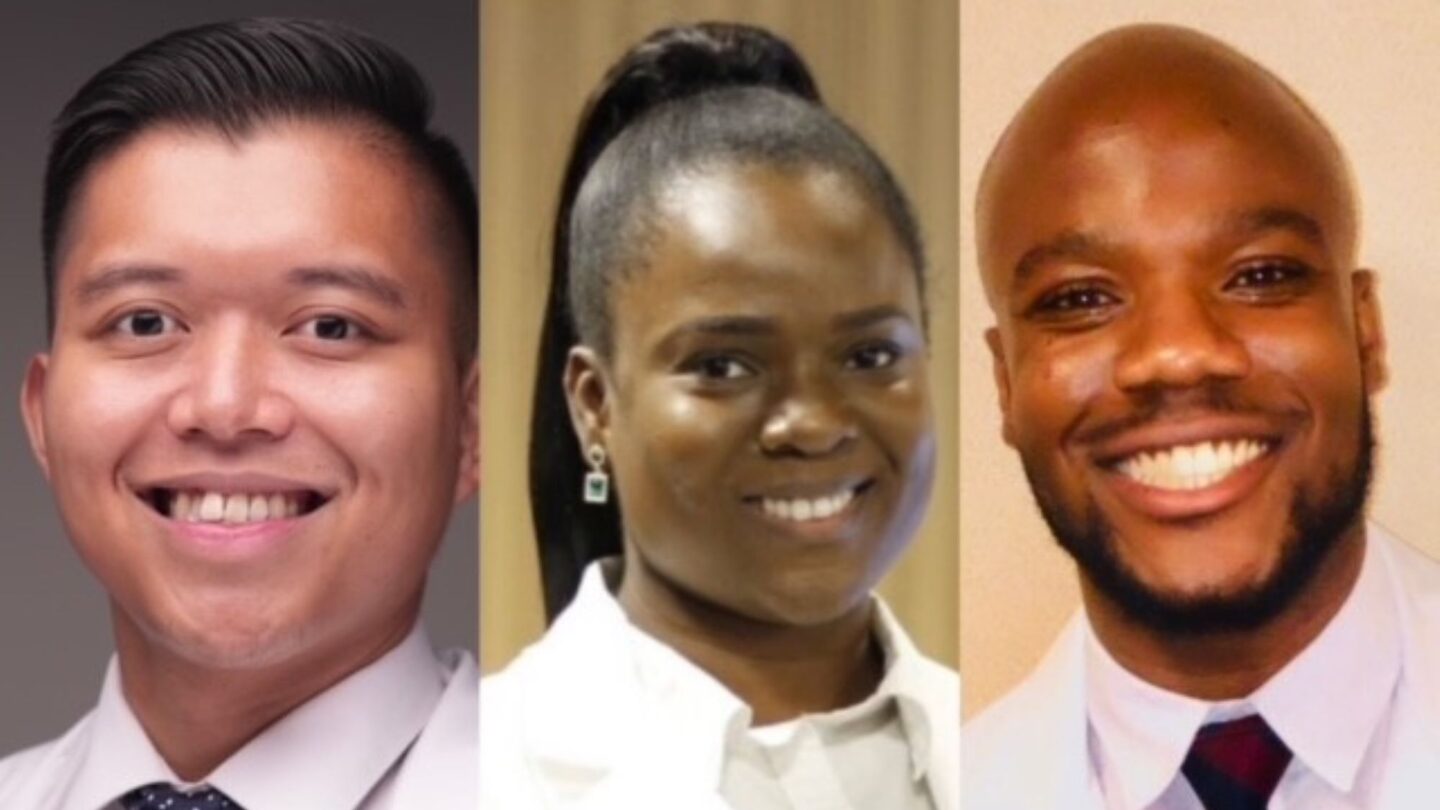 L - R: Paolo Gilleran, Omolaya Dada, and Eddie Gontee
Diversifying the Field: MSM Students Score Promising Opportunities with NFL
MSM students Paolo Gilleran, Omolaya Dada, and Eddie Gontee are three of 14 medical students across the country selected for the inaugural class of the NFL Diversity in Sports Medicine Pipeline Initiative.
By Kenny Murry, WABE | September 8, 2022
As the son of a nurse, Paolo Gilleran knew since childhood that his future would involve medicine.
However, it was not until a family medical emergency that Gilleran knew that he wanted to have a hand in changing the way that medicine was done.
"My grandmother immigrated with me to the United States from the Philippines and along the way, she developed kidney disease because of untreated diabetes," he said. "Finding dialysis in Georgia for an immigrant is hard because she was uninsured … we had to move her to the New Jersey, New York area where they had a program that provided free dialysis. It was that experience of trying to navigate a very convoluted healthcare field that really pushed me towards trying to help others to get the care that they need."
A fourth-year medical student at the historically renowned Morehouse School of Medicine and the first of his family to attend medical school since his family immigrated to Columbus in 2000, Gilleran now becomes one of the first medical students nationwide to participate in the NFL Diversity in Sports Medicine Pipeline Initiative. The program is a diversity and inclusion initiative between the National Football League (NFL), the NFL Physicians Society (NFLPS) and the Professional Football Athletic Trainer Society (PFATS).
Gilleran, along with Morehouse School of Medicine colleagues Eddie Gontee and Omolaya Dada, are three of 14 students selected to participate in the program. Morehouse School of Medicine was one of the four participating HBCUs that are part of the initiative.
According to a press release published by MSM last month, the students will work directly with and under the supervision of the orthopedic team physicians, primary care team physicians and athletic trainers to gain basic medical knowledge and exposure to patient care in sports medicine. They will also have the option of attending home games and being present on the sidelines for observations.
The students will participate in one-month clinical rotations starting later this month, with Gontee and Gilleran working alongside team physicians of the Atlanta Falcons, and Dada traveling to California to practice with the San Francisco 49ers.
"I'm excited about learning from the best about their roles and learning more about what they do to diagnose and treat the different injuries and ailments," Gilleran said. "I want to be a sponge and absorb everything that they can teach me and place that into my own practice in the future."
For Gontee, a metro Atlanta resident and Savannah State University alumnus, the opportunity to work alongside his favorite team is a lifelong dream come true.
"I'm a Georgia boy. I'm a huge Falcons fan," Gontee said. "When I had the opportunity to rotate with them, meet the players, be on the sidelines and help to provide care for … I couldn't turn that down. It's going to be a lot of hard work, but very rewarding."
"Morehouse School of Medicine is honored to have three of our students in the inaugural class of the NFL Diversity in Sports Medicine Pipeline Initiative," said Adrian Tyndall, MD, MPH, Dean and Executive Vice President of Morehouse School of Medicine, in a recent press release.
"Having access to this specialized clinical rotation with NFL club medical staffs not only demonstrates the league's commitment to diversity, equity and inclusion, but ensures our participating students are trained at the highest level in orthopedic and primary care sports medicine."
Conversations on sports medicine have become more prominent in media and popular culture in recent years, with more research on concussions and potential long-term mental and physical effects of sports injuries among professional athletes conducted than ever before.
To Dada, a fourth-year medical student and Master of Science in Medical Sciences graduate from Morehouse School of Medicine, the presence of a sport's physician during professional teams' practices and games is not only important but essential.
"Things happen, accidents happen, and someone has to be there to assess the situation and make important decisions," said Dada.
Dada believes that while sports physicians cannot fully prevent injury in high-impact situations such as football, it is their duty as physicians and as researchers to find ways to minimize the risks as much as possible.
"It's going to take a joint effort to prevent concussions from happening … from making sure players don't get hit in the head, making sure players have enough time to recover, making sure that helmets continually increase safety measures. Nothing will ever be 100% proof, but we want to continue to do our best to get to 100% as possible."
Since the announcement was made last month, the students have garnered overwhelming support from friends, family, and colleagues.
"It feels almost surreal … life changing," said Gontee, who aspires to go into orthopedic surgery after graduation. "When I got the rotation, my family was excited, my girlfriend was excited. It felt great."
"People are genuinely happy that this an opportunity for more representation to be within those spaces because there's not enough," Dada said.
While African-American players make up 70% of the NFL's rosters, the representation of medical personnel off the field is drastically low, with only 5% of physicians who identify as Black or African Americans making up the membership of the NFLPS.
The NFL has caused much controversy in recent years on the subject of race relations, from accusations of racial discrimination among coaches to criticism of the league's perceived lack of response or support of former 49s player Colin Kaepernick, whose kneeling during game performances of the national anthem sparked controversy.
Despite these events, Dada expresses praise for the NFL's dedication of "taking the first step" in providing career opportunities and resources for African American physicians and other medical personnel of color.
"There is a need for diversity, and the NFL is making an effort to work on that … I see this as an opportunity that shouldn't be passed up, and that it is an open door in improvement in that area," said Dada.
Although thankful for the resources and promotion that the NFL initiative has garnered them, the three students all agree that their high level of passion and dedication to the medical profession would not have been achievable if it was not for their enrollment into Morehouse School of Medicine.
"Being able to see people who look like you, think like you, come from similar backgrounds … who know what it takes for a minority student to excel in the field of medicine … I think it's incredibly important," Gontee said.
Gontee initially completed a two-year master's program with the School of Medicine before enrolling in the medical school. He credits Morehouse with helping to "serve the underserved" and raise health equity by producing a vast rate of physicians of color.
"Atlanta as a whole, the Black Mecca as we call it, it spoils us. When I go to conferences outside of the city, I will be maybe only one of three black males in medicine … it really makes you appreciate places where Black excellence is not something that is rare," he said.
"There is no possible way that you can serve a Black population, but all of the physicians are white. Even if they are trying their best to provide the best patient care that they can, somewhere somebody's going to fall short … you still need people with cultural competency. The best way to gain that is to have people who look like you serving you and teaching their qualities to (doctors) who may not have the same experiences."
Gilleran, who plans on practicing psychiatry after gradation to help provide mental health treatments within minority communities, attributes the success of himself and his colleagues to Morehouse's open-door policy among staff.
"I just really like the culture that has been established; it feels just like a family" he said. "A lot of the faculty and staff are very approachable and easy to talk to. They are there for you whenever you need them and it's a very welcoming program to be a part of."
Another aspect that Gilleran credits for enabling success is the curriculum, an extensive workload that can prove strenuous at times.
"It's hard, I'm not going to lie," said Gilleran. "I spend a lot of hours studying, especially the first three years, between clinical and studying maybe 18 to 20 hours a day … it can be exhausting, but the outcome is definitely worth the sacrifice."
Dada, who has ambitions to continue practicing medicine in the NFL after her upcoming graduation next year, hopes that the newfound opportunities she and her colleagues have been given will be able to make an impact on incoming MSM students.
"I think it's just, first of all, having a seat at the table and having someone there who can reach back and say, 'Hey I've done it, you can do it too,'" Dada said.
"Diversity cultivates inclusion… it sparks creativity and innovation and creates opportunities for others. It's not by any means easy, but you just have to keep pushing and doing your best. People's lives depend on it."