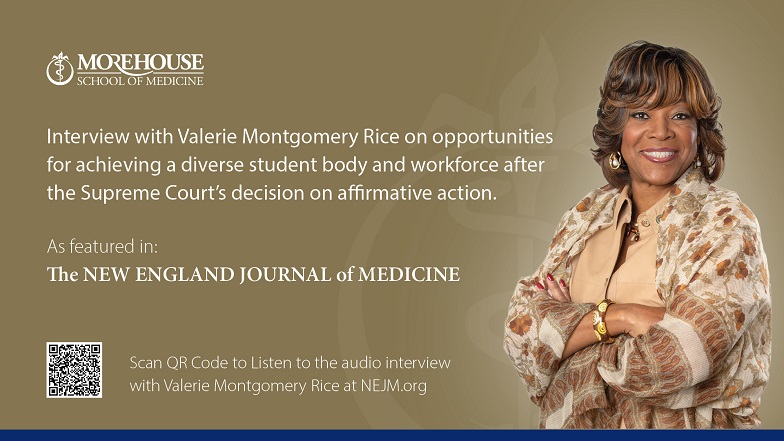 The Supreme Court and the Importance of Diversity in Medicine
MSM President and CEO Valerie Montgomery Rice coauthors New England Journal of Medicine article
on implications of US Supreme Court's affirmative action ruling.
By Valerie Montgomery Rice, MD, Clyde W. Yancy, MD, Gilda Barabino, PhD, Cedric Bright, MD, and Cato T. Laurencin, MD, PhD
Published in the New England Journal of Medicine, August 24, 2023
Morehouse School of Medicine President and CEO Valerie Montgomery Rice, MD, FACOG, coauthored an article in the New England Journal of Medicine and appeared on the Journal's Perspective podcast regarding the US Supreme Court's recent ruling on affirmative action, how it affects medical school diversity, and the impacts on the health and wellness of Black Americans and other people of color.
In a landmark ruling on June 29, 2023, the U.S. Supreme Court decided in favor of Students for Fair Admissions in parallel cases against the University of North Carolina (6 to 3) and Harvard College (6 to 2). The decision effectively ends the legal consideration of race in university admissions, especially for selective institutions; it no doubt extends to medical school admissions. As members of the Roundtable on Black Men and Black Women in Science, Engineering, and Medicine created by the National Academies of Sciences, Engineering, and Medicine, we recognize the importance of diversity and have identified potential strategies for supporting diversity in medicine while complying with the Court's ruling.
The decision effectively overturns decades of legal precedent and threatens progress toward educational equity. Using race as a factor in a multifaceted, holistic review of applications in higher education was first legally sanctioned in 1978. In Regents of the University of California v. Bakke, the Court affirmed the use of race as constitutionally permissible to confer certain educational benefits associated with having a racially diverse student body. This precedent was affirmed in 2003 in two cases involving the University of Michigan's admissions procedures (Gratz v. Bollinger and Grutter v. Bollinger), and the constitutionality of using race as a factor was reaffirmed in 2016 in Fisher v. University of Texas.
The majority and minority opinions in the current decision are strikingly divergent. In a dissenting opinion, Justice Ketanji Brown Jackson was resolute: "Deeming race irrelevant in law does not make it so in life.…No one benefits from ignorance.…Race still matters to the lived experiences of all Americans in innumerable ways." The majority argued that it's time to adopt colorblind admissions policies; Justice Sonia Sotomayor countered: "The court cements a superficial rule of colorblindness as a constitutional principle in an endemically segregated society where race has always mattered and continues to matter."
The decision to eliminate affirmative action and thus dismiss diversity's benefits in higher education ignores four decades of tedious progress toward educational equity and four centuries of disadvantage for members of marginalized racial and ethnic groups, especially those who identify as Black or African American. Among the many scars directly attributable to centuries of segregation and racism is inequity in access to higher education, particularly professional and graduate schools. Potential consequences of this decision include having fewer members of such groups serving as executives of health and health care organizations and as medical and life-sciences researchers.
People seeking to overturn diversity and inclusion initiatives have asserted that focusing on diversity when selecting a class is discriminatory and divisive and undermines merit. In reality, data reveal improved patient outcomes with a more diverse medical community, and lessons from U.S. corporations validate the importance of increased diversity, particularly diversity of ideas, as a path to achieving business objectives.1
Contemporary medical practice demands attention to the health and well-being of all people and, especially in the United States, requires that physicians serve diverse, multicultural, pluralistic patient communities. There is no convincing rationale for not attempting to ensure that the physician workforce reflects community demographics and can provide culturally competent care. Moreover, the history of medicine is replete with examples of excess morbidity and mortality caused by implicit bias and disproportionately affecting historically marginalized groups. On most campuses today, students learn at least as much from interactions with their classmates — particularly those from backgrounds unlike their own — as they do from professors. Having a diverse class promotes multicultural immersion and exploration that enables understanding of various identities, cultures, customs, and social contexts. Fostering a culturally heterogeneous learning environment is judged to be so important that the Liaison Committee on Medical Education assesses diversity and inclusion in medical school accreditation.
In a recent survey conducted by the Association of American Medical Colleges (AAMC), 7% of U.S. physicians identified as Hispanic and 6% as Black or African American, well below the population proportions of 18% and 13%, respectively. Black physicians are more likely than White physicians to enter primary care and to practice in underserved areas,2 and evidence is mounting that patients from marginalized racial or ethnic groups fare better when treated by culturally concordant clinicians.3 U.S. medical school matriculants are still disproportionately drawn from the upper socioeconomic classes4 and elite undergraduate institutions. But with recent attention to the value of diversity in medical education and recognition of the need to confront injustices, medical school enrollment of Black and Hispanic students is increasing, according to the AAMC. Efforts to increase diversity in medicine have inarguably been beneficial. We contend that now is not the time to stop working toward increased diversity in medical education and the medical workforce.
In states where consideration of race is no longer permitted in admissions processes, the number of students from groups that are underrepresented in medicine has fallen.5 With the Supreme Court's elimination of the use of race as a factor in admissions, diversity in medical schools and the medical profession is likely to decline, health care disparities will persist, and efforts to advance health equity will suffer.
Writing for the Court's majority, Chief Justice John Roberts provided guidance for a way forward, noting that "nothing prohibits universities from considering an applicant's discussion of how race affected the applicant's life, so long as that discussion is concretely tied to a quality of character or unique ability that the particular applicant can contribute to the university." The majority also asserted, however, that universities shouldn't "establish through application essays or other means the regime we hold unlawful today."
Consequently, consideration of a candidate's race, even as a surrogate for some permissible criterion, is no longer allowed in admissions processes. But there are several potential strategies whereby race-agnostic review could continue to realize the benefits of diversity.
First, admissions committees could emphasize comprehensive review, particularly review of applicants' life journeys — recognizing that although scholarly accomplishment and raw intellect are prerequisites for medical school admission, many additional attributes, including empathy, perseverance in the face of uncertainty, a learning-oriented mindset, deft powers of observation, good listening skills, a focus on teamwork, and collegiality, are valuable if students are to become successful physicians. None of these qualities are evident in test results or grade-point averages. Second, committees could consider how applicants — in essays or interviews — articulate the effects of racialized acculturation on their personal journeys and highlight particular contributions they could make to an institution or profession that can't be captured by traditional metrics. Third, committees could stress character assessment, reflecting on applicants' life histories and resilience and the challenges they've faced, and incorporate metrics such as "adversity scores," which are often especially relevant to students from economically challenged backgrounds that have required early-life sacrifices and work experiences.
Universities, think tanks, and academic societies will undoubtedly weigh in on other new applicant-review processes, which might ultimately be evaluated in legal cases. The profile created using comprehensive review, in concert with assessment of academic prowess, could help predict students' likelihood of success in the face of challenging social and clinical circumstances and illuminate traits such as grit, perseverance, and drive — critical attributes for practicing in an increasingly complex environment. Finally, medical schools could increase their capacity, creating more opportunities for all potential students.
Physicians take an oath to "do no harm." The cessation of prevailing admissions policies may further harm members of society who have long experienced injustices. We remain firm in our conviction that diversity, especially diversity of thought and culture, is invaluable. Over several decades, the environments in which we learn and practice medicine and conduct research have gradually become more equitable, and medicine has improved as both a profession and a practice. We must not allow a return to the dark era of medicine, when the profession did well for some patients and little for others. As leaders in medicine, we are bound by the ethical principles of beneficence, nonmaleficence, and justice. Accordingly, although we will comply with the Court's decision, we remain committed to the laudable and cardinal goal of achieving a diverse student body and workforce. Medical education must be steadfast and relentless in this pursuit, which will render medicine more just, fair, and equitable. Our patients — all our patients — deserve no less.
References
McKinsey and Company. Diversity wins: how inclusion matters. May 19, 2020 https://www.mckinsey.com/featured-insights/diversity-and-inclusion/diversity-wins-how-inclusion-matters
Xierali IM, Nivet MA. The racial and ethnic composition and distribution of primary care physicians. J Health Care Poor Underserved 2018;29:556-570.
Alsan M, Garrick O, Graziani GC. Does diversity matter for health? Experimental evidence from Oakland. National Bureau of Economic Research, August 2019 https://www.nber.org/papers/w24787
Shahriar AA, Puram VV, Miller JM, et al. Socioeconomic diversity of the matriculating US medical student body by race, ethnicity, and sex, 2017-2019. JAMA Netw Open 2022;5(3):e222621-e222621.
University of California. Research and analyses on the impact of Proposition 209 in California https://www.ucop.edu/academic-affairs/prop-209/index.html