Morehouse School of Medicine's 12th Annual Heart Healthy Week Events Raise Awareness and Support Student Scholarships
Since it was founded in 2009, the Women with Heart Initiative has raised more than $2 million
for scholarships that have been awarded to more than 100 MSM students.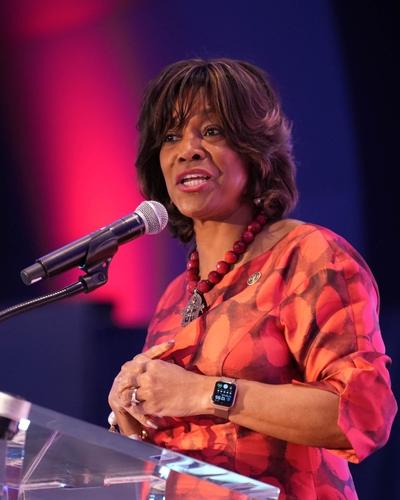 Dr. Valerie Montgomery Rice
President & CEO, Morehouse School of Medicine
After a two-year absence due to the pandemic, Morehouse School of Medicine was thrilled to welcome back our signature Women with Heart Initiative events. The 12th Annual Women with Heart Healthy Week, sponsored by Southern Company Gas, kicked off with the Men's Prayer Breakfast on Tuesday, January 31 in the beautiful Oceans Ballroom at the Georgia Aquarium. The Breakfast featured a reflection on longtime MSM friend, Henry "Hank" Aaron, delivered by Ambassador Andrew Young as well as addresses from MSM's own Dr. Rick Kittles and Dr. David Satcher and featuring keynote speaker and former Congressman Jesse Jackson, Jr. The event raises awareness of the heart disease risks Black women disproportionately face, promotes a healthy lifestyle, and raises funds to support scholarships for MSM students.
The very next day, the Oceans Ballroom became a sea of red as the Women With Heart Committee welcomed nearly 600 attendees to the Women's Heart Healthy Luncheon. WSB-TV's reporter Karyn Greer once again graced the event as the mistress of ceremonies. Keynote speaker Dr. Melissa Burroughs, Cardiovascular Disease Specialist at WellStar Health Systems, spoke to the crowd about the warning signs of cardiovascular disease, saying, "Being overweight is not always a warning sign." MSM President and CEO Dr. Valerie Montgomery Rice stated it perfectly – "It's your waist, not your weight."
The most moving part of the luncheon came as three women who experienced cardiovascular episodes shared their journeys. These included a woman who suffered several strokes, a heart attack survivor, and a woman who needed an emergency valve transplant after experiencing heart problems. None of the women had preexisting conditions that could have contributed to their cardiac issues, and each emphasized the importance of lifestyle changes, including decreasing one's stress levels.
Since it was founded in 2009, Women with Heart has raised more than $2 million for scholarships that have been awarded to more than 100 MSM students. The event was founded by Eilene Maupin, former MSM first lady, and began as a small gathering of friends. In the years since, it has grown to more than 500 attendees. Their goals are simple but life-altering:
Raise student scholarship funds.
Promote healthy lifestyles.
Increase community awareness about heart health and cardiovascular disease, particularly among women of color.
CLICK HERE to watch WSB-TV's report on Women With Heart.
Event Gallery