Damar Hamlin's Collapse Shows the Elevated Risk for Heart Failure Among Black Athletes
In one study of deaths related to heart failure, Black athletes were nearly five times more likely to die than white athletes.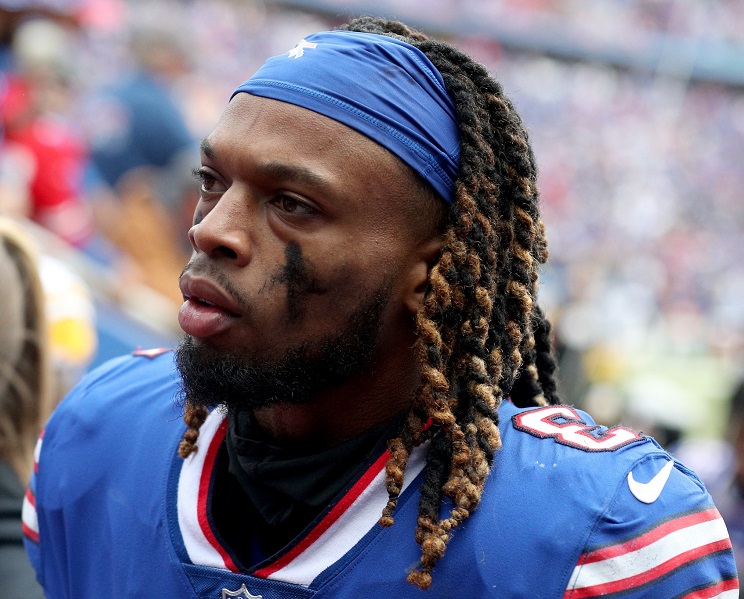 Damar Hamlin, Buffalo Bills Safety
By Margo Snipe, Capital B News
Buffalo Bills safety Damar Hamlin is awake and responsive days after he suffered cardiac arrest and collapsed on an NFL field mid-game. The 24-year-old's breathing tube was removed overnight, the team said, and he's writing on a clipboard to communicate.
Hamlin FaceTimed with fellow players and their coaches Friday morning, saying "Love you boys," the team tweeted.
It's a rare recovery that physicians have called "remarkable." But for young, Black athletes, the outcome of sudden heart failure is typically far more dire.
Cardiac arrest is the leading cause of sudden death in young, competitive athletes, who are often seemingly healthy until the moment they collapse. Although rare, these incidents highlight a bleak trend: Black youth are much more likely than white youth to suddenly die of heart failure.
In 1993, NBA basketball star Reggie Lewis collapsed in practice due to an abnormal heart rhythm. An autopsy later found he had an enlarged heart. In 2018, 26-year-old Zeke Upshaw collapsed in the middle of an NBA G League game in Grand Rapids, Mich., when his heart suddenly stopped. That same year, a 16-year-old high school football player in Washington state fell into a seizure during conditioning practice. The school district is paying more than $5 million in a lawsuit that accuses school staff of failing to recognize the boy's signs of cardiac arrest.
One study of cardiovascular deaths found that the fatality rate in young Black athletes was nearly five times that of white athletes. Among those who died of heart issues between 1980 to 2011, 50% were Black or other racial minorities, and the vast majority were boys, regardless of race.
Cardiac arrest is most commonly caused by hypertrophic cardiomyopathy, when the heart is abnormally thick, causing the muscle to work harder to pump blood. For those with the genetic condition, too much stress can be deadly. But for otherwise healthy athletes, sudden cardiac failure can result from taking huge blows, increasing your heart rate beyond what's typically recommended and pushing through injuries in high-level competitive sports.
Doctors haven't provided an official diagnosis for Hamlin, but medical experts say the cause was likely due to a phenomenon known as commotio cordis, when a blunt force — like a tackle — disrupts the heart's normal rhythm.
"The goal in athletics is to not meet the mark, but to go beyond," said Dr. Wallace Johnson, a Maryland-based cardiologist. In professional sports and high-level collegiate athletics, "we're trying to get people to push themselves past the edge, to the extreme."
The disadvantage for Black athletes
While some conditions are genetic, cardiologists say the same factors that affect the heart health of Black male athletes are also driving disproportionate rates of sudden cardiac arrest among Black Americans outside of sports.
Heart disease is particularly lethal for Black Americans, who are more than twice as likely as white Americans to die from it. This is partially due to disparities in underlying conditions that cause heart failure, such as diabetes, hypertension, high cholesterol, kidney disease, and high stress levels — all of which disproportionately impact Black patients. Implicit and explicit racism within the medical care system also plays a role, often leaving Black patients without adequate care.
There is a progression from sudden cardiac arrest to death, during which more inequities seep in, said Anekwe Onwuanyi, chief of cardiology at Morehouse School of Medicine. Survival and the severity of disabilities after heart failure depends on the presence of a bystander who can quickly perform CPR, the availability of an AED, or automated external defibrillator, and quick transportation to a hospital.
These are neighborhood resources that often leave predominantly Black communities at a disadvantage.
"All of these things add to the equation," said Johnson, who chairs the cardiology section with the National Medical Association.
Starting from an early age, the availability of healthy foods, exposure to violence or toxic waste, and access to fresh-air parks in the neighborhood affect heart health. So does exposure to racism, which increases the body's stress response. These social factors can determine health outcomes.
'Time is of the essence'
Expanding CPR education and certification in Black communities and increasing the availability of AEDs could have a profound effect on sudden cardiac arrest survival rates, said Onwuanyi, who serves as the president of the Association of Black Cardiologists.
There's a 10% reduction in the chance of survival with every minute that passes after heart failure, he said: "Time is of the essence."
ase, training staff immediately recognized he needed CPR and began administering it, bringing back his heartbeat before the ambulance arrived.
The speed with which the team responded saved not only his life but his neurological function, said Dr. William Knight IV, a physician at the University of Cincinnati, where Hamlin is being treated.
"The reason why we're talking about his recovery of neurologic function is the true critical importance of immediate and good and high-quality CPR and immediate access to the defibrillation," he said.
To combat the dismal trends, patients should seek out what heart issues run in their family and alert their doctor to help them spot genetic predispositions or identify risk factors for sudden heart failure. Certain environmental stressors also may activate genes that otherwise would not cause health issues.
"Whatever risk your family undergoes, whether it be genetic or environmental, is still an increased risk," Johnson said.
Regular screenings, including thorough sports physicals for kids and annual check-ups for adults, are important for diagnosing and treating issues before they become life-threatening. And with the number of missed annual screenings increasing as a result of the coronavirus pandemic, doctors suggest getting appointments on the calendar if you are due for one.

"Late diagnosis usually means delayed improvement in the person's overall health," said Johnson. "Once the person has a delayed diagnosis, they often cannot make up for the lost ground."