How Two Sisters Rallied Together to Navigate a Devastating Lung Cancer Diagnosis
MSM Interventional Pulmonologist Dr. Eric Flenaugh discusses the importance of having an advocate when facing a major health challenge.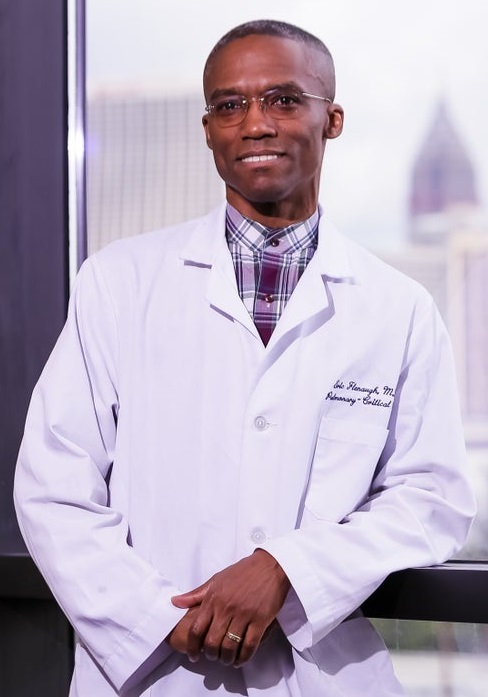 Dr. Eric Flenaugh, MD, FCCP
Interventional Pulmonologist, MSM

By Noel Cody, Essence Magazine
In 2007, sisters Deborah and Jennifer watched their mother pass away a little more than two years after her initial lung cancer diagnosis. Losing a loved one is hard, and the sisters weren't prepared to face yet another lung cancer diagnosis in 2020 – this time for Deborah.
After her cough was misdiagnosed initially as asthma and then again as pneumonia, Deborah, a retired educator from Morganton, North Carolina, learned she had advanced non-small cell lung cancer (NSCLC) and found herself staring down the seemingly same path as her mother. "When you hear the words cancer you don't have any control," remembers Deborah.
When Deborah called Jennifer to inform her of her diagnosis, Jennifer says, "I fell to the floor," recalling their mother's journey and thinking about how she might lose another loved one to the disease. But she sensed the weight on Deborah's shoulders, got up, and stepped in as her health advocate, utilizing the knowledge base she has acquired over the past 20 years navigating her own multiple sclerosis diagnosis. "I read until my eyes crossed and I couldn't see straight," says Jennifer, who didn't realize how much the lung cancer landscape had changed since their mother's diagnosis.
Interventional Pulmonologist Eric Flenaugh, M.D., F.C.C.P., Morehouse School of Medicine, recognizes the importance of having an advocate like Jennifer. Whether they are a family member, a friend, or even someone from your church, having an advocate helps you be an active participant in your own care and treatment, and can help alleviate some of the burden on the patient.
Deborah says Jennifer has been the "angel on her shoulder" throughout her journey. "When I was speechless, she spoke for me," she says. "She researched my cancer and communicated with my doctors when I was overwhelmed."
It was that research that led Jennifer to discover a physician who could perform the surgery Deborah needed. But at a follow-up CT scan after both surgery and chemotherapy, they discovered that the cancer had spread to the other lung. That's when Deborah's team of oncologists asked if they could send the tissue out for biomarker testing.
Biomarker testing identifies a patient's specific tumor makeup to help doctors understand what's driving the growth of the cancer. It can be done through a tissue biopsy or a blood test. "Each person's cancer has a unique pattern of biomarkers. Biomarker testing may show mutations in the cancer's cells that can help doctors understand what is influencing the cancer to grow and spread," explains Dr. Flenaugh. "Knowing this may help doctors develop personalized treatment plans to specifically target that type of cancer."
After receiving her biomarker testing results, Deborah learned that she had the KRAS G12C mutation, which is one of the most common mutations in NSCLC, occurring in about 1 in 8 (13%) NSCLC patients in western countries. Despite KRAS testing being recommended by guidelines from professional societies as part of a broad comprehensive panel or targeted testing in NSCLC, not all individuals benefit equitably from these advances. In NSCLC, eligible Black patients are less likely to receive biomarker testing compared to White patients, which can potentially contribute to widening existing disparities in cancer diagnosis and treatment.
In Dr. Flenaugh's opinion, improving access to biomarker testing is important for advancing health equity. He is optimistic in a more equitable future since "we're seeing more often that biomarker testing is being conducted at the time of diagnosis for advanced or metastatic NSCLC patients, which is how it should be utilized because it guides treatment plan decisions." He believes people need to know that "at the time of diagnosis, patients, caregivers, and advocates should be empowered and encouraged to ask about the availability of biomarker testing."
As with Deborah's journey, biomarker testing can play a large role in determining a patient's appropriate treatment plan. And today, the results continue to inform her treatment as her doctors continue monitoring the cancer. When her doctors saw on scans that the lung cancer appeared to be growing, they conducted additional biomarker testing, this time through a blood draw for a liquid biopsy, to understand if the biomarkers driving the growth of the cancer were changing.
The sisters' experience and new understanding of how to advocate for someone navigating a cancer diagnosis and treatment ultimately led them to join a nonprofit organization focused on growing healthy, vital communities of color through health education, advocacy, and learning. "I want to help calm fears in the Black community," Deborah says.
Dr. Flenaugh believes it is crucial to reach patients in the Black community through culturally relevant health education resources. "Improving health equity is directly dependent on improving health literacy and that begins with education." Dr. Flenaugh emphasizes that further understanding of biomarker testing will play a big role in improving health equity for patients of color by leveling the playing field. Deborah's advice: "Take control of your health and ask."
Today, Deborah continues to be grateful to have Jennifer closely involved in navigating her care. "Having an advocate doesn't make the journey easier, but it helps the journey keep going."