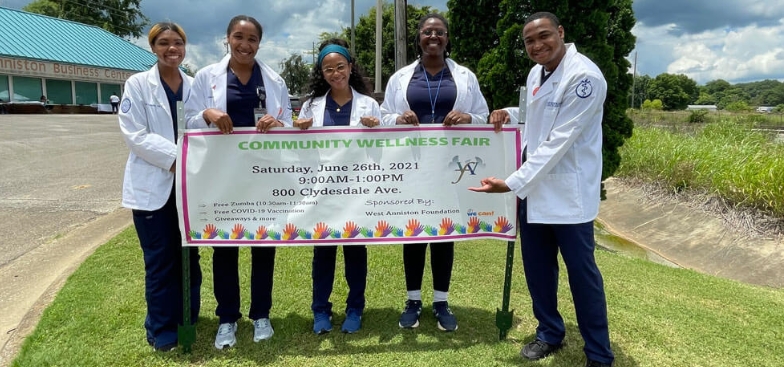 How Morehouse School of Medicine's Physician Assistant Students Are Bringing Heart to Healthcare
Amid a growing shortage of physicians, many communities are turning to physician assistants to fill the void.
By McGraw Hill
When the physician assistant (PA) students at Morehouse School of Medicine hosted their first-ever PAs in the Park event in 2021, they had one goal in mind: to advance health and health equity by offering services that respond to Atlanta residents' healthcare and wellness needs.
The 2022 event, held in Washington Park in the city's historic Westside neighborhood, expanded on that vision. The weather was beautiful, attendance was strong, food trucks were plentiful and complimentary fitness classes kept energy high.
It was against this Instagram-worthy backdrop that scores of people received free health screenings, vaccinations, COVID tests and general health education from the PA students. Partners from the American Heart Association and Georgia State University's physical therapy program offered additional services.
The event was, by all markers, a resounding success. "Sometimes you get lightning in a bottle, and everything just goes right," says CJ Jackson, chair of the Conservancy at Historic Washington Park who worked with the PA students on the event.
Of course, attendees weren't the only ones who benefitted from the day. It also gave PA students a glimpse of health care needs in one under-resourced neighborhood; allowed them to apply the skills and knowledge learned in the classroom; and reinforced an important lesson all Morehouse students learn: compassion and health must be at the center of all they do.
A program rooted in purpose
Advancing health equity may be a buzzy topic these days, but it's been Morehouse School of Medicine's core mission since its founding in 1975. When its Physician Assistant Studies program began in 2019, it also devoted itself to the cause.
This laser-like focus has shaped everything from the students the program attracts to the curriculum taught to discussions in class, says Stephanie Banks, MPH, the program's director of community health engagement and principal faculty. "Health equity is the cornerstone of our institution, thereby our PA program and community engagement is at its core," she explains. "Every PA school addresses the topic of health equity. Our program is very intentional about it being part of our didactic curriculum. The exploration of health equity and health disparities on health outcomes is integrated across courses."
A class on dermatology, for instance, may cover how lesions present on different skin colors and how to diagnose them. A discussion about chronic diseases might examine their prevalence and impact on marginalized or underrepresented populations. A conversation about pain management will delve into the importance of recognizing implicit biases to provide the best care possible.
A key piece of the PA program's community engagement goals is the Medicine and Society course series. Spread over the first half of the 28-month program, the series is divided into four parts. It covers such topics as patient-centered care, racial and ethnic disparities in health care, social determinants of health and caring for vulnerable populations.
To support the lessons, faculty routinely draw on cases and literature from McGraw Hill's AccessMedicine and AccessDermatologyDxRx, comprehensive online medical education resources that are written by leading medical experts and used in medical schools around the world. Banks says these supplemental materials help foster in students a sense of civic agency, or collaborating with diverse groups to tackle common challenges and create meaningful solutions. "I see a level of intentionality to provide library resources that support the mission of creating the advancement of health equity in a diverse and inclusive way," she explains. "AccessMedicine provides comprehensive content that helps support the student learner and is user-friendly."
Complementing the coursework is a strong service-learning component. Students are encouraged to get involved in their area, understand the health needs and conditions impacting people living there, and work with local organizations and partners to improve them. (The PAs in the Park is one such example of this.) Just as important, students reflect on their experiences in the community and share those observations in class, so everyone has a chance to learn and grow.
Creating a space for tomorrow's healthcare providers to glean so much meaning from their education—and personally connect to the school's mission of advancing health equity—is a point of distinction for Morehouse's PA program. "I haven't seen the service-learning model that we have, where we're in the classroom learning concepts and going out into these spaces to listen, understand and apply," Banks says. "The learning process is reflective and community-driven: What do you see? Come back into the classroom, and let's talk about that. We plan and then negotiate with our community partners about the next steps.
"One of the things we impart upon our students is that you're going to walk away from here with a lot of knowledge," she adds. "But that does not make you the expert of the lived experience of the community that you work in."
A devotion to community health
James Brown, a recent PA graduate, learned that lesson firsthand during a project that addressed childhood obesity. At the outset, he and his team planned on developing a recommendation for local schoolchildren that included things like the number of times they should exercise a week, the types of meals they should be eating and how many calories they should consume each day. But the more they learned about the children's home life and family financial situation, the more they realized they needed to rethink their plan.
"Many of these kids weren't able to buy certain foods," he says. "And a principal told us that the area where the kids lived wasn't safe. They're not going to be able to go to the park or their parents don't allow them to go there. That's something we had to consider as well."
After speaking with multiple school administrators, Brown and his classmates eventually landed on a recommendation that called for schools to open their gym for an hour on weekends, with security officers on hand. "We had to move around some things and figure out what the barriers were for these children to be provide them with the necessary tools to live healthy lives," he says.
Promoting community health isn't just restricted to class projects. Despite juggling a full course load, many PA students seek out additional volunteer opportunities. "They're always doing things in the community on Saturdays so it doesn't interfere with class time," says Dr. Lynne Simpson, library manager for Information Services. "They're very serious about it. And then on Monday, they're right back here in the library."
Dr. Simpson isn't the only one who's noticed their commitment. In 2021, Morehouse's PA students were honored with the Outstanding Student Society award by the American Academy of Physician Assistants. Given to only one student society each year, the award recognizes outstanding service to the profession in the areas of public education and advocacy, public service and outreach, promotion of diversity and professional involvement.
"I know it may sound cliché, but this really is how our students live," Banks says. "They're about the business of health equity and addressing the social determinants of health and understanding their own biases and recognizing how provider biases impact care."
Bringing care where it's most needed
In many ways, it's never been a better time to be a PA. The demand for these healthcare professionals is increasing as the physician shortage worsens. In some communities, PAs are or will soon be the sole source of primary care.
Once again, Morehouse is ahead of the curve. Ninety percent of its medical school graduates go into primary care, similar to medical school at other Historically Black Colleges and Universities. This is especially significant considering marginalized ethnic and minority groups prefer to seek healthcare from providers who look like them. "Black-serving institutions were developed to train their students for primary care practice," Banks says. "So by design, every step of the way, that's where they're being directed." Morehouse PA graduates have gone on to work in hospitals, clinics and private practice. All are in primary care, she adds.
Count Brown as one of them. He recently accepted a job in the emergency room of an Atlanta hospital, where he brings his clinical knowledge, skills and community experience with him to work every day. "My goal is to provide the best patient-centered care that I can but also be aware of all the different cultural variations of my patients," he says.
But Brown has some personal goals, too, like showing kids from his community that they too can be a healthcare provider. "I think it means a lot for them to see someone like them doing this job," he says. "I think I can really inspire others to chase those dreams, even if they seem so far away."