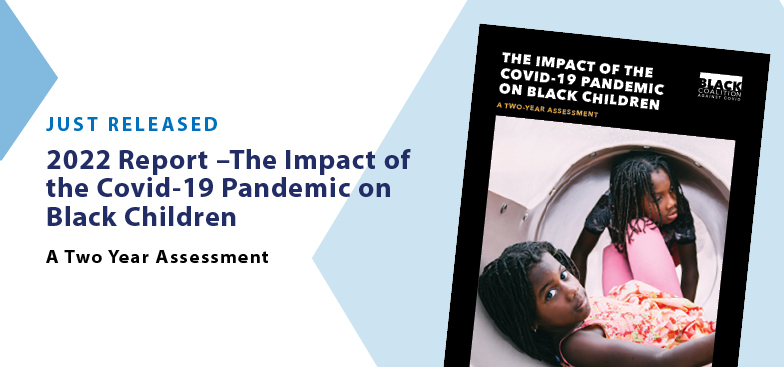 Two-Year Study Finds Black Children with COVID-19 had Twice as Many Deaths as White Children with the Virus
Research commissioned by Black Coalition Against COVID and conducted by Satcher Health Leadership Institute at Morehouse School of Medicine also found children of color had higher rates of hospitalizations and more severe cases
ATLANTA, GA (March 13, 2023) – A two-year study released today found Black children had 2.7 times the deaths of white children with COVID-19, double the hospitalizations and, along with Hispanic children, higher incidences of severe cases.
The study was commissioned by the Black Coalition Against COVID (BCAC) and conducted by the Satcher Health Leadership Institute (SHLI) at Morehouse School of Medicine and other historically Black medical schools and Black health care organizations. The report follows a BCAC study last year that quantified the disproportionate impact COVID-19 had on Black and other communities of color.
"First and foremost, this study repudiates the misunderstanding that COVID-19 has not been of consequence to children who have had more than 15.5 million reported cases, representing 18 percent of all cases in the United States," said Reed Tuckson, MD, a member of the BCAC Board of Directors and former Commissioner of Public Health for the District of Columbia. "And second, our research shows that like their adult counterparts, Black and other children of color have shouldered more of the burden of COVID-19 than the white population."
"Children with COVID-19 in communities of color were sicker, hospitalized and died at higher rates than white children," said Sandra Harris-Hooker, PhD, Senior Vice President for External Affairs and Innovation, Interim Executive Director, Satcher Health Leadership Institute, Morehouse School
of Medicine. "We can now fully understand the devasting impact the virus had on communities of color across generations."
The study found that the disparate impact of the COVID-19 pandemic on Black and other children of color was driven by social and political determinants of health. The effect of the pandemic itself goes beyond the disparities in cases, deaths and hospitalizations, extending to the educational attainment, socio-economic status and family life of the Black child and other children of color.
Between April 2020 and June 2021, one in 310 Black children lost a parent or caregiver to COVID-19 compared to one in 738 white children In addition, the research found that 31 percent of Black households and 29 percent of Latino households with children experienced economic and health-related hardships because of the pandemic compared to 16 percent of white households. Due to a lack of home access to the internet and computers, the study showed Black and brown children could be six to 12 months behind in learning compared to four to eight months for white children.
"From the loss of a parent to the loss of a home, children of color have been disproportionately impacted by COVID-19 far beyond the direct health effects of the virus," said Yolandra Hancock, M.D. and member of the BCAC Steering Committee. "And it has taken a toll on their family life, education and economic stability."
The study makes a number of recommendations including modifying eligibility requirements for the Children's Health Insurance Program (CHIP) to help more children who fall into coverage gaps. It also heightens the call for an expansion of the Child Tax Credit which would lift 9.9 million children (including 2.3 million Black children) out of poverty.
"With the expiration of the safety nets which cushioned the economic impact of the COVID-19 pandemic, it is likely that we may be confronted with the stark reality of the disproportionate number of our nation's Black children that still live in poverty," said Aye Joana Obe, LLM, Research Fellow, SHLI. "The COVID-19 safety nets, which were mostly cash-based and easily accessible by families with children, established a blueprint of efficient and actionable steps toward mitigating child poverty in our nation."
Click below for more information on the COVID-19 impact on Black children report:
2022 Black Coalition Against COVID Report pdf
About Morehouse School of Medicine
Founded in 1975, Morehouse School of Medicine (MSM) is among the nation's leading educators of primary care physicians, biomedical scientists, and public health professionals. An independent and private historically-Black medical school, MSM was recognized by the Annals of Internal Medicine as the nation's number one medical school in fulfilling a social mission—the creation and advancement of health equity. Morehouse School of Medicine's faculty and alumni are noted for excellence in teaching, research, and public policy, as well as exceptional patient care. MSM is accredited by the Commission on Colleges of the Southern Association of Colleges and Schools to award doctoral and master's degrees. To learn more about programs and donate today, please visit www.msm.edu or call 404-752-1500.
About The Black Coalition Against COVID
The Black Coalition Against COVID (BCAC) consists of two interrelated initiatives in service to our mission of providing trustworthy, reliable, and relatable information to communities of color on all aspects of the COVID pandemic and to support the provision of direct services in the Washington, D.C. region and nationally. Our work began in 2020 as a multi-stakeholder Washington DC community engagement strategy that mobilized key social influencers from a variety of sub-populations including faith; labor; small business; community service organizations; musicians, poets, visual artists, and actors; medical; academic; returning incarcerated citizens; and others. From this local foundation, we established a national effort comprised by the Presidents/CEOs of our leading academic and medical organizations, and other key partners that include Howard University College of Medicine; Morehouse School of Medicine; Meharry Medical College; Charles Drew University of Medicine and Science; the National Medical Association; the W. Montague Cobb Institute of the NMA; the National Black Nurses Association; the National Urban League; and BlackDoctor.org
Contact
Jamille Bradfield
Morehouse School of Medicine
jbradfield@msm.edu