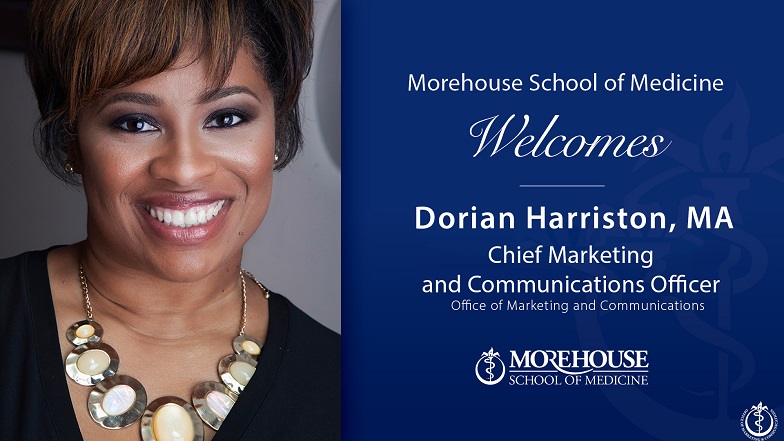 Morehouse School of Medicine Welcomes Dorian Harriston as Chief Marketing and Communications Officer
Harriston brings deep and diverse experience in brand strategy development, media relations, and health equity initiatives.
ATLANTA – MARCH 20, 2023 – Morehouse School of Medicine (MSM) proudly announces that Dorian Harriston has joined the institution as its new Chief Marketing and Communications Officer. With more than 15 years of experience building national and global healthcare brands, Ms. Harriston has a proven track record in analyzing marketing data to enhance reach, optimize budgetary spending, and achieve measurable goals and objectives.
"Ms. Harriston is an exceptional storyteller and marketing expert. We are thrilled that she will be leading MSM's Office of Marketing and Communications," said Valerie Montgomery Rice, MD, FACOG, President and CEO of Morehouse School of Medicine. "With her strong commitment to health equity, we look forward to collaborating with her as MSM continues to grow our brand locally, nationally, and globally."
Prior to joining MSM, Ms. Harriston served as director of Academic and Community Marketing at Cedars-Sinai in Los Angeles and as program director with The Ohio State University Wexner Medical Center. She has built brands and consulted on community health education programming and culturally competent communications for state governments, the entertainment and hospitality industries, and non-profit management firms.
Dedicated to driving academic medicine initiatives that align organizational actions to their vision, mission, and goals, Ms. Harriston lends her experience and talents to programs that enhance opportunities for academically diverse learners and expand the marketing and communications workforce. To this end, she holds memberships in various organizations and participates on the Board of the American Hospital Association's Society for Healthcare Strategy and Market Development (SHSMD) and their Diversity, Equity, Inclusion, and Belonging Committee, as well as California Black Women's Health Project.
Ms. Harriston earned a Master of Arts in Strategic Communications and Leadership from Seton Hall University and a Bachelor of Arts in Public Relations and Black Studies from Cleveland State University. She is an active member of Alpha Kappa Alpha Sorority, Inc.
For more information about Morehouse School of Medicine, please visit MSM.edu.
About Morehouse School of Medicine
Founded in 1975, Morehouse School of Medicine (MSM) is among the nation's leading educators of primary care physicians, biomedical scientists, and public health professionals. An independent and private historically-Black medical school, MSM was recognized by the Annals of Internal Medicine as the nation's number one medical school in fulfilling a social mission—the creation and advancement of health equity. Morehouse School of Medicine's faculty and alumni are noted for excellence in teaching, research, and public policy, as well as exceptional patient care. MSM is accredited by the Commission on Colleges of the Southern Association of Colleges and Schools to award doctoral and master's degrees. To learn more about programs and donate today, please visit www.msm.edu or call 404-752-1500.
Contact
Jamille Bradfield
Morehouse School of Medicine
jbradfield@msm.edu