MSM, Henry County Sheriff's Office to Offer Soon-To-Be-Released Inmates Life Skills Training
Instructors from the Medical School will Facilitate Classes at the
Henry County Sheriff's Office's Restorative Center to Help Reduce Recidivism.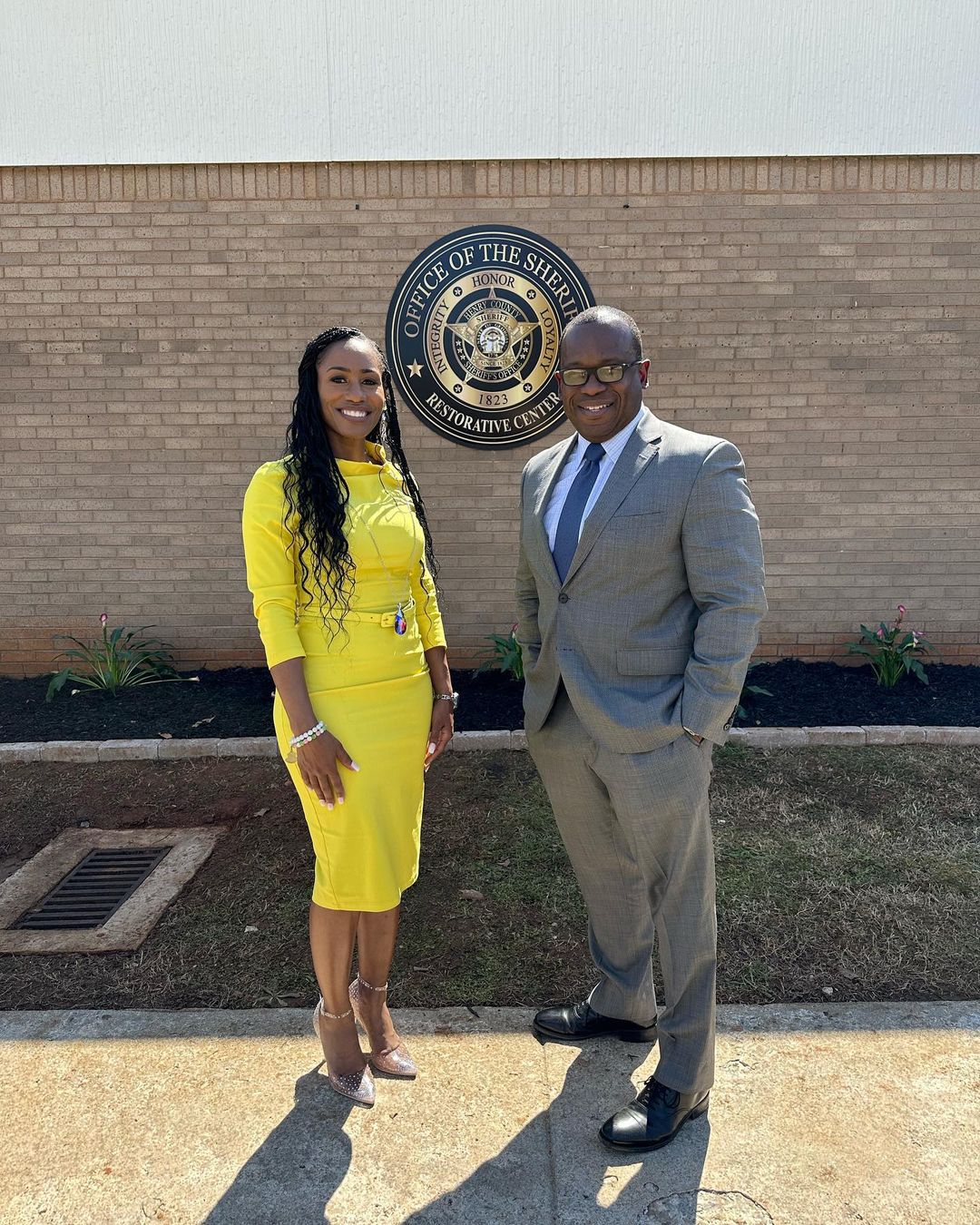 (L-R) Dr. Howard & Dean Tyndall
MCDONOUGH, Ga. (March 6, 2023) – Morehouse School of Medicine (MSM) and the Henry County Sheriff's Office (HCSO) today announced, "A Step in the Right Direction: Pathway Forward Reentry Program," a new life skills training initiative for eligible inmates within 180 days of release from the Henry County Jail to be held at the HCSO's new Restorative Center.
The six-week program will feature learning modules focused on personal development, job readiness, procuring housing and addressing transportation needs, among other topics. At the end of the program, the inmates will receive a certificate of completion from Morehouse School of Medicine and participate in a graduation ceremony.
The new program, funded in part by a grant from WellPath, was announced as part of a ribbon cutting ceremony today for the Restorative Center attended by officials from the Henry County Sheriff's Office and Morehouse School of Medicine.
Sheriff Reginald B. Scandrett said, "We've been diligently working on the Restorative Center for the past several months, and we're elated to see it finally open. We are excited that a memorandum of understanding (MOU) has been signed with the Morehouse School of Medicine, who will administer courses and programs at the Restorative Center."
The Restorative Center was developed to support mechanisms that directly reinforce the HCSO recidivism initiative. More specifically, inmates that are applicable, will be able to receive their GED, welding, forklift, fatherhood, and job interviewing principles certifications. The partnership with the Morehouse School of Medicine will help maximize the opportunity for each inmate's success.
"Our partnership with Henry County gives us a new opportunity to continue to live out our mission to improve health equity in underserved communities by bringing our unique justice-involved care program to individuals who will soon re-enter society," said MSM Dean and Executive Vice President of Health Affairs Dr. Adrian Tyndall. "We are not only concerned about equity for our physical and mental health, but also for our social health which relates to how comfortably we can adapt in social situations or more specifically society itself."
In addition to the life skills training program, Morehouse School of Medicine is also making its four-month online "Pathway Forward: Justice-Involved Care Life Coach Certificate" program available to Henry County Sheriff's Office staff. The program curriculum includes understanding the social determinants of reentry, decreasing recidivism barriers and promoting health equity. Certificate graduates who hold a bachelor's degree are guaranteed admission into the MSM Master of Administration in Justice- Involved Care (MAJIC) online degree program – believed to be the only program of its kind in the world.
Morehouse School of Medicine and Henry County Sheriff's officials expect the first life skills class to begin later this month.
About Morehouse School of Medicine
Founded in 1975, Morehouse School of Medicine (MSM) is among the nation's leading educators of primary care physicians, biomedical scientists, and public health professionals. An independent and private historically-Black medical school, MSM was recognized by the Annals of Internal Medicine as the nation's number one medical school in fulfilling a social mission—the creation and advancement of health equity. Morehouse School of Medicine's faculty and alumni are noted for excellence in teaching, research, and public policy, as well as exceptional patient care. MSM is accredited by the Commission on Colleges of the Southern Association of Colleges and Schools to award doctoral and master's degrees. To learn more about programs and donate today, please visit www.msm.edu or call 404-752-1500.
About the Henry County Sheriff's Office
Sheriff Reginald B. Scandrett is the 29th Sheriff of Henry County and the first African American sheriff in Henry County's history. During his tenure, he has implemented his six (6) point thrust by reducing recidivism, increasing community engagement by promoting public trust, induce restorative justice, empower employees through developing their well-being through training and psychological testing, and lastly becoming an accredited agency.
Contact
Jamille Bradfield
Morehouse School of Medicine
jbradfield@msm.edu
Major Tina Daniel
Henry County Sheriff's Office
ldaniel@co.henry.ga.us