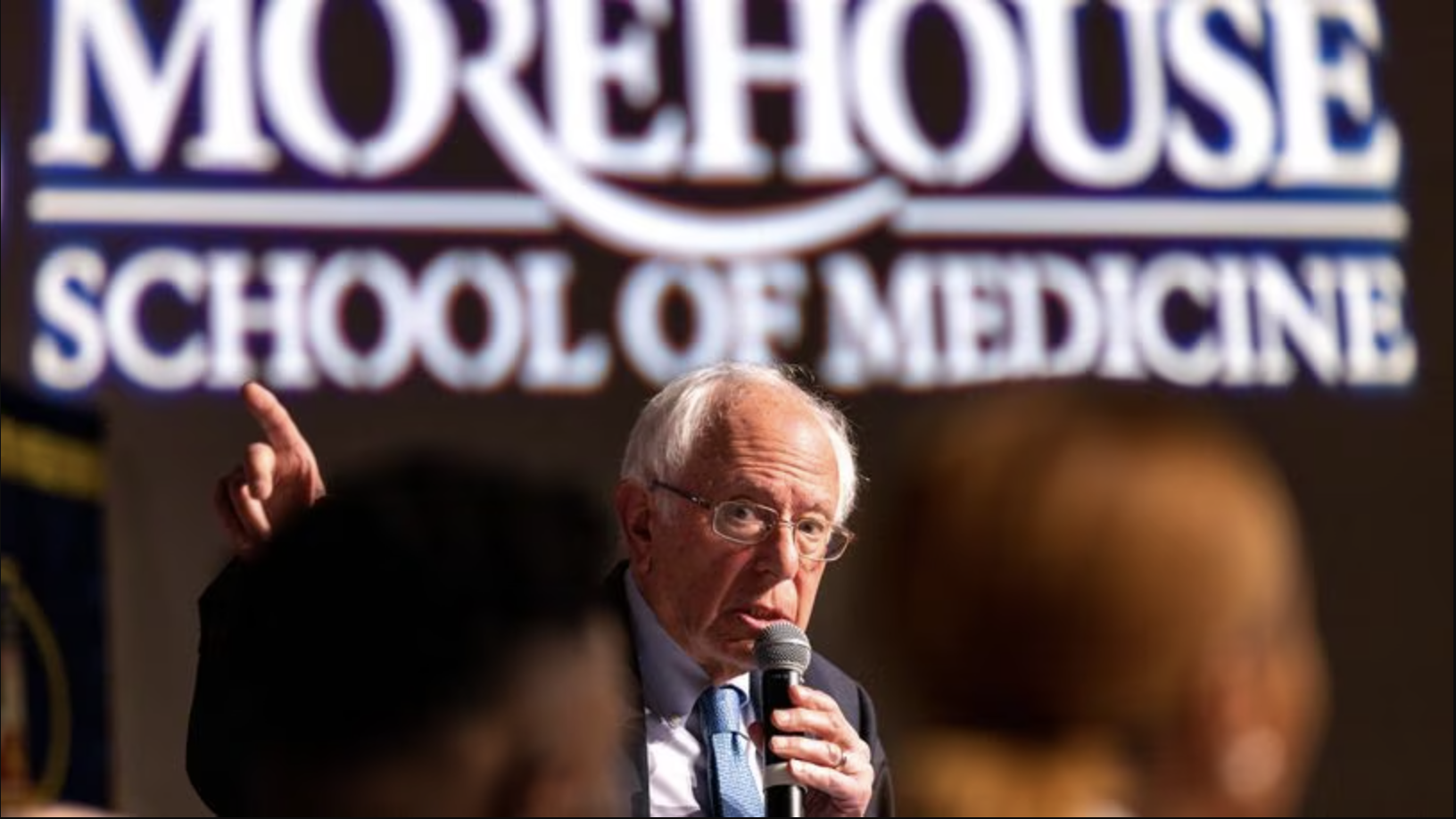 MSM Hosts Bernie Sanders, HBCU Medical Schools for Roundtable on Health Care Diversity
Studies show having more diverse healthcare practitioners can improve patients' health outcomes.
By Donovan Thomas, The Atlanta Journal-Constitution
Across the nation, the medical field is experiencing workforce shortages, concerns around the lack of diversity, and barriers to access for underserved communities. Historically black college and university medical school leaders believe their institutions are part of the solutions to these issues.
Sen. Bernie Sanders (I-Vt.), chair of the Senate Health, Education, Labor, and Pensions (HELP) Committee, visited Morehouse School of Medicine on Friday, May 12, for a round table discussion to address diversity, the exodus of health care workers caused by the pandemic, access to primary care and how to improve health outcomes for Black Americans.
Black Americans account for only 5 percent of the country's doctors. HBCU medical schools produced 10 percent of total Black medical school graduates in 2019 and play a vital role in addressing medical workforce diversity. A 2019 Journal of the National Medical Association study found that diversity can help health organizations improve patient quality care.
"We are doing what needs to be done for the American people in a way that is incomparable to other schools," Dr. Valerie Montgomery Rice, chief executive officer and president of Morehouse School of Medicine, said.
Along with Morehouse School of Medicine, leaders from the other HBCU medical schools -- Meharry Medical College, Howard University and Charles R. Drew University -- and Dr. David Skorton, president and chief executive officer of the Association of American Medical Colleges, were in attendance.
The HBCU medical school leaders suggested enhancing infrastructure, supporting clinical research opportunities for HBCUs, investing in mental and behavioral health practitioners and funding additional residency and fellowships opportunities for aspiring doctors, as ways to increase the number of Black doctors in the health care workforce.
"We're going to do our best to grow the health care workforce," Sanders said. "We're putting special focus on the need for more Black doctors, nurses, psychologists, dentists."
The roundtable was the first field event that Sanders has held as HELP Committee chairman, a role that he assumed in January.
Later during the program, current MSM students spoke about the challenges they have faced as Black medical students. One of challenges discussed was amount of debt that comes with pursuing a career as a doctor.
"The greatest barrier to entry for burgeoning Black physicians is the immense and seemingly insurmountable financial risk weighted to shackle all those who pass through the gates of medical education," Dr. Samuel Cook, an internal medicine resident physician at Morehouse School of Medicine, said.
According to leaders, HBCU medical schools do not have the same financial resources and endowments of other medical schools.
"Our mission to train culturally competent providers willing and eager to serve their community comes at a cost," Montgomery Rice said.
Both leaders and students advocated for loan forgiveness for doctors committed to serving in underserved communities. They also emphasized the need for pipeline programs for the medical field and other science, technology, engineering, and math fields for youth in communities of color.
"I am very pleased that Senator Sanders and the HELP Committee are appreciating the need to step outside of Washington D.C. and actually hear the community," Montgomery Rice said. "I'm equally happy that we were able to share with them some solutions."