AABE Atlanta to Host STEAM Discussion with Morehouse School of Medicine Featuring Dr. Valerie Montgomery Rice
STEAM education – science, technology, engineering, arts and math – will be the focus of a discussion hosted by the American Association of Blacks in Energy (AABE). Valerie Montgomery Rice, M.D., president and dean of Morehouse School of Medicine (MSM), will lead the dialogue of STEAM value and specific actions we all can take to ensure companies and professional associations are grooming the next generation of technical leaders.

The program will be held Tuesday, Aug. 25, 2015, at 11:30 a.m. in the Arkwright Auditorium at Georgia Power headquarters located at 241 Ralph McGill Blvd. NE in Atlanta, Ga.

"Morehouse School of Medicine (MSM) under the leadership of Dr. Montgomery Rice is an important voice in the STEAM community. Investing in students who are right here in Georgia is a key factor in retaining talent who will become the future leaders of our industry," said Rodney Russell, president of the AABE Atlanta Chapter. "Introducing STEAM education to students is our commitment to the communities we serve, and we support that commitment by awarding scholarships to students who major in STEAM disciplines."

MSM supports STEAM education, not only by graduating a high number of medical students but also by retaining more than 55 percent to practice here in the state of Georgia.

"Education is a continuing theme woven throughout our lives as we pursue personal and professional endeavors. Each of the STEAM areas is integrated in some way," said Dr. Montgomery Rice. "AABE is committed to STEAM education, which supports our mission of graduating the country's top health care professionals. STEAM conversations promote teaching, developing and supporting interest in education."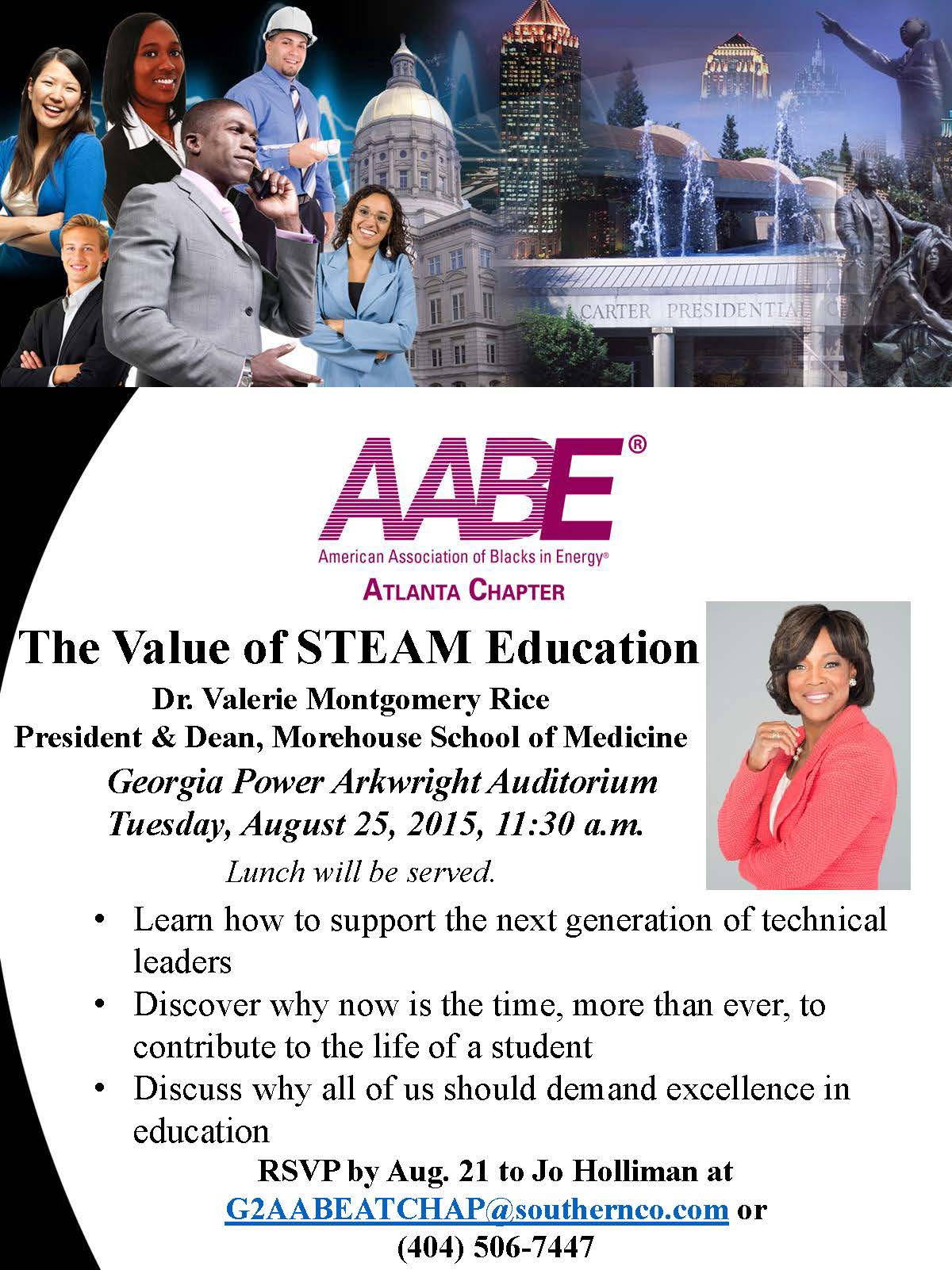 About Morehouse School of Medicine

Morehouse School of Medicine (MSM) Founded in 1975, Morehouse School of Medicine (MSM) is among the nation's leading educators of primary care physicians, biomedical scientists and public health professionals. In 2011, MSM was recognized by Annals of Internal Medicine as the nation's No. 1 medical school in fulfilling a social mission. MSM faculty and alumni are noted for excellence in teaching, research and public policy, as well as exceptional patient care.

Morehouse School of Medicine is accredited by the Southern Association of Colleges and Schools Commission on Colleges to award doctorate and master degrees. For more information, please visit www.msm.edu.
About AABE

With more than 130 members from 30 utilities, distributors, infrastructure providers, and other energy-related companies, the Atlanta Chapter is one of 10 AABE chapters in the Southeast region. AABE is a
national association of energy professionals founded and dedicated to ensure the input of African Americans and other minorities into the discussions and developments of energy policies, regulations, research and development technologies, and environmental issues. For more information, please visit us at www.aabe.org/atlanta.