New High-Tech Classrooms, Other Upgrades Unveiled at
Morehouse School of Medicine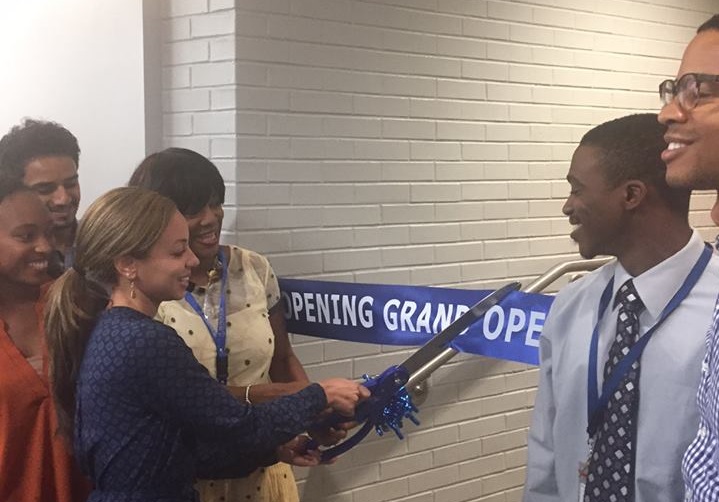 Another round of renovations and construction is now complete at Morehouse School of Medicine (MSM). President and Dean Dr. Valerie Montgomery Rice was joined by students and alumni to help officially open the newly upgraded classrooms in the Hugh Gloster Building. The redesign started in May 2017, shortly after the grand opening of the Billye Suber Aaron Pavilion. It is part of an $18 million renovation to the first and second floors of the Gloster Building, and a segment of MSM's four-phase "Expansion into the Future" initiative. The initiative includes renovations to expand class sizes and increase technological resources and multidisciplinary learning spaces.
"This has been a long time coming. The renovation and transformation that you are seeing," explained Dr. Montgomery Rice. "This Hugh Gloster Building opened in 1980 and about 1,200 students have lived and breathed in these classrooms."
Harding Young, M.D. '86, was one of the first students to take classes in the building when it first opened in the '80s. He came back to Atlanta from California where he now practices and wanted to see the changes to the campus firsthand.
"This inspires me. The tour that I just came off of just brings tears to my eyes," said Young. "So, I'm taking this back to all alums, I'm taking it back to my colleagues, to let them know that the dream of Morehouse that we saw when classes were much smaller than they are now have come to fruition, and continue in the arms of the competent administration that we have here."
The renovations include a newly updated tech bar to better assist students with their computer repairs and other technical needs. The brick hallways are now a bright and warm white instead of the original dark red. The auditorium classrooms boast fully integrated technology with monitors placed throughout the room, allowing students to get an up-close view no matter where they sit.
"It really is, at Morehouse School of Medicine, all about you, and I tell our faculty and staff that all the time," said Dr. Montgomery Rice to the students. "You are the reason that we are here and everything that we are going to be doing from this building, to building the next education research building, it is all so that you can go out and be the leaders we need you to be in healthcare."
Future renovations to the building include upgrading classrooms and laboratories and an informal gathering space where students can relax, study, and interact in between classes.
Naming opportunities are still available as construction continues across campus.

Click here to view the gallery of photos from this event on MSM's Facebook page
About Morehouse School of Medicine (MSM)
Founded in 1975, Morehouse School of Medicine (MSM) is among the nation's leading educators of primary care physicians, biomedical scientists and public health professionals. In 2011, MSM was recognized by Annals of Internal Medicine as the nation's No. 1 medical school in fulfilling a social mission. MSM faculty and alumni are noted for excellence in teaching, research and public policy, as well as exceptional patient care.
Morehouse School of Medicine is accredited by the Commission on Colleges of the Southern Association of Colleges and Schools to award doctoral and master's degrees. To learn more about programs and donate today, please visit www.msm.edu or call 404-752-1500.