Second-Year MD Student May Have Solution to
Shortage of Black Men in Medicine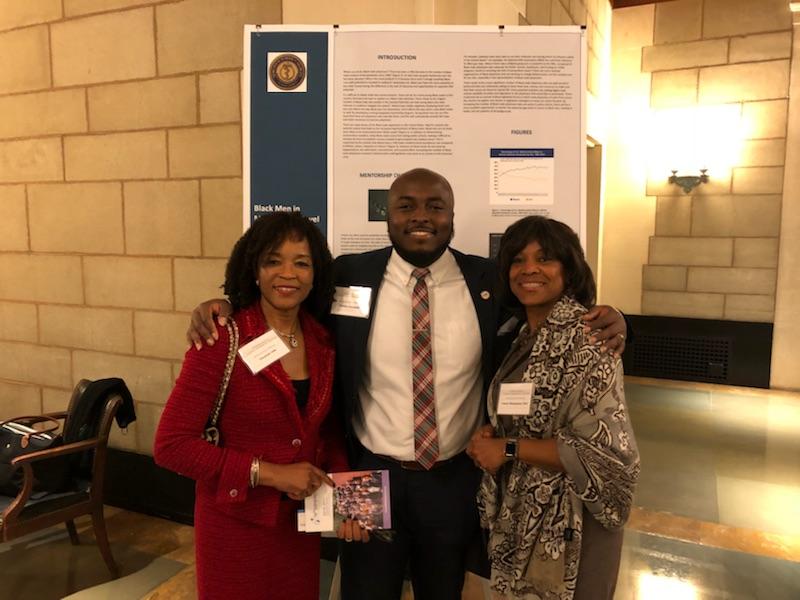 Thought leaders in the field of medical education gathered in Washington, D.C. in late November to discuss the underrepresentation of black men pursuing careers as physicians. But one Morehouse School of Medicine (MSM) student believes he may have a solution to the problem, and was invited to present his board to the National Academy of Sciences. Second-year M.D. student Martin Campbell shared how he believes an innovative mentoring chain could draw more young black men to careers in medicine, and get them interested in the field at an early age.
His plan involves having a high school freshman mentor a middle school boy, a college freshman guiding the high school student, a medical student leading the college student, and a working doctor be a counselor for the medical student.
"One of the reasons why black males don't become physicians is simply because they don't know it's obtainable because there isn't representation," said Campbell. "It's hard to become what you can't imagine."
Growing up in Minneapolis, he never saw doctors who looked like him. However, he did have accomplished Black male mentors who pushed him and told him he had potential. His mother always told him to put school first, his family believed in him and they all supported his dreams. But, they could only help him so much. Campbell was the first in his family to graduate from high school. It was his mentors that pushed him further.
"I was a freshman in high school my first semester, I ended up getting all As and got a 4.0 (G.P.A)," shared Campbell. "That's when counselors and advisors kept coming up to me saying 'Martin, do you know what you have here? If you keep this up, you can go anywhere you want for college.'"
His mentors were able to help him with his college applications, and he ultimately chose to attend Morehouse College. However, he found he did not have the guidance he needed when it came time to apply for medical school. He was wait-listed twice for medical school; he got the call that there was an opening at MSM just weeks before classes started.
"Each person would be able to get to see what it's like at the next level," explained Campbell. "The middle school student would say going into high school, this is what I should expect. The high school person can say this is what I can expect when applying for colleges. The college student would know what to expect when applying for medical school, and so on and so forth."
Part two of Campbell's proposal involves taking his push to Congress. He would like to see black male physicians come together to lobby for more STEM programs and better funding for existing programs in our schools. He hopes this will introduce the fields to young students and pique their interests early.
"What if there was a larger presence of all black male physicians who lobby like the National Rifle Association? And then they would speak on behalf of the communities they represent," said Campbell. "The representation just isn't enough. We don't have a large enough voice. We don't have a large enough seat at the table."
About Morehouse School of Medicine (MSM)
Founded in 1975, Morehouse School of Medicine (MSM) is among the nation's leading educators of primary care physicians, biomedical scientists and public health professionals. In 2011, MSM was recognized by Annals of Internal Medicine as the nation's No. 1 medical school in fulfilling a social mission. MSM faculty and alumni are noted for excellence in teaching, research and public policy, as well as exceptional patient care.
Morehouse School of Medicine is accredited by the Commission on Colleges of the Southern Association of Colleges and Schools to award doctoral and master's degrees. To learn more about programs and donate today, please visit www.msm.edu or call 404-752-1500.