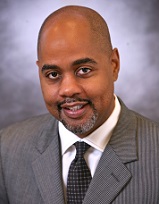 Morehouse School of Medicine Names Mack New Director of the National Center for Primary Care
School's Center Plans to Expand Current Portfolio of Work That Includes $21 Million in Funding
Contact:
Ronna Charles Nu'Man
rnuman@msm.edu
404-752-1717
FOR IMMEDIATE RELEASE
ATLANTA – February 25, 2016 – Morehouse School of Medicine has named Dominic Mack, M.D., as the new director of the school's National Center for Primary Care (NCPC), the nation's first congressionally sanctioned center to develop programs that strengthen the primary care system for health equity and sustainability. A family physician and longtime proponent of electronic health records, Mack has been serving as the co-director of the NCPC since June 2013. He will now pilot NCPC's work in expanding its current portfolio, which includes an estimated $21 million in grant funds.
"Dr. Dominic Mack's work to expand essential technology resources has been a valuable tool in Morehouse School of Medicine's vision to lead the creation and advancement of health equity," said President and Dean Valerie Montgomery Rice, M.D. "As our new director, he will continue to expand the reach and impact of the National Center for Primary Care, which will serve to help more underserved communities."
Mack, who is also an associate professor at MSM, previously served as co-director of the NCPC with Dr. George Rust, who now serves as director of the Center for Medicine and Public Health at Florida State University College of Medicine. Mack practiced for 11 years at Southside Community Health Center in Atlanta, where he served as chief medical officer during his tenure, then joined MSM in 2001 as an assistant professor in the department of family medicine. While at MSM, he has served as medical director, interim residency director for the department of family medicine and later became associate chair of clinical affairs.
Mack received his Bachelor of Science degree from Paine College and his Doctor of Medicine degree from Meharry Medical College in Nashville. In 2003, he graduated from Kennesaw State University with a Master of Business Administration.


About National Center for Primary Care
The mission of the NCPC is to promote excellence in community-oriented primary health care and optimal outcomes for all Americans, with a special focus on underserved populations and eliminating health disparities. The NCPC provides training for primary care practitioners, conducts both population-level and practice-based research to improve health outcomes, and shares protocols and tools for improving primary care effectiveness in culturally diverse settings.
About Morehouse School of Medicine
Founded in 1975, Morehouse School of Medicine (MSM) is among the nation's leading educators of primary care physicians, biomedical scientists and public health professionals. In 2011, MSM was recognized by Annals of Internal Medicine as the nation's No. 1 medical school in fulfilling a social mission. MSM faculty and alumni are noted for excellence in teaching, research and public policy, as well as exceptional patient care.
Morehouse School of Medicine is accredited by the Commission on Colleges of the Southern Association of Colleges and Schools to award doctoral and master's degrees. For more information, please visit www.msm.edu
###