How 'Reach One Each One' Helped Two Teens Reach New Heights
Some 3,000 miles away from her Atlanta home, Aungelique McGhee is learning how to communicate difficult medical terms to Spanish speakers and learning new skills at a local clinic in Costa Rica. It's an opportunity that otherwise may not have come McGhee's way had she not participated in Morehouse School of Medicine's Reach One Each One program.
McGhee was a junior at Atlanta's Grady High School in the fall of 2015 when she and her good friend and classmate Jesse Hume enrolled in ROEO. Two of her teachers suggested the program to the two, knowing their interest in healthcare and volunteering. That choice set McGhee's path.
"ROEO confirmed my decision to pursue medicine," said McGhee. "I knew after completing this program I definitely wanted to go into medicine. I want to be a doctor and provide hope to patients and their families."
McGhee will start her junior year at Xavier University of Louisiana in the fall. She is a biology major with minors in chemistry and Spanish and is considering adding math as a third minor. Once she graduates in 2020, McGhee plans to go on to medical school. She has not yet decided which area of medicine she wants to focus on, but one option is to be an emergency room physician, like her mentor, Omar Danner, M.D., a trauma surgeon and surgical critical care specialist at Grady Hospital and associate professor at MSM. Dr. Danner is also the program director of ROEO.
For eight years now, ROEO has selected high-performing, underrepresented students from high schools in Atlanta and DeKalb County. The teens then get the opportunity for an up close and personal look at the medical world.
"We're exposing and interacting with the best and brightest students who have an interest in biological sciences and potential healthcare careers," said Dr. Danner. "It's a close working relationship. They get to learn about us and the field, and we get to learn about them as well."
For 10 weeks during the school year, the students take part in an intensive pipeline program where they learn about careers in medicine, tour local medical schools, have the chance to perform medical simulations on MSM's campus, and observe clinical services at Grady Hospital. But ROEO is not just about medicine. The students also learn how to prepare for college, take part in financial literacy workshops and develop lasting relationships with mentors and fellow students.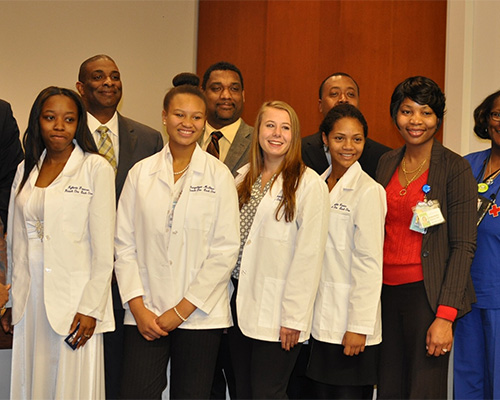 Aungelique McGhee (center left) and Jesse Hume (center right) along with
their fellow 2015 ROEO participants and MSM and Grady leaders.
For Dr. Danner, working with young people gives him a much-needed break from the trauma and chaos – many times the result of gun violence – that surround him in the operating room. Dr. Danner says too often, those patients are the same age as the students he mentors.
"This program gives me a chance to step away from one aspect of professional practice and see young, bright, impressionable minds being molded and developed," said Dr. Danner. "A lot of times our accomplishments and success is measured through their accomplishment and success. It's a good chance to see kids doing things in a positive light, doing positive things."
One of those success stories is Hume, a rising junior at Syracuse University. Hume took part in ROEO as a student in the nursing and biomedical program at Grady High School. She is now on the fast track to graduate in 2020 with both a bachelor's degree in public health and a master's in global health.
"I can honestly say that ROEO has been one of the most profound and educating times in my life so far," Hume said of the intense program, "I absolutely loved it. It pushed me in the direction of medicine. At the time I wasn't so sure. I was thinking about it but wasn't completely sold on it."
Hume recalls a time when she had the chance to watch a surgery being performed at Grady Hospital.
"We got to go into ORs, which is pretty unique. I don't know of any other high school program that would actually allow students into an OR to observe a surgery. You really do see the daily life of a doctor in a hospital and everything that they have to do."
Witnessing the surgeon and the medical team work to save the life of an actual patient is what convinced Hume that healthcare and medicine was where she wanted to grow her career.
Helping others overcome health disparities is important to Hume. She came to this realization after working for a medical volunteer program in Mongolia in the summer of 2015. Dr. Danner helped Hume gain access to this life-changing experience.
"I saw a lot of unfairness in the way people were treated [in Mongolia]," said Hume. "In the United States, heart medication is something you can get easily. You can just go down to a local drug store. But in Mongolia, I saw patients with like a heart murmur. That was uncontrollable. That was a death sentence."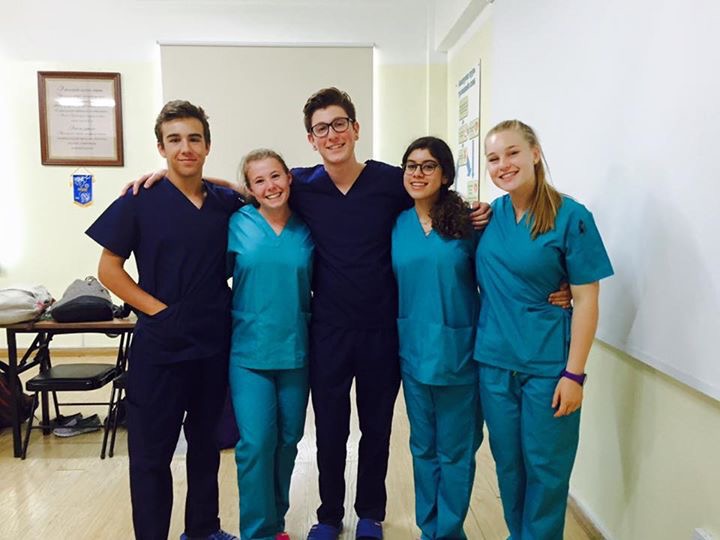 Jesse Hume (2nd from left) with her volunteer group in Mongolia.
Hume, who plans to become a midwife one day, also had the opportunity to intern in the maternity ward at Grady Hospital in 2015 through the ROEO summer capstone program, which allows ROEO graduates to shadow doctors, spend more time in real life settings and dive deeper into their chosen medical field.
With a bright future ahead of her, Hume hopes to travel to developing nations around the globe and work as a midwife. Later down the road, she wishes to use her firsthand clinical experience in order to become an advocate for the underserved and be a voice for them in public health policy.