Contact: Ronna Charles Nu'Man
404-752-1717
Hughes Joins Morehouse School of Medicine to Lead Development and Advancement Services
Fundraising Veteran's Expertise Tapped in Building National Relationships That Further Advance the School's Mission of Health Equity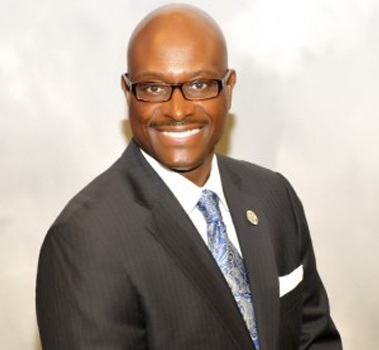 ATLANTA - June 30, 2015 - Morehouse School of Medicine (MSM) named 25-year higher education veteran Ernie T. Hughes, Ph.D. as associate vice president for development and advancement services to lead the financial portion of the historic medical school's vision of leading the creation and advancement of health equity. During the next year, Dr. Hughes plans to connect and engage with MSM alumni, build stronger relationships with public and private donors and tell the story of MSM's return-on-investment, in a 40-city tour starting summer 2015.
"Dr. Hughes' extensive development management expertise and solid giving relationship portfolio is a major win for Morehouse School of Medicine," said Senior Vice President of Institutional Advancement Bennie Harris. "He brings with him a finely tuned understanding of the philanthropic challenges and opportunities present within higher education. Working together, our team will build the support necessary that will advance the teaching, research and clinical mission of our great institution."
Dr. Hughes comes to MSM from Winona State University where he served as special assistant to the president and vice president for advancement and executive director of the Winona State University Foundation. There he honed his vast experience in major gift fundraising, advancement service and community economic development. Hughes has also worked to development community initiatives with several regional and national organizations, including the W.K. Kellogg Foundation, the Ford Foundation, and the Robert Wood Johnson Foundation.
Dr. Hughes earned a Bachelor of Business Administration and a Master of Business Administration from Mississippi State University and a Doctorate of Philosophy in Human Resource Development from Louisiana State University.
About Morehouse School of Medicine (MSM)
Founded in 1975, MSM is among the nation's leading educators of primary care physicians and was recognized by Annals of Internal Medicine in 2011 as the top institution in the first study of U.S. medical schools for our social mission based on our production of primary care physicians, training of underrepresented minority doctors and placement of doctors practicing in underserved communities. Our faculty and alumni are noted for excellence in teaching, research and public policy, as well as exceptional patient care.
Morehouse School of Medicine is accredited by the Commission on Colleges of the Southern Association of Colleges and Schools to award doctoral and master's degrees. For more information, please visit www.msm.edu.