Three Ph.D. Students Advance Research with NIH opportunities
Three Morehouse School of Medicine doctoral students are helping to advance research this summer thanks to opportunities presented by the National Institutes of Health.
Third-year Ph.D. student Crystal Lipsey received a fellowship appointment at the National Cancer Institute to complete the third aim of the research study on the effects of obesity on breast cancer chemotherapeutic resistance. Lipsey's appointment is for a full year.
Tankya Simoneaux and Takerra Johnson, third- and fourth-year Ph.D. students, respectively, received internship appointments with the National Institutes of Health's Graduate Summer Opportunity to Advance Research. G-SOAR is a two-month summer immersion program aimed at training young scientists who are highly competitive for future opportunities in biomedical research. During their program, Simoneaux and Johnson will work alongside some of the nation's preeminent scientists. They will perform research with a mentor, develop leadership skills, and receive career readiness training.
Simoneaux's research focus at MSM is in HIV/infectious disease. She is studying the pathogenesis of chlamydia Trachomatis in mice and cells. Johnson's research focus is in the cardiovascular field.
Lipsey also is a previous G-SOAR participant.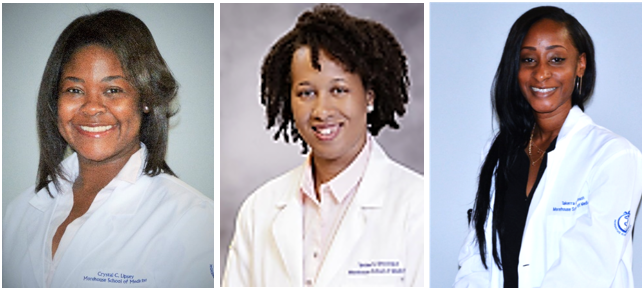 Left to right: Crystal Lipsey, Tankya Simoneaux, and Takerra Johnson