MSM Mentors Celebrate Tuskegee Airmen Global Academy 5th Grade Promotion

Morehouse School of Medicine (MSM) teaches those pursuing advanced degrees in medicine, but MSM also reaches back to uplift students in the early years of their educational journey.
MSM joined in the celebration of the successes of fifth graders from the Tuskegee Airmen Global (TAG) Academy, an elementary school in Southwest Atlanta. The medical school is an educational partner with the school. On Tuesday, May 23, 2017, MSM welcomed 108 fifth graders from TAG Academy, their families and friends to campus to celebrate the students' promotional ceremony.
Over the course of the school year, 117 mentors comprised of MSM faculty, staff and students worked with 174 students at TAG Academy, offering their time and talents to help the students reach their fullest potential.
TAG principal Lincoln Woods, III, is grateful for MSM's partnership with his school, which emphasizes a STEM-focused curriculum.
"The list is enormous in regards to how much they've helped," said Woods. "And the most critical piece that they've also given our school, they started off with saying they were going to have about 25 mentors, but we've exceeded that. Now there's 100 mentors that come over on a daily basis to help support our students."
Thanks to a $150,000 grant from the Robert Wood Johnson Foundation, MSM has also provided the elementary school with state-of-the-art technology, mentoring resources, and even professional development to ensure TAG students have the best tools possible so they may learn and achieve.
"Morehouse School of Medicine is privileged to partner with the Tuskegee Airmen Global Academy, its students and faculty, in whatever ways that we can," said Dr. Rita Finley, assistant dean of the Office for Educational Outreach and Health Careers. "Relationships like these are important, provide needed support and guidance, and show students what is possible, as we play a small part in guiding them toward their future."
Being in partnership with MSM also means that when TAG's graduating class swelled from about 40 to over 100 and outgrew any available space on the school grounds, the medical school stepped to the plate.
"We set out to set an experience for our fifth graders like no other," said Woods. "Considering the partnership we have with the Morehouse School of Medicine, why not create an experience that both the students and parents will like? That they can really appreciate as it relates to the ambience and the whole feel of Morehouse School of Medicine."
The mentorship program launched at the beginning of the school year in the fall of 2016. In October 2016, MSM won an "APyeS! Award" for "School-Based Partner of the Year" from Atlanta Public Schools (APS) for its partnership with TAG Academy.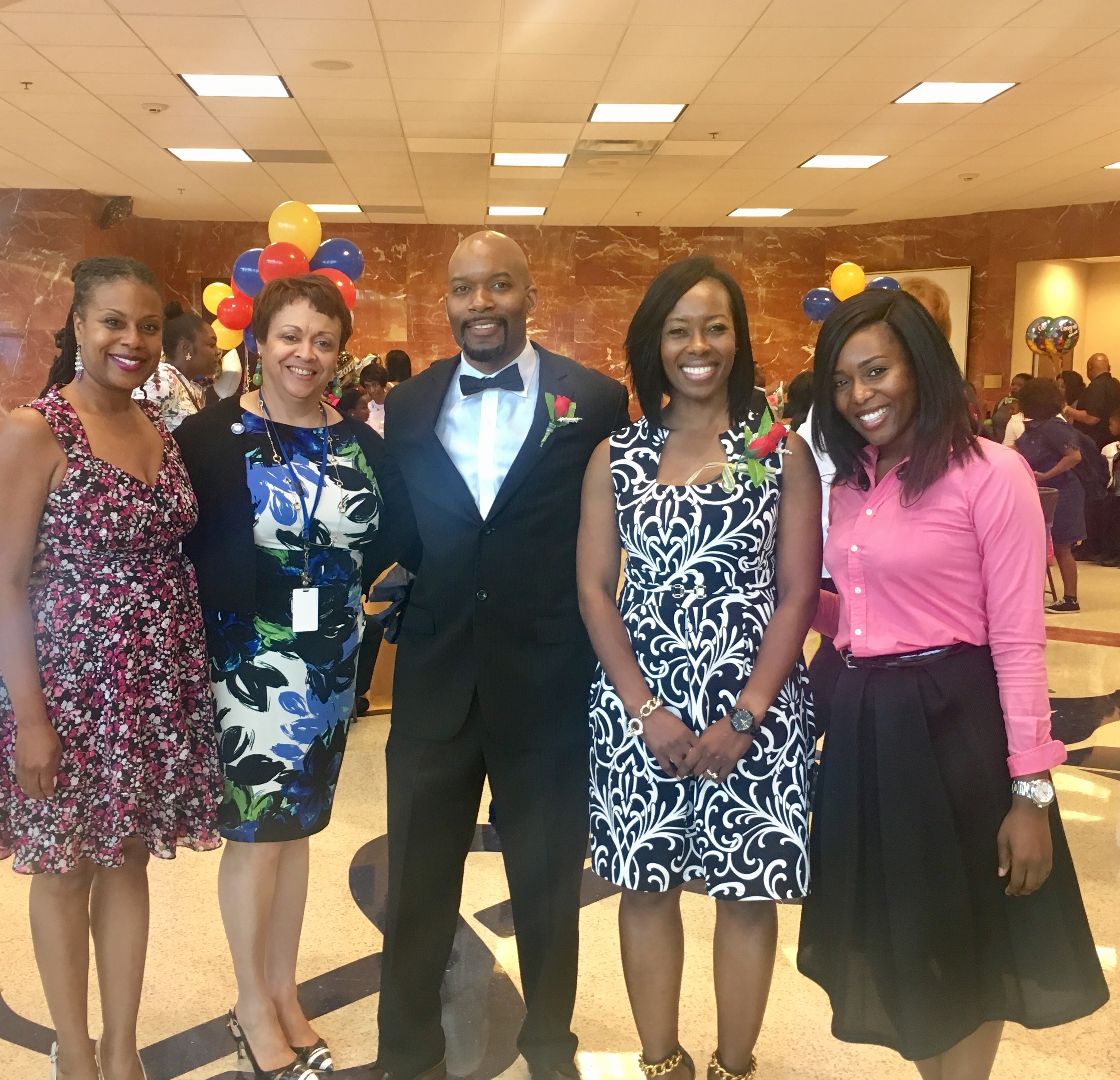 Pictured from left to right: Dr. Kisha Holden, Satcher Health Leadership Institute Director; Dr. Rita Finley, MSM Office of Educational Outreach and Health Careers Assistant Dean; Lincoln Woods III, Tuskegee Airmen Global Academy Principal; Yolanda Weems, Tuskegee Airmen Global Academy 3rd-5th grade Vice Principal; Stephanie Mathurin, MSM Office of Educational Outreach and Health Careers Program Coordinator
About Morehouse School of Medicine (MSM)
Founded in 1975, Morehouse School of Medicine (MSM) is among the nation's leading educators of primary care physicians, biomedical scientists and public health professionals. In 2011, MSM was recognized by Annals of Internal Medicine as the nation's No. 1 medical school in fulfilling a social mission. MSM faculty and alumni are noted for excellence in teaching, research and public policy, as well as exceptional patient care.
Morehouse School of Medicine is accredited by the Commission on Colleges of the Southern Association of Colleges and Schools to award doctoral and master's degrees. To learn more about programs and donate today, please visit www.msm.edu or call 404-752-1500.