MSM Builds Partnerships to Improve Latino Health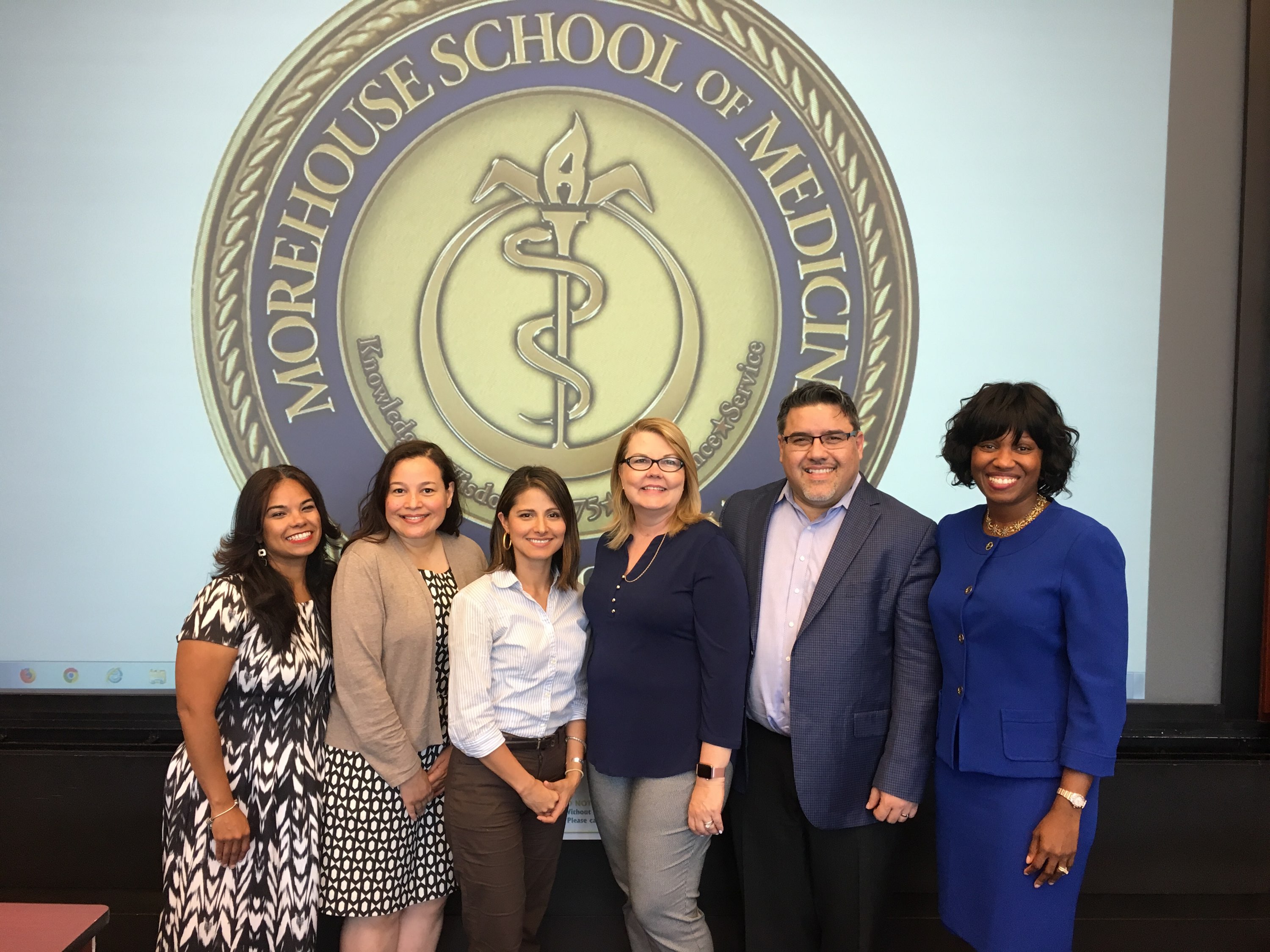 On May 1st, Morehouse School of Medicine's Office of Community Engagement and the Medical Spanish Club co-sponsored Building Partnerships to Improve Latino Health, part of the Talk, Learn, and Collaborate (TLC) series. Guests included community organizations that work directly with the Latino population in Georgia, which has the fastest and highest growth rate of the ethnic group in the nation according to the Atlanta Regional Commission.
Dr. Tabia Henry Akintobi, PhD, MPH, Associate Dean for Community Engagement, convened the discussion, followed by a welcome delivered by Dr. Sandra Harris-Hooker, PhD, Executive Vice Dean.
"All people of color must come together to tell our stories. We see today as an opportunity to assemble those narratives and translate them into actionable next steps that can lead to policy change," said Sandra Harris-Hooker, Ph.D., Executive Vice Dean at MSM as she welcomed attendees.
Guest panelists included Gilda Pedraza, Executive Director of Latino Community Fund Georgia, Belisa M. Urbina, Executive Director, of Ser Familia, Inc., Leo Martinez, President of Latino LinQ, and Brenda Liz Munoz, Bilingual Program Associate for School and Community Supports for Latino Community of Practice, Center for Leadership in Disability at Georgia State University.
Each panelist gave an overview of their organization's focus and shed light on the key issues, many of which are social determinants of health. Each seeks to address matters such as equal and fair housing, income and employment disparities, quality education, and stress/trauma.
Students, faculty, and panelists also discussed on-the-ground strategies to begin to address these disparities among underserved populations, such as:
educational pipelines that expose Latino youth to Morehouse School of Medicine STEM curricula and careers
higher education partnerships with community organizations to develop internships, fellowships, and post-docs focused on Latino health/well-being
grant writing support to community organizations with leadership/staff who speak English as a second language (ESL)
cultivating philanthropic relationships that lead to investments in Latino resources
Natalie Hernandez, Ph.D., MPH, Assistant Director, Office of Community Engagement concluded the event by thanking guest and sparking high-energy and enthusiasm for collaborating to achieve change in the community. "We can create optimism, making Georgia and this country great—not by building walls, but by tearing down barriers to opportunity and building pathways," said Dr. Hernandez.
For more information about the Office of Community Engagement and technical assistance on how to collaborate with community organizations, visit: http://www.msm.edu/Community/
Talk, Learn, Collaborate (TLC) is hosted by the Office of Community Engagement to bring together the MSM community (faculty, staff, and students) and external leaders to have conversations about community challenges and actionable steps to advance health equity.