Class of 2020 Helps Classmate See World in Full Color for First Time

Medical student Yaw Owusu knew he was at a disadvantage when he entered the Class of 2020 at Morehouse School of Medicine.
"I remember it was right before I started high school in Ghana. One weekend at home, my mom asked me to get a green bag for her. And I came back carrying something different," said Owusu about the moment he realized he had trouble identifying colors.
Owusu did not think it was an issue at the time. But during a biology class his freshman year of college, he realized his colorblindness was, in fact, something that could affect his long-term goals.
"There was one assignment where we had to trace the path of ants. Basically, you had to know which ants were red and which ants were green. I messed up from the top and I got everything wrong," said Owusu, attributing his mistakes to his colorblindness. "That was when I recognized that this could have an impact on my studying."
Owusu would find creative alternatives so he could stay on track with his peers. He would look for patterns and shapes and remember locations of cells when looking at slides in science classes.
When Owusu started at MSM, he quickly connected with his classmate Claud Crosby. Owusu moved from his home in Ghana to the United States in 2009 while Crosby, a Virginia native, had lived in the southern African nation of Swaziland for several years working as a missionary. As Crosby learned about story and struggles, their bond deepened.
"I think more than friendship, we quickly became family," said Crosby of his relationship with Owusu.
Owusu never openly shared just how serious his vision problem was. He did not want to call attention to it. Although MSM has an Office of Disability Services to assist students like Owusu, he never sought their assistance. But Crosby found out and wished he could help his friend.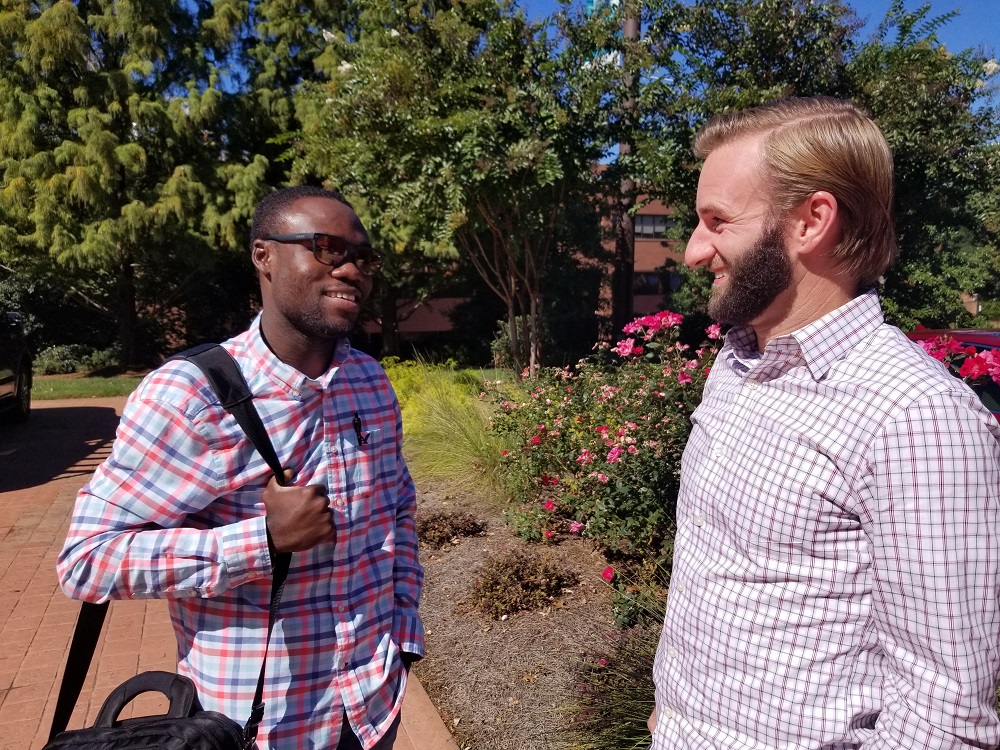 One day, Crosby and his wife were watching YouTube videos of people who received cochlear implants having their devices turned on for the first time.
"You're just crying and watching, and I think the string got us on to the Enchroma [YouTube channel]. So now we're not watching deaf people hear, we're watching colorblind people see," said Crosby. "It was just unbelievable."
Watching the emotional videos of people seeing vivid reds, greens, and other colors for the first time, Crosby wondered if those same glasses would work for his friend Owusu. He began researching the special glasses made by Enchroma.
Crosby called upon his classmates for help in purchasing the $350 pair of glasses for Owusu. They eagerly came through to help.
"The glasses are expensive, so it would have been tough to do it on my own," said Crosby. "There's a small group of us who know Yaw and love him well enough and we could have done it in our small group, but the sense of family we have among the whole class is pretty profound."
One fall Friday, Crosby asked Owusu to come to the front of the lecture hall and gave him a package. He opened it and put on what looked like a typical pair of sunglasses, but instead of things getting darker, his world got brighter.
Owusu looked at his classmates all wearing brightly colored shirts and was unsure of what he saw. He was speechless.
Then Crosby pulled out a piece of paper and unfolded it in front of his friend. Owusu stared at it in awe. It was an image of the Ghanaian flag. Owusu looked at it for a long time. Finally, he opened his mouth and said, "it's upside down!" His friends erupted in laughter and applause. The glasses worked.
This special gift now makes it easier for Owusu to distinguish between colors. He can identify different cells when looking through a microscope just as easily as the next classmate. The glasses have not just changed his academic career, but his entire life.
"Your small but very powerful and life-changing act speaks to the beauty of MSM," said Dr. Ngozi Anachebe, associate dean of Medical Education, Admissions and Student Affairs in an email to the Class of 2020. "You have reinforced to me what an amazing group of individuals you are. Your wonderful kindness to Yaw is emblematic of what is good about MSM, and you, our students." Dr. Anachebe then informed the class that the school would pick up the tab for Owusu's glasses and reimburse his classmates.
"It's not just about using these [glasses] for exams and so forth," said Owusu. "But also for appreciating the simple yet precious things in life. The colors of leaves, and flowers and things like that. It brings peace and it's beautiful. This is something I will forever be grateful to my class for. You hardly see things like this happening to people."