MSM's Dr. James F. Densler to Receive Three Separate Awards in Honor of Distinguished Medical Career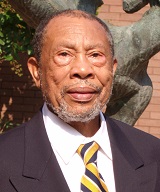 Morehouse School of Medicine Professor of Surgery Dr. James Franklin Densler (aka "Dr. D. – The Fun Doctor") will be receiving several awards throughout October and November in recognition of his exemplary medical career.
On October 5, 2015, Dr. Densler was awarded the 2015 Volunteer Clinical Faculty Award by the Alpha Omega Alpha Honor Medical Society. On October 12, 2015, at Meharry Medical College's 140th Convocation, Dr. Densler received the Axel C. Hansen M.D. Distinguished Physician Award, which is given to an alumnus of the school who has demonstrated leadership, integrity, excellence and the exemplary practice of medicine. And on November 14, 2015, Dr. Densler will be receiving Savannah State University's Award for Excellence in the categories of Leadership, Service, Scholarship or Philanthropy at Savannah State's 125th Scholarship Gala.
Dr. Densler has been a pioneer in the medical field. Some of his most notable accomplishments include:
First African-American pediatric surgeon to practice in the United States (1969).
First African American to be accepted into the Surgical section of the American Academy of Pediatrics (1971).
The second African American to be certified in pediatric surgery (1976).
Locally, the first African American to serve on the Hospital Authority of Fulton County for Northside Hospital, Atlanta, GA (1980-1988).
Read Dr. James Densler's biography here.