MSM Students Show Donors the 'Power of Possible'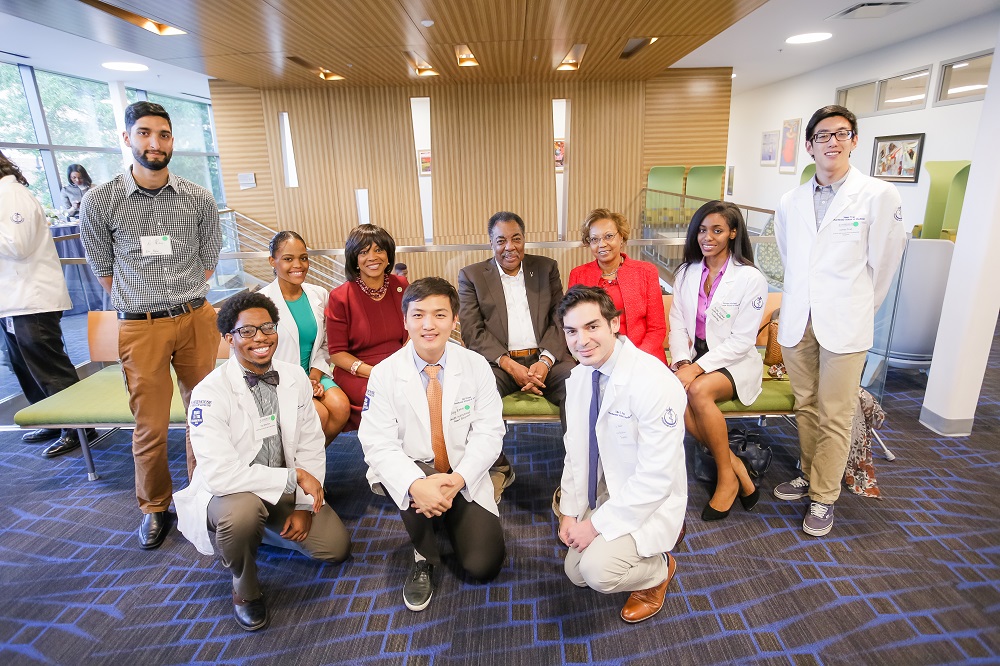 On Tuesday, October 24, Morehouse School of Medicine (MSM) kicked off its Power of Possible Scholarship Campaign with a reception at the Billye Suber Aaron Pavilion. MSM students had the opportunity to say thank you to their donors, and let them see firsthand what can be done with their support.
The Power of Possible campaign aims to provide financial assistance to each and every student at MSM, making it an attraction to students applying to medical school, especially for those passionate about working with underserved populations.
"The Power of Possible Campaign is a scholarship campaign where we are going to celebrate the investments we are making in our students, for their well-being, and for their opportunities to contribute to us leading in the creation and advancement of health equity," said Dr. Valerie Montgomery Rice, president and dean of MSM. "And we're going to celebrate those who are investing with us in our students."
In fiscal year 2016-17, 787 donors pledged $2.15 million to MSM scholarships. The money helped fund the education of just under 200 MSM students in various programs.
There are three components comprising the campaign. The first is the Coca-Cola Meet the Challenge, where the global beverage company will match dollar-for-dollar any personal donation made by a new donor. Next is the Legacy Scholarships, which asks current and past recipients of named scholarship funds to contribute to that same scholarship or create a new one, passing the torch to future generations of MSM scholars. Finally, MSM has earmarked $2 million of the $35 Million Allocation Investment from the State of Georgia to match scholarship donations.
During the reception, students had the chance to mix and mingle with those who have made significant financial contributions to their academic dreams, from alumni, to community leaders, and even MSM faculty and staff.
"Those that believe in the younger generation and have already paved the path, they're essential for us to get to the next step," said Michael Cleveland, a first year Master of Public Health student and the recipient of the Janet Blumenthal Scholarship. "Without them, where would we be?"
"I donate because I know what it's like when you're going through college and coming out with a boatload of debt," said Pearl Hollis on why she donates to the Presidential Scholarship. "And I think it's important today for us to support our HBCUs, like MSM, so that the students will not come out of school with a lot of debt, and then they will be able to start their businesses and their careers without worrying about paying a lot of debt."
Learn more about the Power of Possible and donate to MSM scholarships by visiting the campaign's page.
About Morehouse School of Medicine (MSM)
Founded in 1975, Morehouse School of Medicine (MSM) is among the nation's leading educators of primary care physicians, biomedical scientists, and public health professionals. In 2011, MSM was recognized by Annals of Internal Medicine as the nation's No. 1 medical school in fulfilling a social mission. MSM faculty and alumni are noted for excellence in teaching, research and public policy, as well as exceptional patient care.
Morehouse School of Medicine is accredited by the Commission on Colleges of the Southern Association of Colleges and Schools to award doctoral and master's degrees. To learn more about programs and donate today, please visit www.msm.edu or call 404-752-1500