The MSM Physician Assistant Studies program team is ready to start enrolling students for the 2019 inaugural cohort class.
PA Program Gains Provisional Accreditation, Can Enroll Students
Commission OK has Morehouse School of Medicine on fast track to June 2019 debut
ATLANTA – October 22, 2018 – Morehouse School of Medicine's new Physician Assistant Studies program passed a significant milestone en route to its June 2019 debut with news that the program has been granted provisional accreditation status by the commission that oversees PA education in the United States.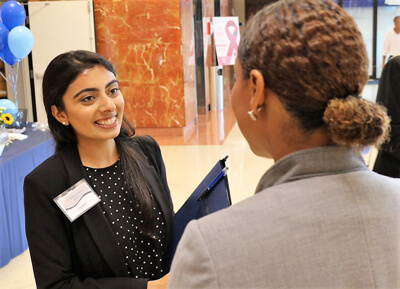 Pangela Dawson (right), founding director of the MSM PA program, chats with one of the 100 students recently interviewing for 20 spots in the first class.
"The Accreditation Review Commission on Education for the Physician Assistant has granted Accreditation-Provisional status to the Morehouse School of Medicine Physician Assistant program sponsored by Morehouse School of Medicine," the commission wrote in an Oct. 18 letter.
According to ARC-PA, "Accreditation-Provisional is an accreditation status granted when the plans and resource allocation, if fully implemented as planned, of a proposed program that has not yet enrolled students appear to demonstrate the program's ability to meet the ARC-PA standards or when a program holding Accreditation-Provisional status appears to demonstrate continued progress in complying with the standards as it prepares for the graduation of the first class (cohort) of students."
Accreditation-Provisional does not ensure any subsequent accreditation status, notes ARC-PA. It is limited to no more than five years from the matriculation of the first class.
"This achievement presents MSM with a wonderful opportunity. We can now fast forward toward our goals of increasing diversity in the healthcare workforce and improving health outcomes in underserved rural and urban communities by increasing access to care," said Pangela Dawson, founding PA program director. "This has been a phenomenal journey. Our success is primarily a result of the great support from our executive leadership, and the unified efforts and contributions from the entire MSM community."
Granting of Accreditation-Provisional status means that the MSM PA program can officially begin enrolling students. Program leaders are currently interviewing 100 applicants vying for the 20 available slots in the inaugural cohort group. Graduates will earn a Master of Science in Physician Assistant Studies degree.
PAs are highly trained, licensed medical professionals who work interdependently with physicians to diagnose illness, develop and manage treatment plans, prescribe medications, and often serve as a patient's principal healthcare provider. PAs practice in every state and in every medical setting and specialty.
MSM began laying the ground work for its program in 2017, in response to growing demand. U.S. News and World Report ranked the profession third on its 2018 "100 Best Jobs" list. For 2017, the median annual PA salary was $105,000, while the average salary stood at $107,718, up 12.7 percent in the past five years.
More than just demand factored in, however. PAs are critical to enhancing access to patient care in rural and underserved areas. That focus is a cornerstone of MSM's mission, particularly throughout Georgia, which made the decision to grow the program an easy one.
Dawson and her colleagues now turn their attention to fine-tuning the pre-clinical and clinical curricula, as well as preparing for the Provisional Monitoring review by ARC-PA. Site visitors will return to campus within six months of the graduation of the first cohort of students to determine if Accreditation-Continued status will be awarded.
Learn more about Morehouse School of Medicine and the PAS program. You also can call (404) 756-1254 or email pas@msm.edu for additional information.