Hank and Billye Aaron Announce $3 Million Gift to Morehouse School of Medicine
Announcement Made During School's 40th Anniversary White Coat and Pinning Ceremony of Largest First-Year Class

Contact: Ronna Charles Nu'Man, rnuman@msm.edu, 404-752-1717


ATLANTA – September 11, 2015 – Atlanta's "Hammerin" Hank and Billye Suber Aaron announced a $3 million gift to Morehouse School of Medicine (MSM) that will be used to expand the Hugh Gloster Medical Education building and create the Billye Suber Aaron Student Pavilion. The gift was presented during the school's 40th anniversary and 31st fall convocation, white coat and pinning ceremony. The participating students are MSM's largest first-year class of 159 M.D., M.P.H. and graduate students.
Hank Aaron made his mark on the Atlanta community and solidified his place in American history with his record-breaking baseball career. Since then, he and his wife Billye have become pillars in the Atlanta business and philanthropic communities.
"Like our family, MSM has a true commitment to the Georgia community," Hank Aaron said. "We are happy to partner in creating a facility that welcomes and educates the next generation of doctors, health care professionals and leaders for the communities we hold so dear. It is fitting that the pavilion holds my wife's name because of her long-held commitment to education and this dedicated school's special place in her heart."
Billye Aaron was the first African American woman in the Southeast to co-host a regular daily television talk show. She has since become an Atlanta leader in community service and philanthropy, focused on providing educational opportunities to African Americans, including founding the UNCF Mayor's Masked Ball, the Hank Aaron Chasing the Dream Foundation and in 2014 chairing the Phenomenal Women Luncheon to honor Morehouse School of Medicine's then newly appointed president and dean Valerie Montgomery Rice, M.D., raising over $600,000 in scholarships for MSM students.
"This exceptionally generous gift is an enduring legacy of two people who clearly care about the future of medicine, science and the health and wellness of the Georgia community and the nation," said President and Dean Montgomery Rice.
"Recruiting and retaining world-class faculty, ensuring cutting-edge resources for our students and providing quality health care to our patients solidifies our presence for future generations. We thank the Aarons for the confidence of this gift and applaud their ongoing commitment to community."
MSM will break ground on the Billye Suber Aaron Student Pavilion in January 2016. This is the first phase of a planned four-part academic facilities expansion on MSM's campus. The Billye Suber Aaron Student Pavilion is scheduled to be complete by 2017.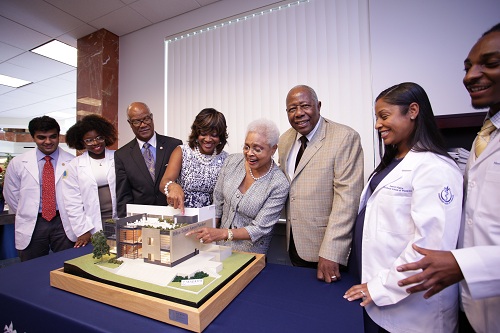 Watch video of the Billye Suber Aaron Pavilion gift announcement
About Morehouse School of Medicine
Founded in 1975, Morehouse School of Medicine (MSM) is among the nation's leading educators of primary care physicians, biomedical scientists and public health professionals. In 2010, MSM was recognized by Annals of Internal Medicine as the nation's No. 1 medical school in fulfilling a social mission. MSM faculty and alumni are noted for excellence in teaching, research and public policy, as well as exceptional patient care.
Morehouse School of Medicine is accredited by the Commission on Colleges of the Southern Association of Colleges and Schools to award doctoral and master degrees. For more information, please visit www.msm.edu.