Morehouse School of Medicine and Emory Explore Risk for Heart Disease and Stroke Among Minorities

Contacts

Ronna Nu'Man, Morehouse School of Medicine, 404.752.1717, rnuman@msm.edu
Jennifer Johnson McEwen, Emory University School of Medicine, 404.727.5696, jennifer.johnson@emory.edu
September 1, 2015 -- Morehouse School of Medicine (MSM) and Emory University School of Medicine have joined forces to establish the MSM/Emory Cardiovascular (MECA) Center for Health Equity, with funding from the American Heart Association (AHA). Researchers will explore differences that exist and improvements that need to be made when it comes to treating culturally diverse patients.
The MECA Center for Health Equity was made possible by the AHA's new Strategically Focused Research Network focusing on Disparities in Heart Disease and Stroke. The AHA network is supporting four research projects across the nation, including the MSM and Emory venture, with grants totaling $15 million over four years.
"Some Americans do not have access to high-quality health care and they often suffer disproportionally from cardiovascular disease and stroke," says Steven Houser, PhD, chair of the AHA's research committee.
"In this network investigators will explore the basis of the disparities and work to identify solutions that improve the health of all Americans."
The purpose of the MECA Center for Health Equity is to reduce health disparities in cardiovascular disease risks, prevalence and outcomes by better understanding intra-racial heterogeneity within the black population and its impact on cardiovascular health.
Health disparities refer to differences between groups of people. These differences can affect how frequently a disease affects a group, how many people get sick or how often the disease causes death. Many different populations are affected by disparities. Disparities and health equity research are the foundation of MSM's 40 years of work in the medical community.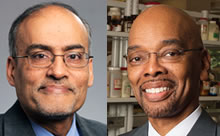 Herman A. Taylor, MD, MPH, Morehouse School of Medicine, will serve as the Center director and Arshed A. Quyyumi, MD, Emory School of Medicine, will serve as co-director of the MECA Center for Health Equity.
"Our research will focus on the social and environmental factors that determine cardiovascular 'risk' and 'resilience' in the black population to find ways to reduce risk, disease and death," says Taylor, director and endowed professor of MSM's Cardiovascular Research Institute.
"Because not all blacks have poor heart health, their 'resilience' helps us better understand what works for those who are free of heart disease, diabetes and high blood pressure."
Quyyumi says the new Center is unique because of this focus on health resilience.
"We will gain deeper insights into 'health against the odds' within the black population. Rather than trying to find new 'risk factors,' this work will focus on identifying 'resilience factors' that produce pockets (and people) of good cardiovascular health within the black community in the US," says Quyyumi, professor of medicine (cardiology), Emory University School of Medicine and co-director of the Emory Clinical Cardiovascular Research Institute.
"If successful, this work could be instrumental in moving from what we think 'can' or 'should' work in the black community, to what actually does work for the black Americans who are free of heart disease and/or risk factors," Quyyumi explains.
Other projects will explore the molecular signatures of risk and resilience in the black population using metabolomics and microRNA techniques. A clinical trial will study whether a technology-assisted (eHealth) lifestyle intervention will help reduce risk and increase resilience in individuals at high risk.
Researchers say their findings will help inform policymakers, healthcare delivery systems and individuals in the minority community who are exposed to a staggeringly high cardiovascular disease burden.
Nearly half of all African-American adults have some form of cardiovascular risk factor or cardiovascular disease - 48 percent of women and 46 percent of men - according to the AHA.
In addition to Taylor's lead role on the AHA project, MSM leaders of individual projects within MECA include principal investigators (PIs) Priscilla Pemu, MD, George Rust, MD, and Gregory Strayhorn, MD, who will serve as the Center training director.
Key Emory leaders include project PIs Charles Searles, Jr., MD, associate professor of medicine (cardiology) and Tené T. Lewis, associate professor of epidemiology, Rollins School of Public Health (RSPH).
Other co-investigators at Emory include: Sandra B. Dunbar, RN, DSN, Charles Howard Candler Professor of Cardiovascular Nursing and associate dean for Academic Advancement at Emory University's Nell Hodgson Woodruff School of Nursing; Viola Vaccarino MD, PhD, professor and Wilton Looney Chair of Epidemiology at RSPH and professor of medicine, Emory University School of Medicine; and Dean P. Jones, PhD, professor in the Emory University Department of Medicine (Pulmonary Division).
Other co-investigators at MSM include Peter Baltrus, PhD, in the Department of Community Health and Preventive Medicine, Robert Mayberry, MS, MPH, PhD, professor of Epidemiology, vice chair of the Department of Community Health and Preventive Medicine, associate and director of the Research Center for Clinical and Translational Research, president of the American Public Health Association Camara Jones, MD, who is also senior fellow in the Satcher Health Leadership Institute and in the Cardiovascular Research Institute, and adjunct associate professor in the Department of Community Health and Preventive Medicine.
Research projects from the other members of the AHA network include: The Medical University of South Carolina, which will investigate why recovery from stroke in African-Americans is poor, compared to whites. Northwestern University, which is examining how diet contributes to cardiovascular disease, and University of Colorado, which will aim to improve blood pressure control in urban American-Indians and Alaska Natives by studying how racial discrimination could lead to an increased risk of cardiovascular disease.
Emory and Morehouse Schools of Medicine partner in serving patients at the publicly owned Grady Memorial Hospital and in training Emory and Morehouse medical residents. The two schools are also partners in research through the Atlanta Clinical and Translational Science Institute, a consortium funded by the National Institutes of Health and created to translate laboratory discoveries into treatments for patients, engage communities in clinical research efforts and train the next generation of clinical investigators.