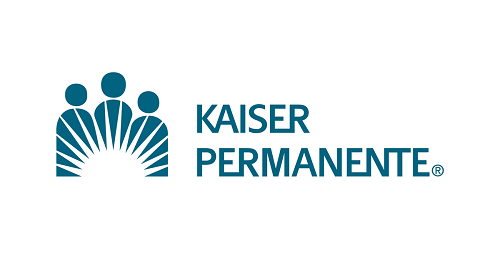 Kaiser Permanente's $3 Million Grant Helps Prime Georgia's Health Education Pipeline
New Undergraduate Academy Announced at Morehouse School of Medicine

Contact:
Ronna Charles Nu'Man
rnuman@msm.edu
404-752-1717

Sept. 16, 2016 - ATLANTA – Thanks to a $3 million grant from health care leader Kaiser Permanente, Morehouse School of Medicine (MSM) has created an undergraduate program designed to help underrepresented students enter graduate-level study in the health and biomedical fields. The Undergraduate Health Sciences Academy at Morehouse School of Medicine was announced today during the school's 32nd fall convocation, white coat and pinning ceremony.
"Kaiser Permanente is proud to partner with institutions, such as Morehouse School of Medicine, who share our strong commitment to clinical excellence and our vision for improving health equity," said Dr. Ronald Copeland, senior vice president, Diversity & Inclusion Strategy and Policy, and Chief Diversity and Inclusion Officer at Kaiser Permanente. "Partnerships like this are not only key to helping us transform the future of health care and medical education, but help ensure that those who are on the front lines of community health reflect the diversity of our nation's communities."
The Undergraduate Health Sciences Academy will provide critical tutoring, mentoring, hands-on research and support for current undergraduate students matriculating at Atlanta University Center Consortium (AUCC) schools, which include Clark Atlanta University, Morehouse College and Spelman College. The overarching goal of the program is to advance and help ensure the success of the next generation of diverse healthcare providers. The Academy will greatly increase the potential of AUCC undergrads to successfully progress to medical school and pursue careers along the "healthcare pathway." The Academy kicks off this fall 2016 semester in response to the growing need for health care professionals in Georgia's underserved urban and rural communities.
"The program allows participants who are underrepresented in biomedical sciences to not only collaborate with our faculty and students but to join a community effort to provide culturally-relevant, compassionate care," MSM President and Dean Valerie Montgomery Rice, M.D., said. "The Academy provides students with advising, mentoring, tutoring, test preparation and guidance so they can become self-regulated learners."
AUCC schools are looking forward to partnering with MSM
"Morehouse College has a long track record of educating young men that go on to be leaders in the health sciences and so our plans to strengthen and improve on that record are invigorated by this targeted effort of Morehouse School of Medicine in partnership with Kaiser Permanente," Morehouse College President Dr. John Silvanus Wilson Jr. said.
"The Morehouse School of Medicine Undergraduate Health Sciences Academy is an important collaboration for the Atlanta University Center that adds additional education, research and training components to our students' toolkit for success as future health professionals," said Spelman College President Dr. Mary Schmidt Campbell. "As an academic institution that graduates a significant number of students each year who major in STEM disciplines, the Academy will serve as an important resource for Spelman."
"As Clark Atlanta University is a doctoral research-high research activity institution, the site of the Center for Cancer Research and Therapeutic Development, the Center for Functional Nanoscale Materials and the Louis Stokes Alliance for Minority Participation and several other STEM concerns, the new Undergraduate Health Sciences Academy at Morehouse School of Medicine constitutes an important resource that will significantly buoy the academic experience of our University's STEM students," Clark Atlanta University President Ronald A. Johnson said. "We applaud this partnership as the Academy portends much not only for the AUCC, but for our entire community."
This fall, MSM welcomed its largest and most competitive class to date with 151 students recognized at today's convocation, white coat and pinning ceremony held in the Louis W. Sullivan National Center for Primary Care. New students received the symbol of their chosen profession and took their first oath of professional medical ethics.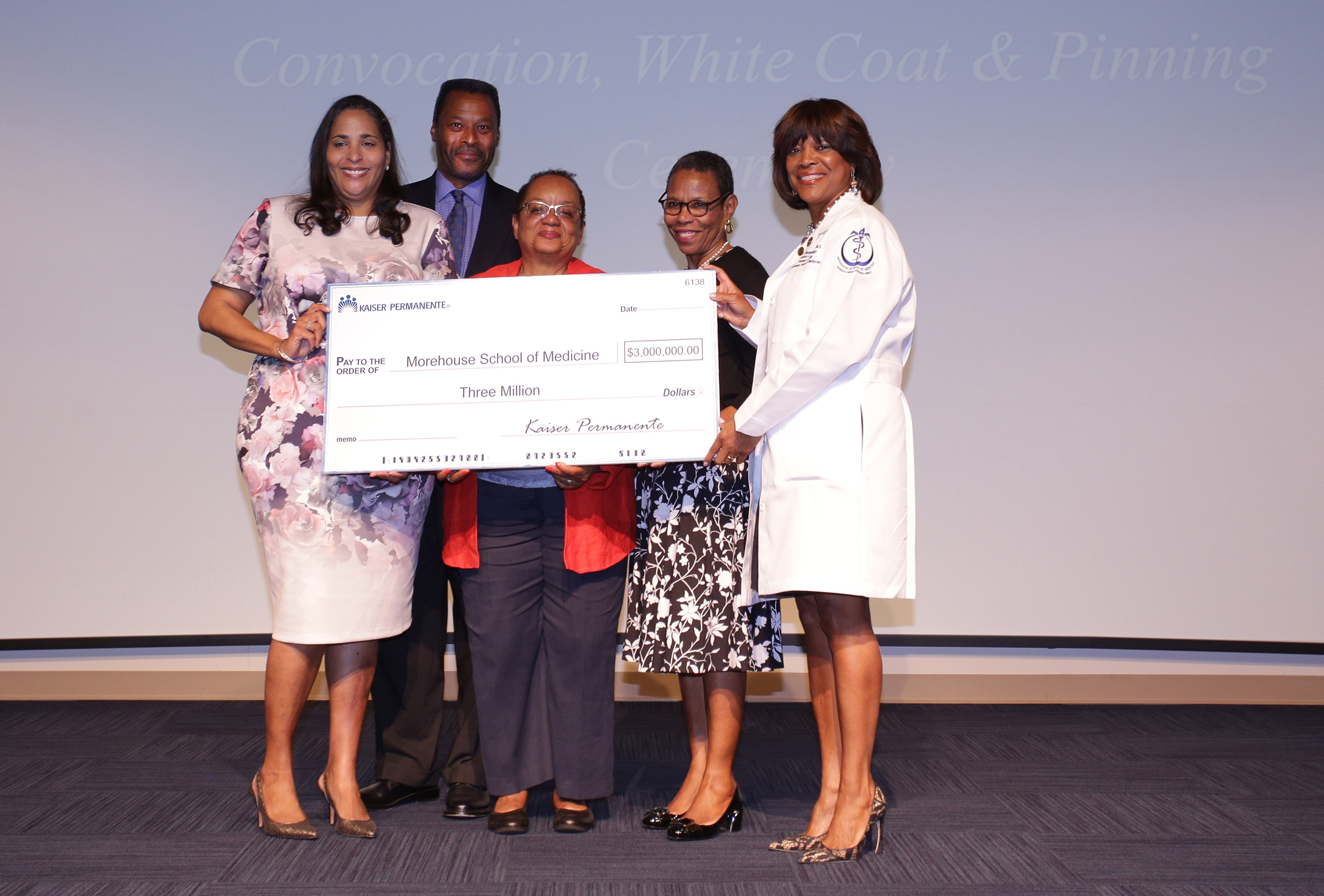 From left to right: Kaiser Permanente Director of Community Benefit Madelyne Adams, Morehouse College President Dr. John Silvanus Wilson Jr., Clark Atlanta University Dean of the School of Arts and Sciences Dr. Danille Taylor, Spelman College President Dr. Mary Schmidt Campbell, Morehouse School of Medicine President and Dean Dr. Valerie Montgomery Rice
About Morehouse School of Medicine (MSM)
Founded in 1975, MSM is among the nation's leading educators of primary care physicians and was recognized by Annals of Internal Medicine in 2011 as the top institution in the first study of U.S. medical schools for our social mission based on our production of primary care physicians, training of underrepresented minority doctors and placement of doctors practicing in underserved communities. Our faculty and alumni are noted for excellence in teaching, research and public policy, as well as exceptional patient care.
Morehouse School of Medicine is accredited by the Southern Association of Colleges and Schools Commission on Colleges to award doctorate and master degrees. For more information, please visit www.msm.edu.


About Kaiser Permanente
Kaiser Permanente is committed to helping shape the future of health care. We are recognized as one of America's leading health care providers and not-for-profit health plans. Founded in 1945, Kaiser Permanente has a mission to provide high-quality, affordable health care services and to improve the health of our members and the communities we serve. We currently serve more than 10.6 million members in eight states and the District of Columbia. Care for members and patients is focused on their total health and guided by their personal physicians, specialists and team of caregivers. Our expert and caring medical teams are empowered and supported by industry-leading technology advances and tools for health promotion, disease prevention, state-of-the-art care delivery and world-class chronic disease management. Kaiser Permanente is dedicated to care innovations, clinical research, health education and the support of community health. For more information, go to: kp.org/share.
###