White Coats and Yellow Jackets
Morehouse School of Medicine, Georgia Tech Team Up on Dual MD/MBA Degree
FOR IMMEDIATE RELEASE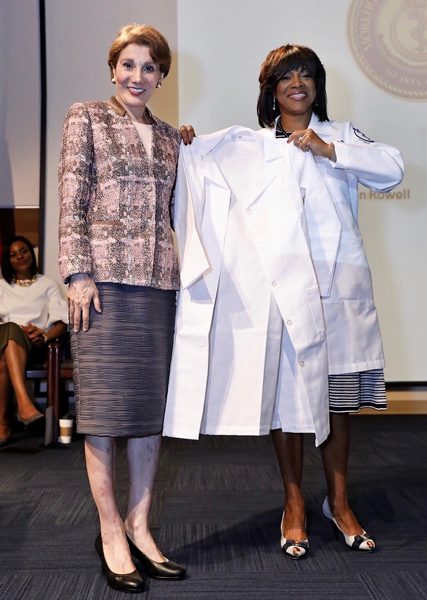 Morehouse School of Medicine President and Dean Valerie Montgomery Rice, MD, (right) presented Dr. Maryam Alavi, dean of Georgia Tech's Scheller College of Business, with her own white coat to symbolize the MD/MBA partnership between the schools, which was announced Sept. 21.
ATLANTA, Sept. 21, 2018 – With the official start of a new academic year serving as the backdrop, Morehouse School of Medicine President and Dean Valerie Montgomery Rice, M.D., announced today that the school has launched a new dual-degree program in partnership with the Georgia Institute of Technology's Scheller College of Business that will enable MSM MD students to complete their medical and business degrees in just five years.
Announcement of the joint MD/MBA degree program – which officials have nicknamed "White Coats and Yellow Jackets" – came at MSM's 34th Convocation and White Coat and Pinning Ceremony held Sept. 21. The event welcomed the 2018 incoming class of 165 first-year students in the Doctor of Medicine, Graduate Education in Biomedical Sciences and Master of Public Health programs.
"A physician must possess many essential qualities. Passion. Compassion. Professionalism. Humility. Confidence. A strong work ethic," Dr. Montgomery Rice said. "But being a great physician isn't just about understanding medicine and patient care—these days, it's increasingly important to be a great businessperson, too."
Under this partnership, MSM MD students can complete their MBA in one year, while enrolled in the MD program, and without interrupting their career later. The program allows students to count 15 credit hours toward their MBA elective requirements, reducing the cost and time required to complete the MBA degree.
"Tomorrow's physicians must be business savvy; they must possess financial and managerial acumen, along with an entrepreneurial mindset," said Dr. Mayam Alavi, dean of the Scheller College. "At Georgia Tech, we are uniquely positioned at the intersection of business and technology, with a curriculum that cultivates that entrepreneurial mindset. As a result, our MD/MBA graduates will be able to thrive and excel as physicians in the 21st century."
MD/MBA students take 39 credit hours at Georgia Tech and transfer 15 credits of specific courses from the MSM MD program to complete the 54-credit-hour MBA curriculum. With a higher course load per semester than those who pursue a single degree, students can complete both the MD and the MBA degrees in five years.
During the first three years, students will take MD courses at MSM. During the fourth year, students will take 39 credit hours of MBA courses at Scheller College of Business. During their fifth year, students will primarily take courses at Morehouse School of Medicine and may take a few courses at Scheller to complete the MBA requirements.
Students enrolled and in good standing in the Morehouse School of Medicine MD program are eligible to apply to Scheller College. Students admitted into the Morehouse School of Medicine MD program can apply at any time prior to the end of their third year. MSM students must apply to and be accepted by the Scheller College MBA Admissions Office.
To learn more about the MD/MBA program, email melks@msm.edu, call 404.752.1881, or visit www.msm.edu/Education/md-mba.
About Morehouse School of Medicine:
Founded in 1975, Morehouse School of Medicine is among the nation's leading educators of primary care physicians, biomedical scientists and public health professionals. In 2011, MSM was recognized by Annals of Internal Medicine as the nation's No. 1 medical school in fulfilling a social mission. MSM faculty and alumni are noted for excellence in teaching, research and public policy, as well as exceptional patient care.
Morehouse School of Medicine is accredited by the Commission on Colleges of the Southern Association of Colleges and Schools to award doctoral and master's degrees. To learn more about programs and donate today, please visit www.msm.edu.
About Scheller College of Business:
Georgia Tech Scheller College of Business is located in Atlanta, home to 17 of the nation's Fortune 500 companies, and is strategically centered in the world-renowned Technology Square district. This positioning at the intersection of business and technology provides students with an unparalleled opportunity to learn in one of the nation's premier high-tech business centers. The College offers globally-recognized, highly-ranked business programs including full-time, evening, and executive MBA degrees, undergraduate and Ph.D. degrees, and executive education programs. Interdisciplinary centers and programs encourage collaboration in research, teaching, and experiential learning within Georgia Tech in some of today's most sought-after arenas. More information can be found at www.scheller.gatech.edu.