Veena N. Rao, Ph.D., Morehouse School of Medicine

Unraveling the Mysteries of BRCA1 in African American Women
*Originally published for the National Cancer Institute Center to Reduce Cancer Health Disparities.
Click here
to be directed to the original feature story.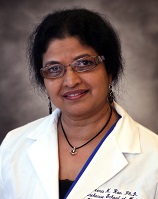 Unraveling the mysteries of the
BRCA1 gene
and its role in breast and ovarian cancer in diverse populations has guided the research of Dr. Veena N. Rao, a
CRCHD PACHE U54
grantee. Her other passion is training diverse scholars in cancer health disparities research.
Rao is a Professor and Co-Director of the Cancer Biology Program and Georgia Cancer Coalition Distinguished Cancer Scholar in the Department of OB/GYN at the Morehouse School of Medicine in Atlanta, Georgia.
For the past 20 years, Rao has been investigating the inner workings of the BRCA1 gene which has been linked to breast and ovarian cancer, including triple negative breast cancers that are more prevalent in African American women. Triple negative breast cancers are highly aggressive and have higher rates of metastasis. There are currently no targeted treatments for this type of breast cancer.
Rao explains that the "the primary function of the BRCA genes is to repair cell damage and keep breast cells growing normally. But when these genes contain abnormalities or mutations that are passed from generation to generation, the gene products do not function normally – and the risk for breast cancer increases substantially." She continued, "But when an African American woman has triple negative breast cancer as a result of a mutation of BRCA1, this mutant protein stays in the cytoplasm and can develop into a tumor."
Simply put, Rao said, "If the cancer can be detected early, we can break the disparity between African Americans and whites."
Rao's team was the first to find evidence that BRCA1a induces cell death in breast cancer cells. They were also the first to introduce BRCA1a into triple negative breast cancer by gene therapy, successfully blocking tumor development in mice. In addition to breast and ovarian cancer, Rao believes abnormalities in the BRCA1 gene may also play a role in other diseases such as obesity and diabetes. Rao has been awarded five U.S. patents for her research which includes a recent patent for BRCA1 function based assays to develop targeted therapy for TNBC.
Rao's love of science began in the ninth grade when her teacher persuaded her to write a science paper, but she attributes much of her interest in research to her father who was an electrical engineer, as well as her mother who consistently read her books at a very early age on Marie Curie and presently she derives her inspiration from the life of Helen Keller.
Part of Rao's U54 grant is her promise to bridge the scientific gap by bringing minority students into scientific careers. Since coming to Morehouse in 2002, numerous students have worked in her laboratory from high school students, undergraduate, graduate, medical students, postdoctoral fellows, junior faculty, and clinicians.
Rao advises her students that there are three things you need to be a good scientist. "It's about passion, it's about honesty and most importantly science consists of hard work," she said.
Outside of her work, Rao has also contributed to diversity awareness. When she lived in Pennsylvania, she developed a multicultural program in her child's school district to teach children about different cultures and allow them to appreciate the diversity in their community. When her family moved to Georgia, she introduced the same multicultural program to her new school district.
Rao received her Ph.D. in Biochemistry from Osmania University, India. Some of her Ph.D. work was done at the Max Planck Institute in Germany, University of Edinburgh, Scotland and MIT, Boston, MA. She completed postdoctoral work in the University of California, Berkeley and Yale University School of Medicine. From 1985-1987, Rao worked as a Fogarty International fellow in the Laboratory of Molecular Oncology at the NCI. Rao received her B.S. in Chemistry/Biology and a Master's of Science in Biochemistry from Osmania University, India.
In April of 2011, Rao became the first woman scientist to receive the Mario Toppo Distinguished Scientist Award from the Association of Scientists of Indian Origin in America (ASIOA). She was also selected to receive the 2007 National Women of Color in Technology Research Leadership award. She is a recipient of the 2006 Trail Blazer award by Minorities in Research, Science Spectrum Magazine and the 2005 Emerald's Honor Senior Investigator award. Rao is also the 2003 recipient of the Georgia Cancer Coalition Distinguished Cancer Scholar Award, for spearheading numerous breakthroughs in breast cancer research and plans on continuing combatting this deadly disease through her research for years to come.