Parking & Transportation
Traffic in Atlanta around the Cadence Bank Amphitheatre is known to be busier at times of major events. Please plan accordingly. ~ Cadence Bank Amphitheatre website
We're excited to be taking our 2021 Commencement ceremony to the Cadence Bank Amphitheatre at Chastain Park. However, this move does not come without a few logistical challenges. If you've ever been to an event here, you know the above quote can be an understatement.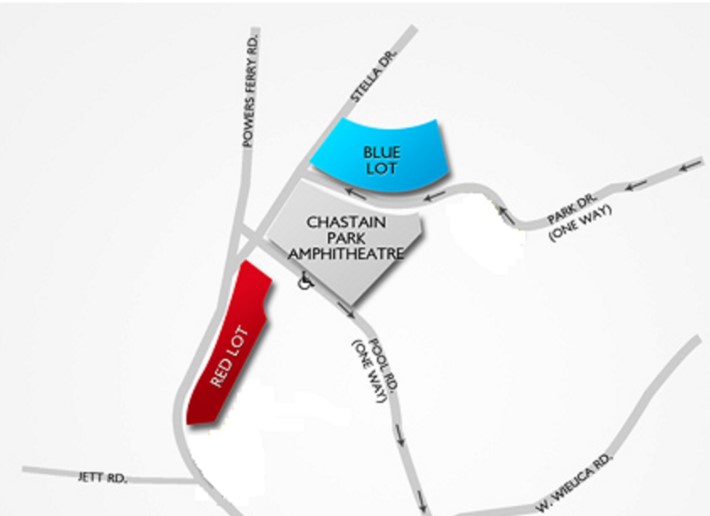 On May 15, we will be sharing the area surrounding the amphitheater with the Chastain Spring Arts and Crafts Festival. This event always draws large crowds, and we expect it to be even more widely attended after being cancelled last year due to COVID-19.
There will be limited parking available in both the RED and lower BLUE lots (see map). Street parking is available in the surrounding residential neighborhoods but be aware that parking enforcement is strict. Look for any "No Parking" signs and be sure not to block driveways, not even partially, to avoid being cited or towed. We will post appropriate signage at the lots.
WE STRONGLY URGE YOU TO USE OUR SHUTTLE BUS SERVICE
Avoid the traffic, forget the parking, lower your stress.
Satellite Parking and Shuttle Service
We are partnering with Atlanta Public Schools to use the garage at North Atlanta High School as a satellite parking location.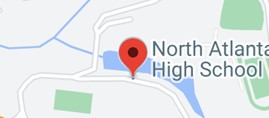 North Atlanta High School
4111 Northside Pkwy NW
Atlanta, GA 30327
Coming from I-75, use the SECOND entrance Northside Parkway.
(click on map for Google directions)
Harmon Brothers Trailways is providing several 55-passenger buses (40-person capacity to adhere to social distancing guidelines), including an ADA-compliant vehicle, for the approximately 15- to 20-minute trip to the amphitheater. Service begins at 8:30 am.