No Magic, Mike Works to Change Patient Care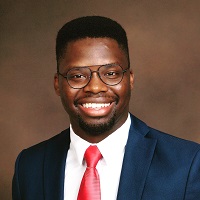 The roots of Abiola "Mike" Oso's lineage to his impending career spread far and wide, from his native Nigeria to an Alabama trailer park, a fledgling health clinic (and dreams for another) and a true family affair with medicine.
But first things first. Mike?
"Yes," he laughs. "It's common for Nigerian parents in this country to give their children an 'American' name; it makes things easier. Michael Jackson and Michael Jordan were big when I was born, so that's what they went with. But mostly my friends just call me Oso."
Mom Lara is a Grady Hospital nurse. Dad Emmanuel owns a home health care company with Oso's older brother, Ola. But when Oso was much younger, the couple sold ice cream from a cart and the family lived in a Dothan, AL, trailer park.
"I thought it was the greatest thing in the world. I'd be like, 'Your dad is a doctor? Big deal, mine sells ice cream, and I get all I want!' I had no idea we were poor."
The family, including younger sister Christy, a University of Chicago pre-med graduate currently applying to medical schools, soon moved to Atlanta. Lara, who has been at Grady for more than 20 years, arranged for Oso to work as a patient safety monitor. It was the spark that lit Oso's fire.
"I watched everyone come and go, I listened to how the doctors spoke to patients, seeing clearly that they often didn't understand the complex things being told to them. I knew then that I wanted to be on the front lines, to be an advocate for patients and change the way we health care professionals interact with them."
Oso isn't waiting to start making those changes. Last October, he launched "A Place of Hope," a health clinic in Morrow, GA. It's open 1-4 p.m. every Sunday. Oso says one of the most important things they provide is education about things like blood pressure, diabetes and high cholesterol.
"It's become a huge deal, and we've got donations coming in from all over the community," adding that he dreams of building another clinic in Nigeria within the next five to 10 years.
A Georgia State University undergraduate, Oso admits he didn't initially know much about MSM. But like so many others, he was won over by its "family feel." And he has a basis for comparison. His fiancée, Tolu, is about to graduate from Duke University School of Medicine. There, he says, the environment is more competitive than collaborative, like he found at MSM.
"I would tell her about all the support I was getting here, the resources we have available, and share insights that I learned. So, in a way, she benefited from my Morehouse experience, too."
The two have applied for a couple's match, he for emergency medicine, she for anesthesiology. They graduate in May, get married a week later followed by a St. Lucia honeymoon, then it's off to their new home in June to begin their residencies. Oso will carry memories of ice cream and a trailer park.
"After all the sacrifices my parents made, I have always been determined to make the best of every opportunity that comes my way."
A word of advice to all you aspiring physicians out there: Be like Mike.