Model Area Health Education Centers (AHEC) Program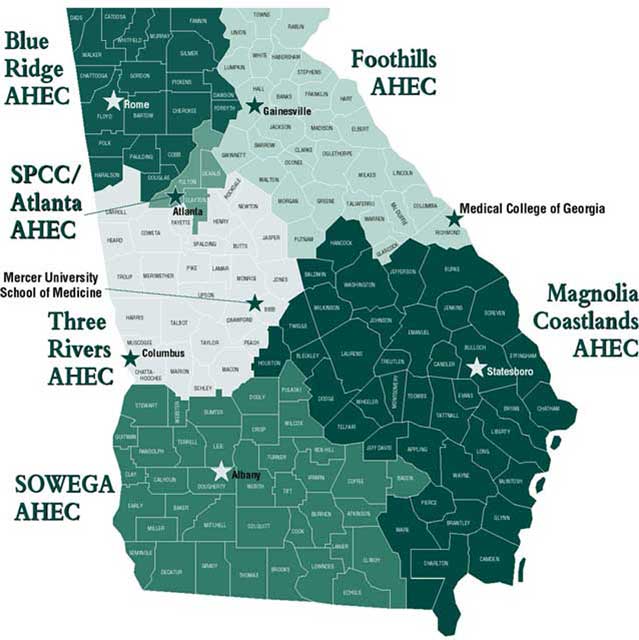 The AHEC Program is responsible for implementing programs and activities to respond to Georgia's health workforce needs that occur in many of Georgia's most rural and urban underserved areas. It builds on partnerships, collaborations and linkages in the community. These program activities provide support and resources to complement funding obtained from the Federal Health Resources and Services Administration (HRSA).
The MSM State Model AHEC Program includes two centers: 1) the Southeastern Primary Care Consortium AHEC (SPCC AHEC), serving the three metro Atlanta counties, Fulton, DeKalb, and Clayton, and 2) the Magnolia Coastlands AHEC (MCAHEC), serving 39 counties in southeast rural Georgia.
The mission of the MSM AHEC Program is to improve the supply, distribution, quality and diversity of the health workforce in Georgia. In pursuit of this mission, we provide recruitment, health science student education and training, and continuing professional education (CEUs), with particular attention to the creation and retention of a diverse workforce.
Each year over 4,700 students are exposed to health career professions via classroom presentations, career fairs, health and wellness expositions, and leadership forums.

Over 2,000 students are exposed to Public Health careers. In addition, we support over 700 rotations and 240 allied health rotations in rural communities across the state of Georgia. Our Model AHEC also provides housing, travel stipends, and orientation to medical students rotating at preceptorships, hospitals, Federal 330 community health centers and healthcare organizations in Georgia. These services provide support of primary care and support healthy communities and are based on an evaluation of the needs of our underserved communities.
For more information about programming and AHEC scheduled events contact the AHEC Center Directors below: