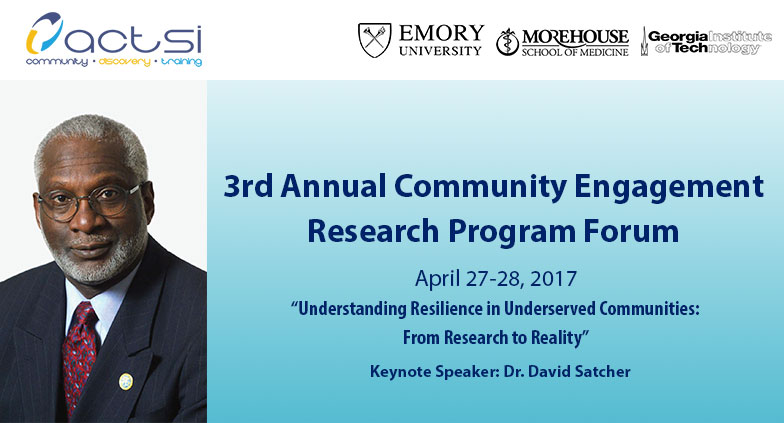 The 3rd annual ACTSI Community Engagement Research Program (CERP) Forum will provide participants with the tools required to develop and sustain, successful and mutually beneficial, community university translational research partnerships to improve population health in metro Atlanta and beyond.
Keynote Speaker

David Satcher, M.D., Ph.D., FAAFP, FACPM, FACP
Founding Director and Senior Advisor
Satcher Health Leadership Institute
WHEN:

Thursday, April 27, 2017 (8:30 am - 4:45 pm)

Friday, April 28, 2017 (8:30 am - 12:30 pm)

WHERE:

Atlanta Technical College
Dennard Conference Center
1560 Metropolitan Pkwy, SW
Atlanta, GA 30310-4446

Click to View Full Forum Agenda

***You must register for the CERP Forum in advance to participate as a presenter.***

For more information: Call Dr. Katherine Erwin at 404-756-5278, Morehouse School of Medicine, or email her at kerwin@msm.edu, or call Dr. Winifred Thompson at 404-778-1349, Emory's Rollins School of Public Health, or email her at wthomp3@emory.edu.

---
The Atlanta Clinical and Translational Science Institute (ACTSI) is an inter-institutional collaboration focused on accelerating the translation of science and research discoveries to application at the community level. The goal of the ACTSI Community Engagement Research Program (CERP) is to expand existing academic-community research partnerships, develop new bi-directional collaborations and interface with other ACTSI components. CERP is co-led by the Prevention Research Centers of Emory and Morehouse School of Medicine (MSM).