Department of Surgery
The Department of Surgery is known for excellence in trauma and critical care, our recent initiatives include: enhancing the clinical experience in laparoscopic/robotic, endovascular, and colorectal surgery.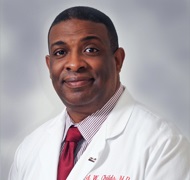 The Department of Surgery is on a mission to train excellent surgeons committed to providing high quality compassionate care for all patients. We take pride in training a diverse population of future leaders.
MSM has affiliation agreements with some of Georgia's most prestigious hospitals and research institutes, essential partners that provide clinical care and training.
MSM employs full- and part-time faculty members, many of whom are internationally recognized in their field to train the healthcare providers America needs most.
For additional information on MSM's Department of Surgery please contact us.

The Department of Surgery vision is to pioneer approaches to address healthcare disparities by providing compassionate and excellence in patient care, state-of-the-art surgical innovation, education and cutting edge research.

The Surgery Clerkship course is designed to prepare students for the practice of medicine by offering a comprehensive experience in the scientific basis of surgery.
The MSM Surgery Department is committed to resident education, done by exposing residents to evidence-based learning.