Manners Matter: MSM Takes TAG Academy Students to Four Seasons for a Lesson in Etiquette
Small eyes stare at a gigantic chandelier hanging overhead. The sprawling light fixture has more crystals than the young boy can count, so he just looks upwards in amazement with his mouth wide open.
He is just one of about 90 fifth graders from the Tuskegee Airmen Global Academy lucky enough to dine at the palatial ballroom at the Four Seasons hotel in Midtown Atlanta. They came not just to enjoy a delicious meal, but also to learn dining etiquette.
The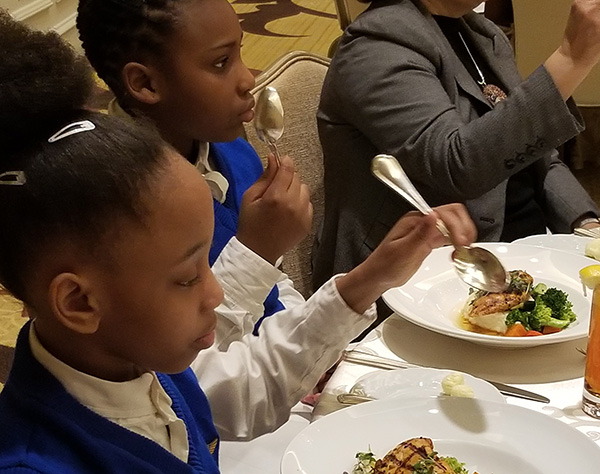 experience is part of the mentoring program offered through Morehouse School of Medicine and the elementary school located near MSM's campus in southwest Atlanta.
"This is the third year MSM has partnered with the Tuskegee Academy to bring the fifth graders here," explained Jacqueline Thrash, program coordinator for the Office of Educational Outreach and Health Careers at the medical school. "It provides a way for them to understand when they come to an event here to know how to use their silverware, which glasses to use, which plates to use for what course of the meal. It also gives them a chance to come to a five-star hotel and get this experience here."
Before the meal was served, Karen Kennedy of the Lady Blossoms Finishing School showed the children which fork to use, how to pass the salt and pepper, and other etiquette essentials. The students dressed in school-issued blue sweater vests then laid the white linen napkin on top of their khakis, and lunch was served. A line of waiters paraded into the ballroom and placed plates in front of each child.
"Now, when you are dining out, it is proper to wait until your entire table has been served," said Kennedy to the students. "Today we're going wait until everyone in the room has a plate."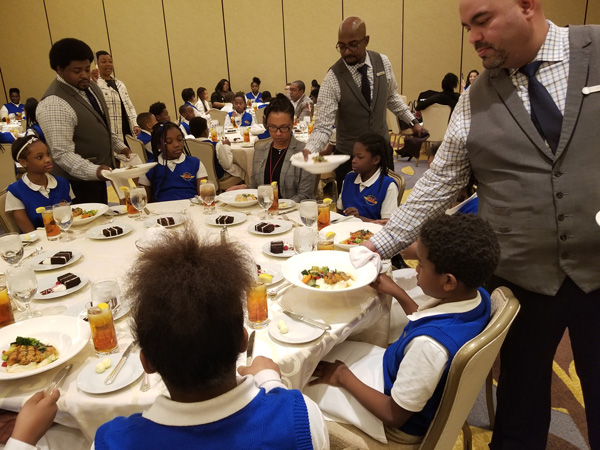 Once everyone had their meals, the hungry students still had to refrain from digging in. Kennedy showed them how to properly cut their chicken. Their little hands clutched the weighty silverware and mimicked the motions of their instructor. Some struggled, and an adult from either TAG or MSM quickly leaned in to gently offer them help. Fellow classmates even assisted their peers when they could.
"A lot of them have never been to a place like this," said TAG Principal Yolanda Weems. "I've had a conversation with a few of them before they came and I asked them what their favorite restaurants are, and one student said 'Well, I love McDonald's.' I asked 'Well, what's your favorite sit-down restaurant?' And his response to me was 'we sit down at McDonald's.' I think it's extremely important for them and they're very excited. Just giving them the opportunity to learn earlier in life, I think that when they are older and in places like this, they will know the proper way to behave themselves and how to eat."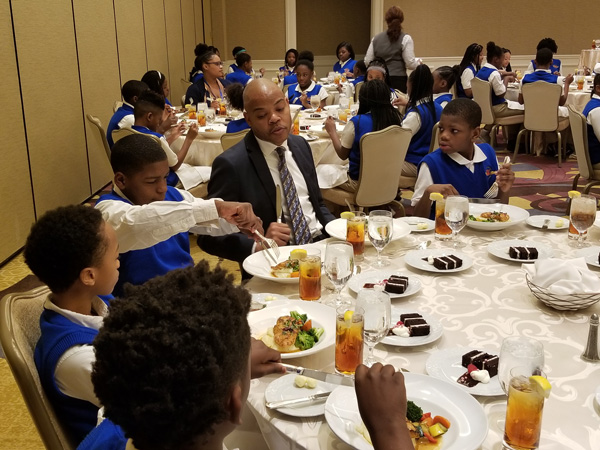 That is something fifth grader Nazir Moore understands. Moore said he had fun having lunch with his friends at such a fancy place and learned a lot about dining etiquette. He also said he learned skills that will help him as he moves along the pipeline through high school, college, and eventually in a professional career.
"I think this will increase my reputation with colleagues or schoolmates, because I know I don't just shovel food in my mouth," said the young student. "I know how to rest my forks. I know which spoon is which, and so on."