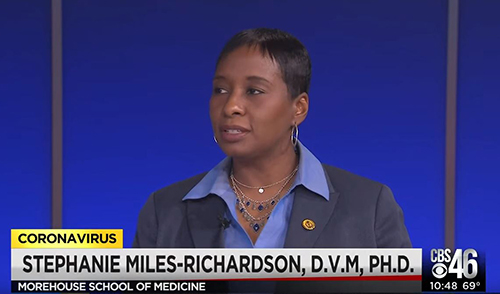 CBS46: MSM Expert Talks COVID 19 Prevention
On Thursday, March 12, 2020, Stephanie Miles-Richardson, D.V.M., Ph.D., Associate Dean, Graduate Education in Public Health, spoke with CBS46's Karyn Greer during a special report segment on Coronavirus in Georgia, following the confirmation of Georgia's first COVID-19 death.
As a public health professional with a veterinary medical background, Dr. Miles-Richardson has expertise in zoonotic and cross-species transmission of emerging infectious diseases. She is also the immediate past President of the Council on Education for Public Health (CEPH), the national accrediting body for all schools and colleges of public health in the U.S. Her other institutional leadership roles include Professor, Department of Community Health and Preventive Medicine; and Director, Master of Public Health Program.