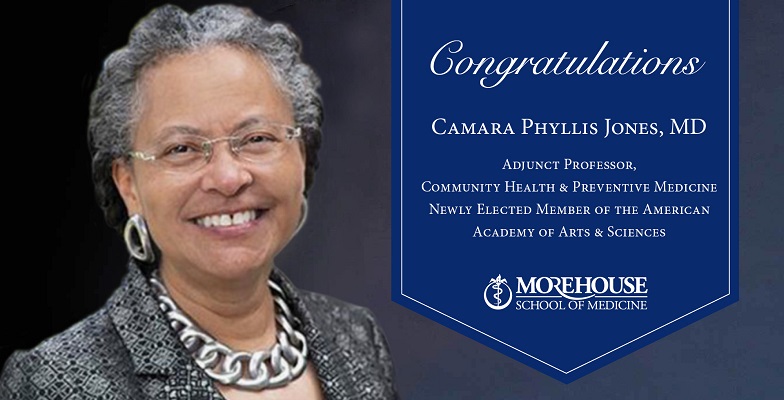 MSM Faculty Member Dr. Camara Phyllis Jones is Elected to American Academy of Arts and Sciences
Physician, Epidemiologist, and Educator is an Expert in Social Determinants
of Health and Equity, Including the Impacts of Poverty and Racism.
ATLANTA – APRIL 28, 2022 – Morehouse School of Medicine (MSM) is proud to announce that Camara Phyllis Jones, MD, PhD, MPH, an adjunct associate professor in the Department of Community Health and Preventive Medicine, has been elected as a member of the American Academy of Arts and Sciences. Dr. Jones is a senior fellow at the Satcher Health Leadership Institute and the Cardiovascular Research Center, both located at MSM.
In addition to educating future health professionals at MSM and the Emory University Rollins School of Public Health, Dr. Jones is a family physician and epidemiologist who has conducted extensive research on social determinants of health and equity, including the impacts poverty and racism. From 2019-2020, she was a Radcliffe Fellow at the Radcliffe Institute for Advanced Study at Harvard University and served as president of the American Public Health Association from 2015-2016. Prior to joining Morehouse School of Medicine, Dr. Jones was an assistant professor at the Harvard School of Public Health and was a medical officer and research director at the Centers for Disease Control and Prevention.
For more than 240 years, the Academy has been electing and engaging exceptional individuals. This year's election of 261 new members continues a tradition of recognizing accomplishments and leadership in academia, the arts, industry, public policy, and research. Morehouse School of Medicine Founding Dean and President Emeritus Louis W. Sullivan, MD, was elected to the American Academy in 1994 and David Satcher, MD, PhD, 16th US Surgeon General and former MSM president, was elected to the Academy in 1996. Click here for a complete list of the individuals who were elected in 2022, including 37 International Honorary Members from 16 countries.
First established as a two-year medical program at Morehouse College in 1975, Morehouse School of Medicine has been an independent institution since 1981. In addition to its world-renowned Doctor of Medicine program, MSM offers a wide range of health sciences doctorate and master's degrees in public health, biomedical sciences, and physician assistant studies. Many programs are available online or in a hybrid format for distance learners.
For more information about Morehouse School of Medicine, please visit MSM.edu.
About Morehouse School of Medicine
Founded in 1975, Morehouse School of Medicine (MSM) is among the nation's leading educators of primary care physicians, biomedical scientists, and public health professionals. An independent and private historically-Black medical school, MSM was recognized by the Annals of Internal Medicine as the nation's number one medical school in fulfilling a social mission—the creation and advancement of health equity. MSM faculty and alumni are noted for excellence in teaching, research, and public policy, as well as exceptional patient care. MSM is accredited by the Commission on Colleges of the Southern Association of Colleges and Schools to award doctoral and master's degrees. To learn more about programs and donate today, please visit MSM.edu or call 404-752-1500.
About Academy of Arts and Sciences
The American Academy of Arts & Sciences, founded in 1780, is both an honorary society that recognizes and celebrates the excellence of its members and an independent research center convening leaders from across disciplines, professions, and perspectives to address significant challenges. Learn more at AmAcad.org.
Contact
Amanda Magdalenski
Morehouse School of Medicine
amagdalenski@msm.edu