Morehouse School of Medicine Launches "Danforth Dialogues" Podcast Featuring Leadership Insights Learned in the Pandemic
First Episode Discusses Innovative COVID-19 Testing Protocol That Enabled MSM to Keep Overall On-Campus Virus Infection Rate at 1% For Past Two Years.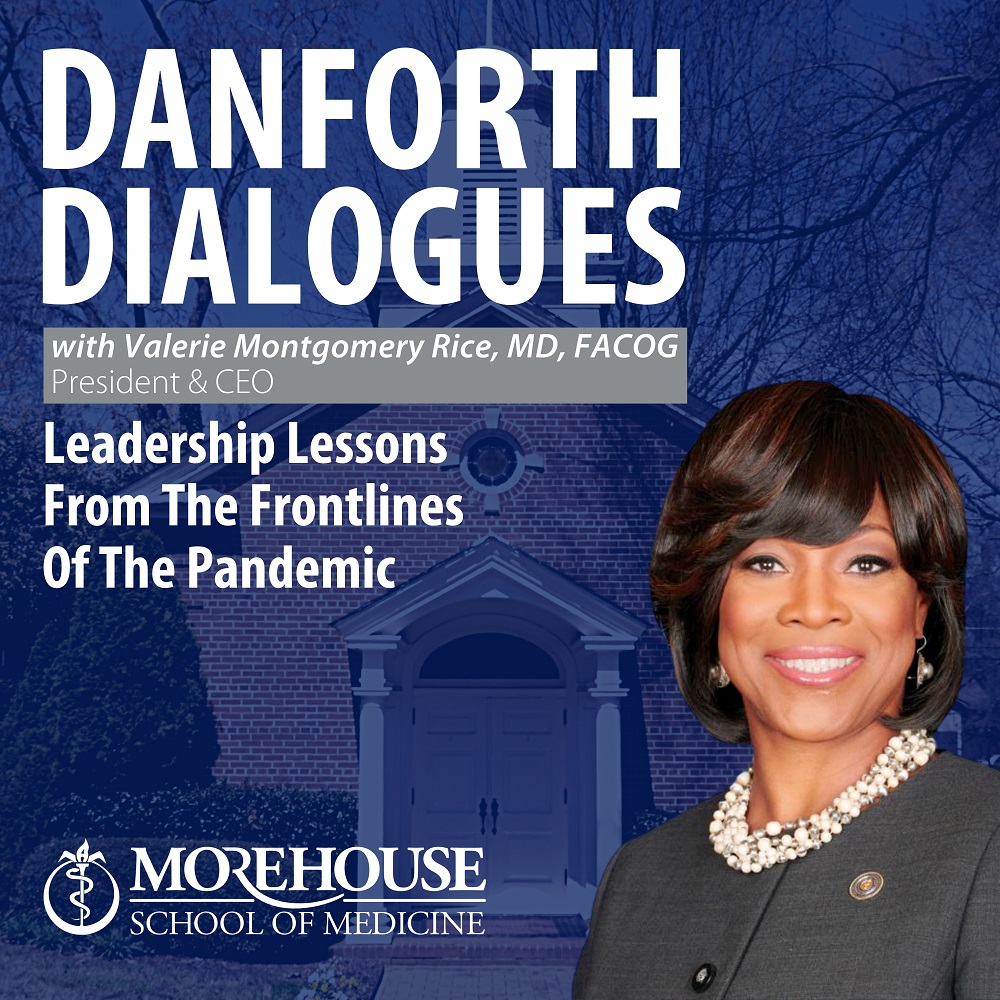 MSM President and CEO, Dr. Valerie Montgomery Rice
ATLANTA – APRIL 6, 2022 – Morehouse School of Medicine (MSM) today is launching the "Danforth Dialogues" podcast, which will be hosted by Morehouse School of Medicine President and CEO Dr. Valerie Montgomery Rice and feature leadership lessons from the frontlines of the COVID-19 pandemic.
"The COVID-19 pandemic has been an historic challenge to the worldwide healthcare system, but it has also given us the opportunity to implement new and innovative ways to mitigate disease and respond to a global health crisis," said Dr. Montgomery Rice. "Through Danforth Dialogues, we want to bring some of the leadership lessons we learned in the pandemic to not only the healthcare community, but a broader range of industries and professions in hopes that we might help others as they face challenging circumstances now and in the future."
While Morehouse School of Medicine is an independent institution, it was started at Morehouse College as a two-year medical school in 1975. "Morehouse College is the alma mater of a number of African American men who have or continue to be models of leadership in our country including Dr. Martin Luther King, former Atlanta Mayor Maynard Jackson, and, of course, the founding Dean of the Morehouse School of Medicine and former US Secretary of Health and Human Services Dr. Louis W. Sullivan," said Dr. Montgomery Rice. "With that legacy of leadership, it seemed appropriate for us to return to our roots for our series."
Recorded at the historic Danforth Chapel on the Morehouse College campus, giving the podcast its name, the first installment of the series features an interview on the history of the chapel with Morehouse College Director of Chapel Relations, Rev. Terry Walker, and then takes a look at MSM's innovative COVID-19 testing protocol with Dr. Michelle Nichols, Associate Professor in Family Medicine, Medical Director for Morehouse Healthcare and the COVID-19 Vaccination Program, and Associate Dean for Clinical Affairs.
MSM was one of the very few colleges in the country to reopen at the height of the pandemic, returning to on campus instruction in May 2020. "One of the tough decisions, we had to make at Morehouse School of Medicine was reopening the school for in-person instruction when just about every business and university remained closed," said Dr. Montgomery Rice. "We made the decision to reopen because addressing COVID-19 was a real-life lesson for our students to understand that in a medical crisis, they will be on the frontlines of response so they needed to be in class and dealing with this health issue much like they would when they enter their health care professions."
To reopen safely, the medical school implemented mandatory masking and social distancing and adopted a rigorous COVID-19 testing approach. "We tested the entire on-campus population, between 600 and 700 people, on a weekly basis and over the last two years, we have conducted 28,000 tests," said Dr. Nichols. "No one was allowed to return to campus without a weekly test. If anyone tested positive, they were immediately asked to leave campus and we began an intensive internal contract tracing effort to find, alert and test those who they may have come in contact with on campus. We partnered with the Georgia Department of Public Health for the external contract tracing for non-MSM employees."
Even with a brief spike in infections because of the Omicron variant, the medical school's infection rate has averaged about 1 percent during the past two years. "I think we can say that the Morehouse School of Medicine has been a nearly COVID free zone," said Dr. Nichols. "We have been a living laboratory that has proven if we follow the science of screening, testing and contract tracing, we can control the virus."
In addition to the discussion on the COVID-19 testing protocol, Dr. Nichols and Dr. Montgomery Rick also talked about the medical's vaccination program, which included giving the vaccine to Civil Rights icons former United Nations Ambassador Andrew Young, the late baseball great Hank Aaron, noted broadcast executive Xerona Clayton, and Dr. Sullivan in order to help lessen the fear of taking the vaccine in the African American community because of past scientific trials that have had a negative impact on African American participants.
"As one of the country's four historically black medical schools and located in Atlanta, the 'capitol' of the Civil Rights movement, we were in a unique position to be able to have Ambassador Young, Mr. and Mrs. Aaron, Ms. Clayton, and Dr. Sullivan come to our campus to get the vaccine," said Dr. Montgomery Rice. "The event resulted in a tremendous amount of news coverage across the country, and, in small way, we helped quell hesitation in the African American community to get the vaccines."
To listen and subscribe to the Danforth Dialogues podcast, click here.
For more information about the Danforth Dialogues leadership series, please click here.
About Morehouse School of Medicine
Founded in 1975, Morehouse School of Medicine (MSM) is among the nation's leading educators of primary care physicians, biomedical scientists, and public health professionals. An independent and private historically-Black medical school, MSM was recognized by the Annals of Internal Medicine as the nation's number one medical school in fulfilling a social mission—the creation and advancement of health equity. Morehouse School of Medicine's faculty and alumni are noted for excellence in teaching, research, and public policy, as well as exceptional patient care. MSM is accredited by the Commission on Colleges of the Southern Association of Colleges and Schools to award doctoral and master's degrees. To learn more about programs and donate today, please visit www.msm.edu or call 404-752-1500.
Contact
Amanda Magdalenski
Morehouse School of Medicine
amagdalenski@msm.edu