Morehouse School of Medicine Adds Lisa LeCointe-Cephas and Dr. John Whyte to Board of Trustees
Corporate Law and Compliance Expert, Physician and Corporate Executive Join Board of Historically Black Medical School.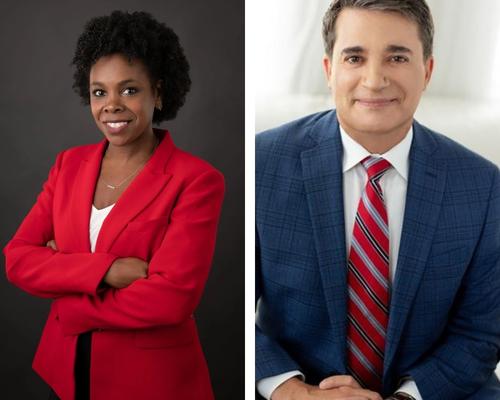 Lisa LeCointe-Cephas, Corporate Law and Compliance Expert (L)
John Whyte, MD, MPH, WebMD Chief Medical Officer (R)
ATLANTA – AUGUST 24, 2022 – Morehouse School of Medicine (MSM) is excited to welcome corporate law and compliance expert Lisa LeCointe-Cephas and WebMD Chief Medical Officer John Whyte, MD, MPH, to its Board of Trustees. The two new members were voted on during the Board's most recent meeting in May 2022.
Ms. LeCointe-Cephas is an experienced lawyer and compliance professional with over 15 years' experience counseling businesses, litigating, conducting investigations, negotiating, and designing effective compliance programs for national and multinational companies. In her current role as Senior Vice President, Chief Ethics and Compliance Officer, and Office of General Counsel, Human Health at Merck, Ms. LeCointe-Cephas and her team are responsible for coordinating Merck's efforts to ensure compliance with laws and regulations around the world and fostering an ethical, values-based corporate culture.
Ms. LeCointe-Cephas earned a BA in Psychology from Yale University and received her JD from Columbia Law School.
Dr. Whyte is a physician, writer, and corporate executive with a unique combination of government and private sector work that provides him with an exceptional perspective on wellness, clinical trials, information technology, innovation, and health care services. As WebMD's Chief Medical Officer, Dr. Whyte leads efforts to develop and expand strategic partnerships that create meaningful change around important and timely public health issues. He frequently speaks on evaluating digital tools and technologies, assessing their roles in the evolving health ecosystem.
Dr. Whyte completed an internal medicine residency at Duke University Medical Center and earned a Master of Public Health (MPH) degree in Health Policy and Management at Harvard University School of Public Health.
First established as a two-year medical program at Morehouse College in 1975, Morehouse School of Medicine has been an independent institution since 1981. In addition to its world-renowned Doctor of Medicine program, MSM offers a wide range of health sciences doctorate and master's degrees in public health, biomedical sciences, and physician assistant studies. Many programs are available online or in a hybrid format for distance learners.
For more information about Morehouse School of Medicine and its Board of Trustees, please visit MSM.edu.
About Morehouse School of Medicine
Founded in 1975, Morehouse School of Medicine (MSM) is among the nation's leading educators of primary care physicians, biomedical scientists, and public health professionals. An independent and private historically-Black medical school, MSM was recognized by the Annals of Internal Medicine as the nation's number one medical school in fulfilling a social mission — the creation and advancement of health equity. MSM faculty and alumni are noted for excellence in teaching, research, and public policy, as well as exceptional patient care. MSM is accredited by the Commission on Colleges of the Southern Association of Colleges and Schools to award doctoral and master's degrees. To learn more about programs and donate today, please visit MSM.edu or call 404-752-1500.
Contact
Jamille Bradfield
Morehouse School of Medicine
jbradfield@msm.edu