Morehouse School of Medicine President and CEO Valerie Montgomery Rice, MD, Honored by Cobb/NMA Health Institute with Lifetime Achievement Award
Award presented at 2022 National Medical Association Convention and Scientific Assembly in Atlanta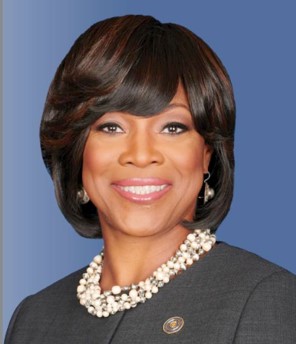 Dr. Valerie Montgomery Rice
President and CEO, Morehouse School of Medicine
ATLANTA – August 2, 2022 – The W. Montague Cobb/National Medical Association (NMA) Health Institute unanimously selected Morehouse School of Medicine President and CEO Valerie Montgomery Rice, MD, FACOG, as the 2022 recipient of the W. Montague Cobb Lifetime Achievement Award. The award was presented to Dr. Montgomery Rice on July 30, 2022, during the Opening Honors and Awards event at the National Medical Association Convention and Scientific Assembly at the Georgia World Congress Center in Atlanta, GA.
"I am honored to receive the 2022 W. Montague Cobb Lifetime Achievement Award," said Valerie Montgomery Rice, MD, FACOG, President and CEO, Morehouse School of Medicine. "As I humbly accept this award, I reflect on Dr. W. Montague Cobb's tireless crusades against segregation and discrimination in medical education and healthcare, and his lifelong dedication to African American medicine. Having my professional achievements and contributions recognized by the National Medical Association Health Institute is a direct result of me standing on the shoulders of giants, like Dr. Cobb and so many others who came before me and laid the foundation for attaining global health equity."
The W. Montague Cobb/NMA Health Institute Lifetime Achievement Award is bestowed upon individuals who have, through their careers in the field of medicine, impacted the lives and health of those who have had a greater need for assistance to attain health equity. This individual may either be a physician, a social/health activist, or one who served as both during a distinguished career of leadership.
"Dr. Valerie Montgomery Rice's accomplishments as a physician, educator, administrator, and advocate for the elimination of health disparities compare favorably with those of Dr. Cobb, for whom this award is named," said Randall C. Morgan, Jr., MD, MBA, President and CEO, W. Montague Cobb/NMA Health Institute. "As the President and CEO of Morehouse School of Medicine, her legacy has shaped the lives of future generations of physicians and healthcare leaders, and her vision to diversify the physician and scientific workforce has been pivotal in revolutionizing the field of healthcare."
About Morehouse School of Medicine
Founded in 1975, Morehouse School of Medicine (MSM) is among the nation's leading educators of primary care physicians, biomedical scientists, and public health professionals. An independent and private historically-Black medical school, MSM was recognized by the Annals of Internal Medicine as the nation's number one medical school in fulfilling a social mission — the creation and advancement of health equity. MSM faculty and alumni are noted for excellence in teaching, research, and public policy, as well as exceptional patient care. MSM is accredited by the Commission on Colleges of the Southern Association of Colleges and Schools to award doctoral and master's degrees. To learn more about programs and donate today, please visit MSM.edu or call 404-752-1500.
Contact
Jamille Bradfield
Morehouse School of Medicine
jbradfield@msm.edu