MSM Releases Second Half of "Danforth Dialogues" Podcast with CommonSpirit Health CEO Lloyd Dean
Dean and MSM CEO and President Dr. Valerie Montgomery Rice Continue Discussion of
Their More in Common Alliance Partnership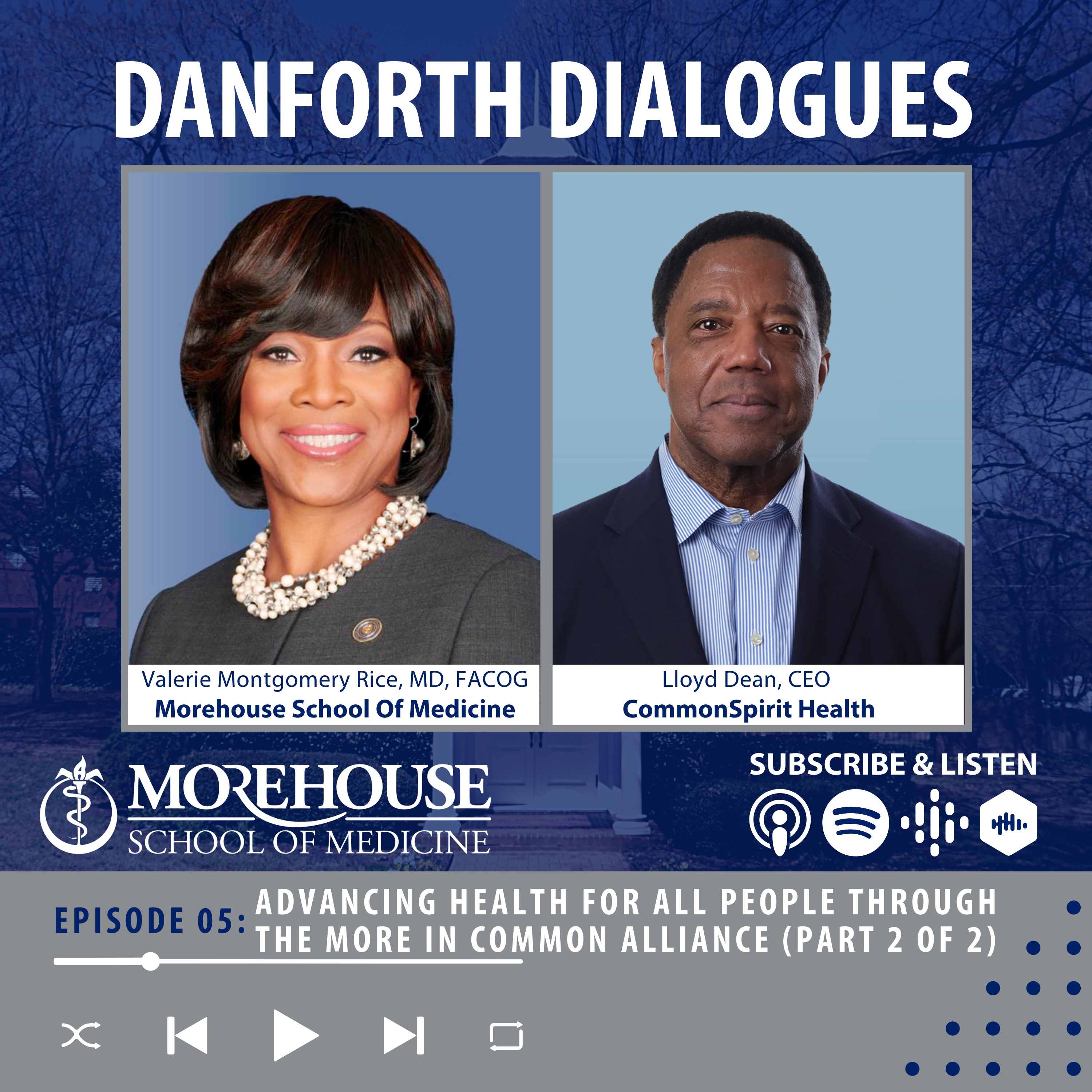 ATLANTA – July 13, 2022 – Morehouse School of Medicine (MSM) today released the second part of its "Danforth Dialogues" podcast with CommonSpirit Health CEO Lloyd H. Dean and MSM President and CEO Valerie Montgomery Rice, MD, FACOG.
In this episode, Dean and Dr. Montgomery Rice homed in on the innovative $100 million partnership between the two organizations that seeks to increase minority health practitioners and help reduce health disparities in underserved communities across the country.
"In this edition, Lloyd and I really dig deep into our dreams and goals for the More in Common Alliance," said Dr. Montgomery Rice. "We recognize the progress that we have made but understand that we have a long way to go to achieve the goals we have set before us."
"It was important to CommonSpirit Health that our vision and values were aligned with Morehouse School of Medicine," said Dean. "That alignment forms the foundation of our partnership and gives us the momentum we need for success now and in the future."
Launched in March, "Danforth Dialogues" focuses on the leadership lessons from the frontlines of the COVID-19 pandemic and their broader implication for society. Named after the historic Danforth Chapel on the Morehouse College campus, the podcast series will also feature a cross-section of guests and topics not directly related to the pandemic but focused on broader aspects of leadership.
To hear this edition of the podcast, click here. For more information about the Danforth Dialogues leadership series, click here.
To listen and subscribe to the Danforth Dialogues podcast, click here.
For more information about Morehouse School of Medicine, please visit MSM.edu.
About Morehouse School of Medicine
Founded in 1975, Morehouse School of Medicine (MSM) is among the nation's leading educators of primary care physicians, biomedical scientists, and public health professionals. An independent and private historically-Black medical school, MSM was recognized by the Annals of Internal Medicine as the nation's number one medical school in fulfilling a social mission—the creation and advancement of health equity. Morehouse School of Medicine's faculty and alumni are noted for excellence in teaching, research, public policy, and exceptional patient care. MSM is accredited by the Commission on Colleges of the Southern Association of Colleges and Schools to award doctoral and master's degrees. To learn more about programs and donate today, please visit www.msm.edu or call 404-752-1500.
Contact
Jamille Bradfield
Morehouse School of Medicine
jbradfield@msm.edu