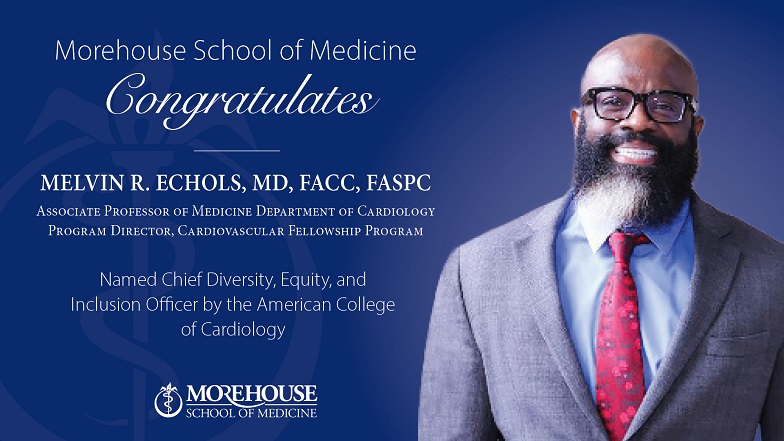 American College of Cardiology Names Morehouse School of Medicine Faculty Member Dr. Melvin Echols As Chief Diversity, Equity, and Inclusion Officer
Echols is currently program director of the MSM Cardiovascular Disease Fellowship Program and an associate professor
ATLANTA – JULY 7, 2022 – Morehouse School of Medicine (MSM) faculty member Melvin R. Echols, MD, FACC, FASPC, has been named by the American College of Cardiology (ACC) as its new Chief Diversity, Equity and Inclusion Officer, effective July 18. Echols will lead the College's diversity, equity and inclusion strategy and programs, while also maintaining a portion of his current clinical and research responsibilities at MSM.
"Fostering a diverse and inclusive cardiovascular workforce, while also advancing solutions to improve health equity among individual patients and populations, is fundamental to achieving the ACC's Mission of transforming cardiovascular care and improving heart health for all," said ACC CEO Cathleen C. Gates. "As both a cardiologist and a cardiovascular disparities researcher, Dr. Echols brings a deep understanding of the profession, as well as demonstrated success in effectively advancing diversity, equity and inclusion initiatives and driving cultural change – competencies that will undoubtedly ensure we are able to deliver on our strategic diversity, equity and inclusion goals now and into the future."
Echols is currently an associate professor of cardiovascular disease at Morehouse School of Medicine and serves as program director for the Cardiovascular Disease Fellowship. He is also a practicing cardiologist specializing in heart failure and brings more than a decade of experience as a clinical trial investigator focusing on heart failure, quality improvement, social determinants of health, and health care disparities.
In his role as Chief Diversity, Equity, and Inclusion Officer, Echols will use his expertise and experiences to work with ACC members, staff, external partners, and other stakeholders to identify and implement programmatic goals and develop actionable and sustainable solutions to achieving a more diverse, equitable and inclusive College and cardiovascular profession. Specifically, he will lead and facilitate ACC efforts to mitigate barriers to entry into the field of cardiology; build and expand educational initiatives like the new Internal Medicine Program; and lead and coordinate the diversity and inclusion efforts and training of both staff and members across the College.
"In a time where polarization continues to permeate our society, we need the implicit core values of diversity, equity, and inclusion now more than ever," Echols said. "I expect this role will permit me to listen actively, learn vigorously, and allow the needs of our society to lead the ACC towards impactful change."
Echols graduated from Morehouse School of Medicine in 2002 and completed Internal Medicine at Duke University in 2005. He completed his cardiovascular fellowship training at Duke University Medical Center. He is a member of the ACC, Association of Black Cardiologists, the Heart Failure Society of America, the American Society of Preventive Cardiology, and the American Heart Association.
"The discovery of commonalities between people and culture while providing quality cardiovascular care to all is strengthened by diversity, and will ultimately improve health equity in our society," Echols said. "Everyone has a part to play in this mission and should feel included in helping to make our society and the world better than yesterday."
For more information about Morehouse School of Medicine, please visit MSM.edu.
About Morehouse School of Medicine
Founded in 1975, Morehouse School of Medicine (MSM) is among the nation's leading educators of primary care physicians, biomedical scientists, and public health professionals. An independent and private historically-Black medical school, MSM was recognized by the Annals of Internal Medicine as the nation's number one medical school in fulfilling a social mission — the creation and advancement of health equity. MSM faculty and alumni are noted for excellence in teaching, research, and public policy, as well as exceptional patient care. MSM is accredited by the Commission on Colleges of the Southern Association of Colleges and Schools to award doctoral and master's degrees. To learn more about programs and donate today, please visit MSM.edu or call 404-752-1500.
About the American College of Cardiology
The American College of Cardiology envisions a world where innovation and knowledge optimize cardiovascular care and outcomes. As the professional home for the entire cardiovascular care team, the mission of the College and its more than 56,000 members is to transform cardiovascular care and to improve heart health. The ACC bestows credentials upon cardiovascular professionals who meet stringent qualifications and leads in the formation of health policy, standards, and guidelines. The College also provides professional medical education, disseminates cardiovascular research through its world-renowned JACC Journals, operates national registries to measure and improve care, and offers cardiovascular accreditation to hospitals and institutions. For more, visit acc.org.
Contact
Amanda Magdalenski
Morehouse School of Medicine
amagdalenski@msm.edu
Katie Glenn
American College of Cardiology
kglenn@acc.org