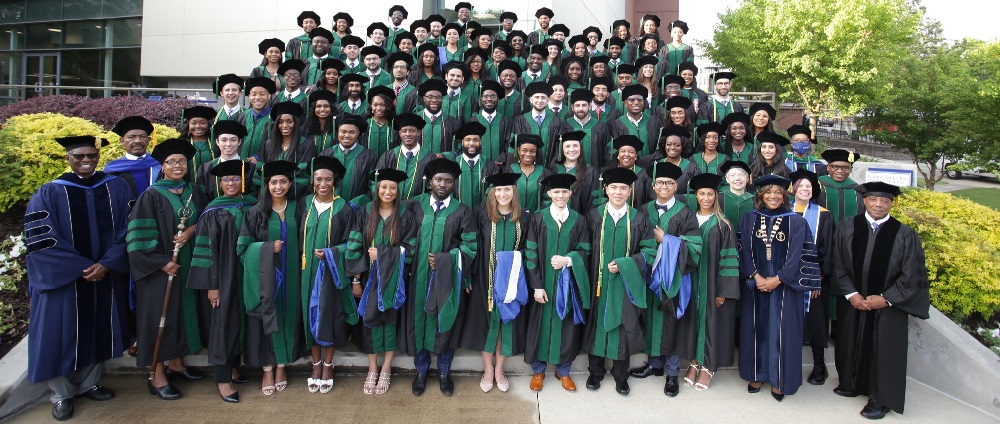 Morehouse School of Medicine Celebrates Class of 2022 During 38th Commencement Exercises
Historically Black Medical School Awards Master's and Doctorate Degrees
in Medicine, Public Health, and Biomedical Sciences to 155 Graduates.
ATLANTA – MAY 26, 2022 – Morehouse School of Medicine (MSM) conferred doctorate and master's degrees in medicine, public health, and biomedical sciences during its 38th Commencement Exercises on Saturday, May 21. The emotional and uplifting ceremony was held on the Century Campus at Morehouse College, where MSM was founded more than 45 years ago before becoming an independent institution in 1981.
"With your graduation comes responsibility: the responsibility to engage with each person in front of you and think based on who is sitting in front of you what's possible and look at them with no limitations as you listen to their story," Valerie Montgomery Rice, MD, FACOG, told the graduates in her charge to the Class of 2022. "Your story will also serve as a foundation for you to advance primary care, to serve the underserved, and to partner with the community to improve health opportunities and outcomes. With your story grounded in your mission, you are destined to make significant contributions."
By The Numbers:
The historically Black medical school, one of only four in the United States, awarded a total of 155 degrees during the celebration.
85 Doctor of Medicine degrees
22 Master of Public Health degrees
Three Executive Master of Public Health degrees
Four Doctor of Philosophy in Biomedical Sciences degrees
One Master of Science in Biomedical Research degrees
Four Master of Science in Clinical Research degrees
Six Master of Science in Neuroscience degrees
30 Master of Science in Medical Sciences degrees
Lloyd Dean, CEO of CommonSpirit Health, was the featured Commencement speaker. Mr. Dean leads a nonprofit health system with 140 hospitals and more than 1,000 care sites that span 21 states. MSM and CommonSpirit Health worked together to launch the More in Common Alliance, a 10-year, $100-million partnership aimed at addressing the underlying causes of health inequities.
As they transition from training and learning as students to serving as practicing clinicians, Mr. Dean encouraged students to "dream big" as they confront the challenges that people around the world experience to obtain accessible, affordable, and quality health care, and to make an impact on both individuals and society as a whole.
"They need you. Some are rural communities where the nearest hospital might be 30 miles away with no transportation to get there; urban communities where clinics are in close proximity, but impossible to see without losing a day of pay; suburban communities where people may never, ever see a healthcare provider who looks like them or treats them with the dignity that every person deserves," Mr. Dean said. "I know from your work here at Morehouse School of Medicine that you understand these challenges very well."
Following his address, MSM awarded Mr. Dean an honorary Doctor of Science degree.
Before presenting the individual graduates for each degree program, MSM Executive Vice President for Health Affairs and Dean Joseph Adrian Tyndall, MD, MPH, acknowledged each student's "journey of sacrifice and triumph" that led them to the Commencement stage.
"To say that we are proud of you is an understatement," Dr. Tyndall said. "We are excited, and we can hardly wait to get you your degrees that you so richly deserve. But first, I must say thank you. Thank you for entrusting your career aspirations to Morehouse School of Medicine. Thank you for taking this journey with us. We have learned from each other along the way and because of you we are all better, and the world is better because 'the world needs what we do best.'"
MSM Student Government Association President Katie Peagler, who received a Doctor of Medicine degree at Commencement, and Morehouse School of Medicine National Alumni Association President Rose Blackburne, MD, also addressed the assembled crowd.
Over the time of their matriculation, the Morehouse School of Medicine Class of 2022 received over $8.4M in scholarship funding. At Commencement, MSM added $1.2M to that amount to further assist in lowering student indebtedness. Each eligible graduating senior who had not previously received full tuition and fee waivers, or existing direct loan debt reduction scholarships, will now receive at least $2,200 in additional scholarship.
Recordings of several Commencement Week celebrations, including Class Day and Commencement, are available online at MSM.edu/Commencement.
Additional details on Morehouse School of Medicine's extensive academic programs, including master's, doctorate, certificate, and pipeline initiatives, can be found at MSM.edu/Education.
For more information about Morehouse School of Medicine, please visit MSM.edu.
About Morehouse School of Medicine
Founded in 1975, Morehouse School of Medicine (MSM) is among the nation's leading educators of primary care physicians, biomedical scientists, and public health professionals. An independent and private historically-Black medical school, MSM was recognized by the Annals of Internal Medicine as the nation's number one medical school in fulfilling a social mission — the creation and advancement of health equity. MSM faculty and alumni are noted for excellence in teaching, research, and public policy, as well as exceptional patient care. MSM is accredited by the Commission on Colleges of the Southern Association of Colleges and Schools to award doctoral and master's degrees. To learn more about programs and donate today, please visit MSM.edu or call 404-752-1500.
Contact
Amanda Magdalenski
Morehouse School of Medicine
amagdalenski@msm.edu